The AIS Women's Team Diary 2004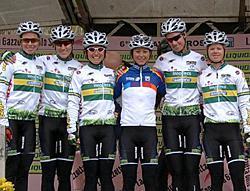 On the podium at Milan San Remo
Photo: © AIS
Welcome to one of our more unusual diaries, with entries from the various members of the Australian Institute of Sport's Women's team as they conduct their European campaign.
In 2003 the AIS team was the top women's squad in the world and has started 2004 with a bang as pocket rocket sprinter Oenone Wood leads the World Cup after two rounds. Follow Wood and team-mates such as Olivia Gollan and Sara Carrigan in their diary, only on Cyclingnews.
Tour de L'Aude Feminin, France, May 14-23, 2004
Stage 5: Castelnaudary is beginning to haunt me...
By Olivia Gollan
Olivia (far L) makes the podium and moves to 12th overall
Photo ©: Olivia Gollan

Castelnaudary is a place we all know well. For the past three years at least, it has hosted a road stage and the time trial in Tour de L'Aude. Tomorrow we head back there for the ITT but today it was the scene of much pain for yours truly! A quaint little French town it may be, but it is beginning to haunt me.
With a sprint prime at the 4km mark it was action stations right from the gun. But with a tight left-hander 250m before the line it was a bit of a non-event because all of the sprinters and their respective lead-out girls overshot the corner and left the rest of the bunch in their wake. Lots of attacks from French National Team riders and "The Prune Team" were quickly shut down by Madeline Lindberg or Jessica Phillips from Nurnberger. It was pretty aggressive, and through the little towns and over the terrible roads that this race often dishes up, it was a bit of a grovel. And suddenly it is hot in France!
Our big aim for the day was for me to take the mountains jersey off German National Team rider Theresa Senff. In the first of two Cat 2 climbs, a French rider attacked twice early in the climb and forced me to chase because I needed maximum points. I managed to hold off Theresa on the line - putting us on equal points. The group came back together and with several rolling hills and Nurnberger caught napping - Lyne Bessette took a chance and went with French rider who once again had put in a solid attack. When Lyne went she really, really went and was out of sight in no time. Everyone waited for Nurnberger and it took a while for them to get together and chase. At one stage Lyne and had two minutes. A great move and Trixi looked worried.
With two riders off the front it only left Theresa and I sprinting for third in the GPM and I missed it - she holds the jersey for another day. A great effort from Petra Rossner saw her get over the final climb and work like a Trojan into the finish. With a very organised chase, the Nurnbergers and the German National Team reeled Lyne and the Frenchy back in. With the group back together, it got faster and faster as the sprinters who were left got themselves organised. I managed to get on Hayley Rutherford's wheel into the finish and shocked myself with a third place. Anita Valen was very certain she had won the race until we were all on the podium and they announced that Ghita Beltman had held her off to take the stage - Ghita was thrilled and Anita seemed pretty gloomy. Ghita had lead out with almost 500m to go - an awesome win and well deserved. I somehow managed to score the white stage winner's jersey because Anita is in the points' jersey and Ghita in the sprinters' jersey. Nice.