The AIS Women's Team Diary 2004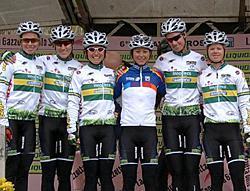 On the podium at Milan San Remo
Photo: © AIS
Welcome to one of our more unusual diaries, with entries from the various members of the Australian Institute of Sport's Women's team as they conduct their European campaign.
In 2003 the AIS team was the top women's squad in the world and has started 2004 with a bang as pocket rocket sprinter Oenone Wood leads the World Cup after two rounds. Follow Wood and team-mates such as Olivia Gollan and Sara Carrigan in their diary, only on Cyclingnews.
Tour de L'Aude Feminin, France, May 14-23, 2004
Stage 4: Fighting it out in the saddle
By Olivia Gollan
With Trixi Worrack in yellow at the start of today's stage her faithful Nurnberger team were on the defence from the gun. The French Inter Region - Pruneaux D'Agen (The Prune Team for short) were aggressive from the start and were keeping Nurnberger on their toes. It was a fairly stop start first 50km until the sprint where Hanka Kupfernagal did an awesome lead out for team mate Debby Mansveld who is fighting it out for the sprint jersey with Canadian, Gina Grain and Home Cycling's Ghita Beltman.
After a second few kilometres of pain with another sprint prime we hit the one and only Cat 1 climb for the day. Judith Arndt went straight to the front and set a fairly gruesome tempo to prevent any attacks. I had decided to race for the Mountains Jersey so waited on Theresa Sneff's wheel until 250m to go. I took the sprint - leaving me now 2 points off the jersey.
After the climb the pace was pretty slow and despite a few gallant efforts from several teams nothing was getting past the Nurnbergers. With a fairly technical finish we were going to try and set off a late move but British rider Sarah Simington beat us to it. With about 8km to go she attacked at a great moment and caught the peloton looking for Nurnberger to chase. Without an immediate response from the group Sarah got a good gap and with German Rider, Luise Keller bridging across to her the two of them had a big advantage in no time.
They held us off until the finish and from what I can gather, Sarah Simmington won the sprint from a disappointed Keller. Anita Valen won the bunch sprint from Ghita Beltman and Alison Wright - this lot are fighting it out for the points jersey. Another day in the wind and hills tomorrow before the ITT on Wednesday. Can Worrack hold the jersey till the end? Time will tell.
Liv