The A.I.S. Women's Team is proudly sponsored by:














The AIS Women's Team Diary 2004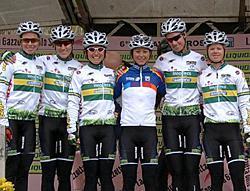 On the podium at Milan San Remo
Photo: © AIS
Welcome to one of our more unusual diaries, with entries from the various members of the Australian Institute of Sport's Women's team as they conduct their European campaign.
In 2003 the AIS team was the top women's squad in the world and has started 2004 with a bang as pocket rocket sprinter Oenone Wood leads the World Cup after two rounds. Follow Wood and team-mates such as Olivia Gollan and Sara Carrigan in their diary, only on Cyclingnews.
Int. Thüringen-Rundfahrt der Frauen - 2.9.1, Germany, July 20-25, 2004
Keep those jerseys comin'
Aussies eyeing yellow after Stage 3
Photo ©: Olivia Gollan

I have been incredibly lapse with these reports and the fatigue in my legs right now is telling me I don't have the energy to write this BUT the men on the Tour have been racing since I started the Giro and we have had a full recovery week in the meantime - so I have nothing to complain about! We came to Eastern Germany on Monday to race the six-day Thuringen- Rundfhart and by day three we have three jerseys and are currently running third and fourth on GC. Not a bad team effort.
Stage 1 - July 20: Rund um Zeulenroda, 17.2km
Tuesday afternoon in the pouring rain we raced a 17km TT and we all finished in the top 30. Swiss national team rider, Karin Thurig, put us all to shame and took the yellow jersey with a very strong ride. Zulfia Zabirova finished five seconds down and then Kristen Armstrong, Christine Soeder, Judith Arndt, Oenone and I finished within four seconds of each other - about 20 seconds behind Thurig. So... the jersey was in reach.
Stage 2 - July 21: Zeulenroda - Greiz
Day 2 was a 115km stage over hill and dale that was really aggressive and pretty tough. With lots of assistance from the whole team but particularly Nat and Kate Bates, I managed to secure the sprint jersey and gain a few bonus seconds in the process. Natalie had an awesome day and was in everything right from the gun. After the final KOM, Modesta Vzesniauskaite (Safi Pasta Zara) attacked the bunch that had already been on the limit and with Rasa Polkeviciute and Fabiana Luperini with her, she rode to the finish and took the stage by 30 seconds (Luperini 2nd and Rasa 3rd). None of them had faired well in the TT, so Thurig's lead was safe and she held the jersey at the end of the day. Oenone and I had moved into 3rd and 4th on GC and the whole team was pretty pleased with the day.
Stage 3 - July 22: Greiz - Schleiz
The stage 3 podium
Photo ©: Olivia Gollan

And then we come to Today! Greiz to Schleiz... 130km, three sprints, three KOMs and it was storming violently when we woke up! But our fortune changed and it was dry for the race and with Natalie Bates tacking on to the move of the day, it was another great day for Australia. After the first sprint (which I took narrowly from Oenone and Katia Longhin), Melissa Holt attacked and got a decent gap, only to be brought back by the yellow jersey. Fanini rider Janildes Silvafernandez attacked and Nat went with her and they rode away into the distance - at one stage their break of two had six minutes. Nat was on fire; Farm Frites rider, Rachel Heal and a Red Bull rider tried to bridge across, but only got with two minutes of her and Janildes.
Back in the bunch, Karin Thurig was doing all her own chasing and doing a pretty good job. Over the "Bergwertungs" (KOM) there were moves from the likes of Luperini, Ljungskog and Melchers, but nothing stuck. Oenone and I were able to sit in for a good part of the day, safe in the knowledge the Natalie was leader on the road. But with 15km to go, Judith Arndt went to the front and started driving our severely diminished group. Petra had just rejoined us and Nurnberger were clearly up for a bunch kick. We caught Nat with 8km to go - BUGGER. But an awesome ride and with the KOM jersey firmly in her grasp she also now holds the "all-rounders" jersey for having the most sprint and KOM points. Nice.
Petra took the stage from Brodka and Anita Valen. Oenone managed to grab a two second time bonus for fourth and I held on to the sprint jersey. Nat won an ice cream maker - not that we need it but pretty cool.
Ciao for now, Liv.