The A.I.S. Women's Team is proudly sponsored by:














The AIS Women's Team Diary 2004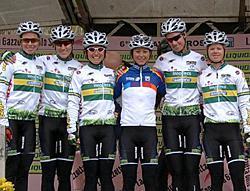 On the podium at Milan San Remo
Photo: © AIS
Welcome to one of our more unusual diaries, with entries from the various members of the Australian Institute of Sport's Women's team as they conduct their European campaign.
In 2003 the AIS team was the top women's squad in the world and has started 2004 with a bang as pocket rocket sprinter Oenone Wood leads the World Cup after two rounds. Follow Wood and team-mates such as Olivia Gollan and Sara Carrigan in their diary, only on Cyclingnews.
Women's Olympic Road Race, Athens, August 15, 2004
A long time coming
By Olivia Gollan
Sara Carrigan gets the gold for Australia
Photo ©: epicimages.us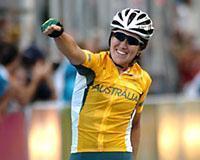 Well, this has been a long time coming and I have had plenty of time to digest what actually happened in Athens on the 15th of August. It is incredible to think that we went from training on our regular hillside in little old Novellara (Italian home base) to winning an Olympic gold medal in the space of 72 hours. Speaking just for myself, I know I have had countless emails and text messages from family, friends and people I barely know congratulating Sara, Oenone and I for the result. I know Sara has received 50 times more and has had an incredible amount of media attention. I think my Dad summed it up well on the phone to me this morning when he said: "There is an amazing vibe surrounding such an achievement. Something that brings people together and puts glee in their eyes."
For me, it all started 12 months ago when Sara, Mick Rogers, Stuart O'Grady and myself were the four athletes chosen to go to Athens and profile both the road race and time trial courses. We were joined by head coaches, physiologists, a bio-mechanist and a specialist cameraman from the AIS. From this trip, the support and infrastructure surrounding the quest to win an Olympic Gold medal was very evident and it was clear that Australia already had a head-start on our competitors. Not just because we were in Athens twelve months out, but because we had the full backing of people who were committed to getting a result. This was where the team work began and it was this consistent support that won the women's road squad that medal.
For the AIS women on the road this year, it has been a highway to Athens and not just for the three riders who ended up on the start line. With brilliant coaching and a very well thought-out race program from Warren McDonald, the whole squad worked towards having the three of us in great form in August. We also had consistent support from our mechanic, Denis Mungovern and massage therapist, Gabby Murphy, to get us there in the right physical and emotional condition! These three were at every race and most training sessions, making sure we stayed sane and kept moving forward. On top of this, we cannot forget James Victor, Shayne Bannan, Michael Flynn, Anna Travar, Tammie Ebert, Karin Stevens, Paul Brosnan, Brian Maclean and the unstoppable Dave Martin. These people were all part of our team at the Olympics - there were more and I can't mention every one of them, but my Olympics is about bringing something home for all of these people who sink their lives into cycling.
But most importantly, it was the girls who I have raced with all year that got me my Olympic start. How do you thank people who have been training and racing their hearts out to invariably end up sacrificing their opportunity for a result in order to make sure you get the results to take you to Athens? There isn't much financial reward for these girls who give up their lives to live in Europe and chase the cycling scene. Most of the drive comes from loving this sport and a realisation that to get results in road cycling you must work as a team. There is no other option. Amy Gillett, Natalie Bates and Lorian Graham have been the stalwarts - making sure Oenone, Sara and I were in the best positions at the end of World Cup races and grand tours leading into the Olympics. Margaret Hemsley, Louise Yaxley and Jessica Ridder have also ridden with us along the way. Margaret has recently been great in the World Cup series.
I guess what I am trying to say is that my team took me to the Olympics and have had no recognition for it. I wish I had a million bucks to give them but I don't yet - maybe one day. What they do have is my eternal respect and admiration. I am thrilled every time I see that green and gold jersey on the front of the bunch because the dedication to the cause is exceptional. Generally, there is not much more than a few hundred Euro in prizemoney to share between six, but there is unquestionable support from them. Thank you, thank you, thank you - particularly Amy, Nat and Lorian. It will give me a twinkle in my eye forever - being involved in this team has been awesome.
So, it was the fostering of this team that gave us the edge in Athens. We were committed to getting one of us on the podium and knew that with a selfless attitude from all of us we would get that gold medal. Many people outside the sport have commiserated with me about not getting better than 12th - as far as I am concerned, not only did the three of us win a medal but all the people who I have mentioned here were more than responsible for getting a gold one! Cycling in Australia is on the up - how cool is that! Go Team.
Results