The A.I.S. Women's Team is proudly sponsored by:












The AIS Women's Team Diary 2006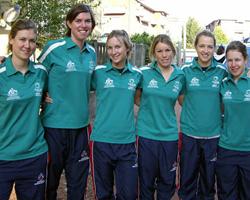 The 2006 AIS women's squad in Italy
Photo: © AIS
Cyclingnews has been pleased to publish a diary contributed by the members of the Australian Institute of Sport's Women's team as they conduct their European campaign. On Monday, July 18, 2005, everything changed. In the light of the tragic event that took the life of Amy Gillett and put her five team-mates in hospital, the AIS women's road cycling programme was suspended.
But this year the AIS women are back. While surviving members of last year's team - Louise Yaxley, Katie Brown and Lorian Graham recover from injuries sustained in the accident last July, another generation of young women will endeavour to make a mark on the international stage.
Alexis Rhodes makes a return to racing following her remarkable recovery from life-threatening injuries sustained in last July's crash, being joined by Amanda Spratt, Hannah Banks, Candice Sullivan, Jenny Macpherson and Sally Cowman as they fly the Aussie flag in Europe.
Also see: Index to 2005 race reports and entries
Italy, June 28, 2006
AIS chicks living it up in Italy
By Jenny Macpherson
Buon giorno,
Jen and Kate
Photo ©: Jenny Mac pherson

The first thing I have to say is that it's bloody warm here! Yep, I'm back in Italy with the AIS women's cycling team for another stint in the European racing circuit. It's been about 30-35º every day since arriving on June 22, and it's been quite a shock to the system (having come from temperatures of 4-15º!)

The team has changed quite a bit since the first trip, so I'll update you again on the current team. Of the original team there is Amanda, Candice and myself. Hannah and Alex have stayed at home to recover from a hectic first trip. Sally has gone to ride for an Italian Team (Nobili - Olivia Gollan is also on this team). The new riders are Kate Nichols, Kate Mercer and Josie Loane. We can start with eight riders in the upcoming women's Giro (June 30 - July 9), so will also have Natalie Bates and Emma Mackie joining us giving some additional Aussie horsepower!

Italian football fans
Photo ©: Jenny Mac pherson

Our other races are on July 15, an Italian one day race in Cento, and then to Germany for Thuringen on July 18 - 23. After this, most of the team will go back to Australia except for Candice and myself. We hope to stay in Europe with another team for the remainder of the season, so we will be busy during the next month trying to impress the European team managers!

Well, besides all this cycling business, we have also been busy enjoying the Italian lifestyle. I went to Milan on the weekend and did the tourist thing for the day. Luckily for me (?) I met a nice Italian boy on the train to Milan, who was more than happy to show me to the center of Milan. He couldn't speak any English, but since I can now understand a little Italian, it was pretty funny how determined he was to get my phone number. I had to tell him no three times! Once we got to the Duomo (the third largest Church in the world), it was time to ditch the Italian boy (now that I knew where I was), so I politely told him, "it was nice to meet you but arrivederci!"

The team
Photo ©: Jenny Mac pherson

Milan is a very bella city, as you can see from my photos. The shopping was pretty awesome and I was determined to go home with a few bags. Ok, so I only bought two singlet tops- but I couldn't resist, it was just so I could say 'I bought this in Milan!'

Last night, we went into Varese to watch the Socceroos versus the Azzurri (sky blues - Italy). We got into the spirit of the game and wore our Aussie jerseys and put green and gold paint on our faces. Unfortunately, no one had an Aussie flag, which would have been good. But since we were clearly outnumbered, it was probably a good thing! It was actually good to see Italy win; the atmosphere here after the game was very exciting, loud, and entertaining! The girls quickly took their jerseys off after the game, as they were feeling a little intimidated after some of the Italians started yelling at us "andate casa!" (go home).


Some of the pizzas
Photo ©: Jenny Mac pherson

I'm pretty excited about the Giro, there are only four stages that have significant climbs in them, so that leaves five stages that could end in a possible bunch sprint (the first stage is a five-kilometre prologue). I'm feeling pretty good in the sprint finishes, going on my recent form, so hopefully I'll be able to make it to the podium this time!

Ciao tutti,
Jen