The A.I.S. Women's Team is proudly sponsored by:














The AIS Women's Team Diary 2004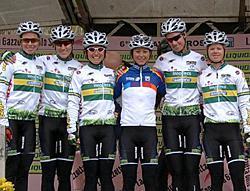 On the podium at Milan San Remo
Photo: © AIS
Welcome to one of our more unusual diaries, with entries from the various members of the Australian Institute of Sport's Women's team as they conduct their European campaign.
In 2003 the AIS team was the top women's squad in the world and has started 2004 with a bang as pocket rocket sprinter Oenone Wood leads the World Cup after two rounds. Follow Wood and team-mates such as Olivia Gollan and Sara Carrigan in their diary, only on Cyclingnews.
GP Liberazione Donne (1.9.2), Italy, April 25
ANZAC biscuits
By Sara Carrigan
Market day
Photo ©: Lorian Graham

The town hall

New recruits

The team rolls out

April 25, ANZAC Day, is an important day in the Australian calendar where we pay tribute to the ANZAC soldiers who died at Gallipoli, and to all those Australians who've gone to war over the years. This day holds similar significance in Italy and they call it Liberazione (Liberation). Many of the buildings were adorned with the red, white and green Italian flags, with markets and festivities held in the town square. Lorian made some ANZAC biscuits and we made our way to Crema, a town that is approximately an hour and a half north of Novellara, for the race called Liberazione.
It was an absolutely beautiful day and we lined up in short sleeves on the start line with a field of 100 riders. It was a dead flat circuit race of 10km, of which we completed 11 laps. We had two new recruits, Jessica Ridder (NSW) and Louise Yaxley (TAS) who are here for a two-month stint to get a taste of the European racing. Katie Brown, whose Italian team was not racing, also joined us for the day.
With Nat Bates in Holland, and Olivia Gollan and Amy Safe having both flown home to Australia for a few weeks, we had a team of six Aussies with the plan of being aggressive. Jessica had a very impressive race, putting herself in many of the moves and hurting many of the Europeans with well-timed, powerful attacks! Oenone and I were after some good time trial training for next weekend's TT in Switzerland, which is important for Olympic selection, so were on the attack at every opportunity.
With five laps remaining, a rather large breakaway group formed with Jessica and Oenone. However, the Acca Due O team did not have their sprinter up front so coordinated a strong chase, and within a lap, the race was back together. With 16km to go, I was away with fellow Australian Hayley Rutherford from Fanini, and we held quite a substantial time-gap until 4km to go when we were swallowed up by the chasing peloton.
It was a bunch sprint and Russian, Olga Slioussareva (Roadrunner-Guerciotti), took the honours with Valentina Alessio (Bianchi) second and Katia Longhin (Michela Fanini) in third. We all finished in the top 25, and felt quite happy with the hard day's work.
The next race for the team is another National Italian race in Parma in two weeks. However, for Oenone and me, the next race is the Magali Pache TT in Switzerland this Sunday.
Until then,
Sara