The AIS Women's Team Diary 2004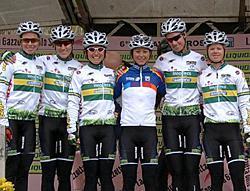 On the podium at Milan San Remo
Photo: © AIS
Welcome to one of our more unusual diaries, with entries from the various members of the Australian Institute of Sport's Women's team as they conduct their European campaign.
In 2003 the AIS team was the top women's squad in the world and has started 2004 with a bang as pocket rocket sprinter Oenone Wood leads the World Cup after two rounds. Follow Wood and team-mates such as Olivia Gollan and Sara Carrigan in their diary, only on Cyclingnews.
Trofeo Guareschi, May 10, 2004
Team Aus gets cheesy
By Lorian Graham
The finish
Photo ©: Lorian Graham & friends

Louise Yaxley in action
Photo ©: Lorian Graham & friends

Warning - balloon-bender at large
Photo ©: Lorian Graham & friends

Alison Wright hams it up
Photo ©: Lorian Graham & friends

Team manager Wazza
Photo ©: Lorian Graham & friends

I've heard it is 7 years bad luck if a black cat crosses your path or if you walk underneath a ladder, but for a team that was not even tipped to make a start and a coffee cup which had fallen from a window's ledge nearly landing on our team mate's head during warm up, the odds were stacked high against us right from the start in Parma's Annual Trofeo Guareschi race.
While our podium riders rested their legs for their next big assault in France – Tour de l'Aude and Sara out with illness, Natalie Bates, Lorian Graham, Katie Brown, Louise Yaxley and Jessica Ridder proudly donned the Australian jersey amongst a highly reputable field of 80 riders including Edita Pucinskaite, Sveltana Bubnenkova, Jolanta Polikeviciute and Fabiana Luperini.
By the look of the recently resurfaced 4km circuit we knew the next 20 laps were not going to be a stroll in the park. And clearly outnumbered by surrounding teams of up to 15 riders, our race plan was to be up front, conserve and be in the right move.
Team T2 were the first to strike shortly after the gun and all teams wasted no time to respond. Counter attacks were visibly the order of the day and it was not until the 30km mark, Alison Wright (Team Nobili) launched a courageous break from the peloton. For 2 laps, solo attempts from Team Acqua & Sapone and Pasta Zara failed to bridge the 30-second gap. And an aggressive Team T2 was soon found once again on the front reeling everyone in.
After numerous attacks by ourselves and others, at the 2 laps to go call, the bunch was still as thick and a last attempt was made by Jolanta Polikeviciute (Team Chirio) up the long drag in the back straight to launch Fabiana Luperini (Team Let's Go Finland) over the top for a breakaway win, but to no success. The bell lap sounded and there was a great scurry to seize the best position at the front. The tinkle of metal against metal is never a good sound in the bunch and a Team Nobili rider hit the deck hard nearly resulting in a collision with our Australian teammate, Louise Yaxley in the final 2km.
After a hair-raising tight last turn into the finishing upward straight, Katie Brown hit the front at 300m to go and drove it hard with myself pinned to her wheel.
In a frenzied sprint for the line, Giorgia Bronzini (Team Pasta Zara) stomped home in the closing 50m to claim victory from Katia Longhin (Team Fanini) and fellow Aussie, Alison Wright (Team Nobili). Katie Brown courageously hung onto 4 and I finished in 10 place.
Our Team's efforts were highly rewarded at the prize ceremony upon which we received the 'Top Team Award' and a year's supply of cheese (parmesan of course!), ham, salami, chocolate biscuits and wine!
Photography
Images by Lorian Graham & friends
Results
1 Giorgia Bronzini (Ita) Team Pasta Zara
2 Katia Longhin (Ita) Team Michela Fanini
3 Alison Wright (Aus) Team Nobili
4 Katie Brown (Aus) Team Australia
5 Valentina Alessio (Ita) Team Bianchi
6 Julia Martisova (Rus) Team T2
7 Francesca Castrucci (Ital) Team Acque & Sapone
8 Tania Belvedersesi (Ita) Team Acqua & Sapone
9 Alessandra Cappellotto (Ita) Team Chirio
10 Lorian Graham (Aus) Team Australia
 
Best Team
 
1 Team Australia