The AIS Women's Team Diary 2004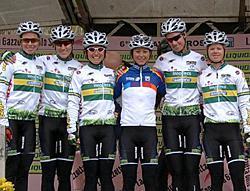 On the podium at Milan San Remo
Photo: © AIS
Welcome to one of our more unusual diaries, with entries from the various members of the Australian Institute of Sport's Women's team as they conduct their European campaign.
In 2003 the AIS team was the top women's squad in the world and has started 2004 with a bang as pocket rocket sprinter Oenone Wood leads the World Cup after two rounds. Follow Wood and team-mates such as Olivia Gollan and Sara Carrigan in their diary, only on Cyclingnews.
Flèche Wallonne World Cup, Belgium, April 21, 2004
Tactics a-Huy
By Sara Carrigan
A room with a view
Photo ©: Lorian Graham

The team
Photo ©: Lorian Graham
Oenone gets a rub
Photo ©: Lorian Graham

The race
Photo ©: Lorian Graham

Flèche Wallonne was the fifth round of the Women's World Cup, which began and finished in the town of Huy. The race was a 97.5km loop and was a typical undulating, narrow, twisty Belgian course with six notable climbs before the hill-top finish on the renowned Mur de Huy. It is only 1.3km long but is extremely steep with some sections over 20 percent in gradient. This type of climb suits our powerful World Cup leader so we were confident of holding onto the leader's jersey and even a possible win.
There was a large field of 28 teams and approximately 155 riders. However, Mirjam Melchers (Farm Frites) and Zoulfia Zabirova (Team Lets Go Finland) were the two riders who provided the main threat to our overall World Cup jersey. So, our plan of attack was slightly different to the preceding rounds in that we were not going to take control of the race, but rather let other teams do the chasing. Over the first climb (13km into the race), Ina Teutenberg (German National Team) and Miho Oki (Farm Frites) attacked, rode away from the bunch and held their lead until the bottom of the third-last climb (the Cote de Bohisseau) with 34km to go.
It was at this point in the race that team mates Fabiana Luperini and Zoulfia Zabirova (Let's Go Finland), counter attacked each other before establishing a small breakaway of Lyn Bessette (Canadian National Team) and Genevieve Jeanson (Rona) and Fabiana Luperini (Team Lets Go Fin). This forced Mirjam Melchers' team, Farm Frites, to chase and eventually the three riders were reeled in over the top of the second-last climb (Cote de Ahin).
With 13km to race, the bunch had dwindled to approximately 30 riders and it became very aggressive with many riders launching in hope of securing an advantage before tackling the Mur. Oenone kept in close contact with Mirjam and Zoulfia, and Liv and I remained near the front. Sonia Huget (French National Team) tried her luck at the beginning of the descent with 6km to go and got a gap on the field. Hanka Kupfernagel (Vlaanderen), with her superb bike handling skills, attacked the corners and made her way to Sonia who both then held off the chasing bunch to the bottom of the Mur de Huy.
We brought Oenone on to the climb in good position after which she attacked, and both she and Liv gapped the remaining field. This climb truly is a test a of power and lactate tolerance. Liv blew up with 300m to go and it was with 100m before the finish, that Oenone had Hanka in her sights but with legs filled with lactic acid, Oenone had nothing with which to respond as riders began to overtake.
After the race, Oenone felt mixed feelings of both frustration and elation. Frustration that a podium finish had been in her sights and elation that we had in fact increased the World Cup lead! Mirjam finished outside the top 20 and therefore, did not gain any points and Zoulfia finished 17th, which was worth only four points.
All in all, it was a successful day. There are four rounds remaining with the next race in Montreal, Canada.
Till then,
Sara