The A.I.S. Women's Team is proudly sponsored by:














The AIS Women's Team Diary 2004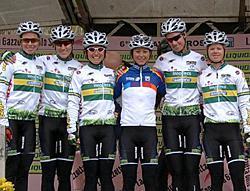 On the podium at Milan San Remo
Photo: © AIS
Welcome to one of our more unusual diaries, with entries from the various members of the Australian Institute of Sport's Women's team as they conduct their European campaign.
In 2003 the AIS team was the top women's squad in the world and has started 2004 with a bang as pocket rocket sprinter Oenone Wood leads the World Cup after two rounds. Follow Wood and team-mates such as Olivia Gollan and Sara Carrigan in their diary, only on Cyclingnews.
AIS women's camp, Novellara, May 6, 2004
Italian culture, Aussie-style
By Lorian Graham
Don't leave home without it
Photo ©: Lorian Graham

Nat's nosh.
Photo ©: Lorian Graham

Dinner time
Photo ©: Lorian Graham

Natalie and Sara reward themselves
Photo ©: Lorian Graham

Home away from home
Tip-top tidy and in working condition is the way the AIS girls like to keep their home away from home. With a weekly-rotated roster in place, everyone does their fair share of the household duties: cleaning the kitchen, living room, bathroom, mopping, sweeping, emptying the rubbish and locking up.
From the moment we wake up, food is on our mind and hundreds of delicious ideas for our next cooked meal are exchanged during the chitter-chatter on our early morning training ride. As you can see, our very petite kitchen may not exactly be 'chef' standard, but even Jamie Oliver would highly recommend some of the scrumptious dishes that the AIS girls cook.
The girl's secret to such appetizing creations is the AIS cookbook, which is given a continuous workout 24/7. This bible of recipes is every athlete's dream to cooking simple, quick and healthy low-fat meals. The longest time spent using the book is trying to find the ingredients in the supermarket. It's always advisable to take an Italiano phrase book!
Our living room is visibly the buzzing heart of our house where plenty of time is spent studying Italian, watching TV (in Italian) and devouring food! We were even fortunate to have some special guests drop in for a visit, Sara's boyfriend Stan and Jessica's boyfriend Spencer. Jessica Ridder is one of two AIS development riders who are here for a couple of months to experience the Italian culture and racing.
Novellara Fair
Anything smothered in Nutella always deserves a taste test! Well, that is what the AIS girls say. And Natalie and Sara did not waste anytime in sampling a crepe or two at the Nutella crepe stand during the Novellara Fair. For three euro a pop (A$5), you could watch these mouth-watering pastries cooked before your very eyes, then smothered in thick Nutella and added extras of your choice - nuts, sprinkles, icing sugar - or Bailey's liquor to numb the taste buds! We rated them a perfect 10 and a perfect snack to spoil ourselves after a hard day of training!
Photography
Images by Lorian Graham