The AIS Women's Team Diary 2004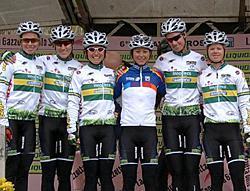 On the podium at Milan San Remo
Photo: © AIS
Welcome to one of our more unusual diaries, with entries from the various members of the Australian Institute of Sport's Women's team as they conduct their European campaign.
In 2003 the AIS team was the top women's squad in the world and has started 2004 with a bang as pocket rocket sprinter Oenone Wood leads the World Cup after two rounds. Follow Wood and team-mates such as Olivia Gollan and Sara Carrigan in their diary, only on Cyclingnews.
Int. Thüringen-Rundfahrt der Frauen - 2.9.1, Germany, July 20-25, 2004
Hard day at the office
Stage 4 - July 23: Schleiz - Gera
By Olivia Gollan
What a day at the office! Stage 4 in Thuringen was an adventure from start to finish for me. Without dwelling on my misfortune too much the day started with me having to go back to the car because I thought I had a nail in my wheel - turned out to be a large piece of tape that made my wheel feel like I was riding over a succession of speed humps. Kate and Margaret paced me back on - the first time for the day! Then I didn't react quickly enough to a crash in front of me and ended up on the tarmac. Actually most of my elbow is on the road somewhere. Kate and Margaret waited again and got me to the medical car where they patched me up - didn't stop me bleeding everywhere for the rest of the race. This time Amy came back and pick me up to get back on.
Aside from these dramas the race was super fast and really aggressive. Oenone and Natalie were covering heaps of moves from the Polekeviciute twins, Farm Frites riders and Fannini riders. Karin Thurig was less visible at the front of the peloton, but still hovered making sure that no real GC threat went down the road. Up the KOM Margaret and Kate sat on the front and I managed to take the points for Natalie - Kate took the sprint points for me at the intermediate! Two many jerseys in the team. Over the KOM, Modesta (Pasta Zara), Pucinskaite (Fannini) and I got a bit of a gap but Zabirova (Let's Go Finland) was on to us straight away.
Going up a climb towards the latter stages of the race, I saw the road again - I could believe it. Kate waited with me while I got my chain back on and Amy dropped back to help me back on. This was getting ridiculous. The race continued to be very fast and my arm kept bleeding. We hit the final 10km as a complete peloton and despite a few moves from Zabirova and Amber Neben (T-Mobile) towards the finish we came into the last three kms with Kate Bates leading out at a rate of knots. With a technical finish turning onto cobbles in the final 200m it was Petra Rossner (Nürnberger) who showed her agility and experience again - great win from Angela Brodka and Mirjam Melchers third.
So that left me second on GC (7 seconds down) and Oenone fourth (8 seconds down). God knows how but I am prepared today to stay upright and for one of us to get that bit closer to the jersey. AND Natalie still holds two jerseys - the mountains and the overall points. She is the talk of the tour and worth her weight in gold.
Ciao for now, Liv.