The AIS Women's Team Diary 2004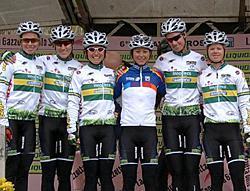 On the podium at Milan San Remo
Photo: © AIS
Welcome to one of our more unusual diaries, with entries from the various members of the Australian Institute of Sport's Women's team as they conduct their European campaign.
In 2003 the AIS team was the top women's squad in the world and has started 2004 with a bang as pocket rocket sprinter Oenone Wood leads the World Cup after two rounds. Follow Wood and team-mates such as Olivia Gollan and Sara Carrigan in their diary, only on Cyclingnews.
11th Giro del Trentino Femminile - 2.9.1, Italy, June 17-20, 2004
A big black hole of pain
By Olivia Gollan
Stage 1 - June 17: Trento - Taio, 88 km
Trentino is a very beautiful place but it can be a big black hole of pain if you are a cyclist! The climbs are neverending and June is when Italy is starting to become a small furnace - it seems you can never get enough fluid into you. Despite this, we are back here to race and after today's first stage, it is clear we are in for a few days' intense racing.
Marion Clignet, riding for the Leizbig Sports team, took an early chance and headed off down the road in the first 20km of the stage. She admirably stayed away for the bulk of the race and managed to hold off the bunch over both the Cat 2 and Cat 1 climbs to take the mountains jersey at the end of the day. If there was a prize for most aggressive today, it would go to the French veteran. It was a great ride.
Back in the bunch it was Fannini Record Rox who was doing all the damage. Swiss national champion, Nicole Brandli was the driver of the stage. She took us up the climbs at an uncomfortable speed - looking to set up her team-mate, Edita Pucinskaite, for the win. With several attacks going up the second climb, it looked like the group would split more than it had already. At this stage we were down to about 20 girls, but though this group splintered on the GPM, it came back together and it was this 20 that came down the final 15km into the finish.
With Nicole Brandli and two Sats riders driving on the front, we caught Marion Clignet with 5km to go. At 3km to go, Nurnberger rider Tina Liebig attacked and got a gap. She scurried away and had about 20 seconds in no time. I tried to go across to her and managed to get within striking distance but was swallowed up by the group. With an awesome effort, Tina stayed away and took the jersey. Judith Arndt lead out Trixi Worrack for second and Oenone sprinted her way into third place. Nice.
One of the quaint things about racing in little towns throughout Italy is that you stay in hotels where phone lines are non-existent. This is my feeble excuse for not getting these race reports out to those interested parties sooner. We have had a relatively successful few days' racing in the hills - considering most of us were here to train and get in some solid days on the bike.
Stage 2 - June 18: Baselga di Piné - Baselga di Piné, 86 km
The Nobili Guerciotti director told us in broken Italian before the start that the climb in this stage was 4km - 1.5 kilometres at 13% and 1km at 15%. After much discussion amongst ourselves, we decided he was kidding himself and that the climb couldn't possibly be that hard. It was... Two loops of a 44km circuit saw us challenged with this climb twice.
Naturally, the first time over, the group split to pieces and there was a small group of about 20 people left at the top. Down the descent, it regrouped to a bunch of about 50 and it was this bunch that hit the climb for the second and last time. From my perspective this was the end of the race for the day - I touched a wheel in front of me and came down. Thankfully I had Jess Ridder, Amy Safe and Nat Bates to get me to my feet and moving again. I climbed as hard as I could but didn't quite make the tail of the front group before I blew to pieces and found myself in a chase group for the rest of the race. Oenone and I finished about two minutes down and left ourselves out of contention for GC. Up ahead, Zinaida Stahurskaya took the stage win from Modesta Vzesniauskaite (Acca Due), and Tina Liebig held the leader's jersey with some awesome work from Judith Arndt to keep her with the front runners.
Stage 3 - June 19: Mozambano (Mn) - Verona, 117.8 km
So this was meant to be the pancake flat day! We should have known that we were in Trentino and this would not be possible. Only one category 3 climb for the day - over the world championship course through Verona.
It was a day for the opportunists - attack after attack from numerous different teams including us. Amy, Nat and Jess were charged with the responsibility of trying to get something away and they didn't let the side down. Unfortunately, Nurnberger, Acca Due and Fannini were reluctant to let much go down the road because of the likelihood of a sprint finish. It was a fast thrash through Verona, over the cobbles in the city, past all the tourists and then over the 3km climb.
The climb was hard enough to split the field and it took quite a while before the bunch came together again. Attacks started up again but nothing stuck. We did three loops through the finish before the end - so we were fortunate enough to see that the last 1km was uphill! I made a rash statement about leading out Oenone but failed to hit the front in the last 2km because Nurnberger were on the front doing 60km an hour. It was an extremely hectic finish and Oenone managed to find herself at fifth wheel with 1km to go. Judith Arndt charged up the climb and an Acca Due rider took over with 700m to go. Petra Rossner sprinted with 400m to go and had Regina Schleicher on her wheel. Regina took the win after passing Petra with 200m to go. Oenone held on for an impressive third place. Leibig still in the jersey by seven seconds.
Stage 4 - June 20: Lavis - Cembra, 94 km
With lightning, thunder and extremely heavy rain for the entire night and morning, none of us were keen to start today's stage. But the gods must have been happy with us because we started the race with dry roads.
With 25km of flat before the first 10km climb there were plenty of attacks from people who were keen to have some time before we hit the hill. Diana Zilute (Acca Due) and Cartia Longhin (Fannini) were two who managed to get a decent gap before the climb and help their GC riders when the front group came past them. Stahurskaya drove it for about 5km up the first climb until she dropped Leibig. Edita Pucinskaite attacked and took Susanne Ljungskog and Jolanda Polikeviciute with her. They established a lead of about one minute but Judith Arndt and Trixi Worrack steadily brought them back - being careful not to put their leader in too much trouble. We regrouped and the pace was pretty steady until the final 15km climb into Cembra.
It was here where I was in trouble - Ljungskog attacked and attacked. At every steep pinch she tried to get away and Pucinskaite wasn't far behind. I was struggling to hold the group of 12 that were left, but managed to stay there until the finish after getting hooped nicely at the start of the climb. Somehow, Nurnberger patiently chased everything down and Tina won the tour. It was a very special effort from a young German who I believe was their key to winning Tour de L'Aude this year. The sport needs more teams like Nurnberger to make the racing. It is awesome to watch. Stahurskaya took the stage win and I grovelled over the finish line without a sprinting leg left.
Good training, though...