The A.I.S. Women's Team is proudly sponsored by:














The AIS Women's Team Diary 2004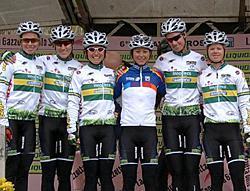 On the podium at Milan San Remo
Photo: © AIS
Welcome to one of our more unusual diaries, with entries from the various members of the Australian Institute of Sport's Women's team as they conduct their European campaign.
In 2003 the AIS team was the top women's squad in the world and has started 2004 with a bang as pocket rocket sprinter Oenone Wood leads the World Cup after two rounds. Follow Wood and team-mates such as Olivia Gollan and Sara Carrigan in their diary, only on Cyclingnews.
Latest entry: A long time coming by Olivia Gollan
2004 entries
Women's Olympic Road Race, Athens, August 15, 2004
Int. Thüringen-Rundfahrt der Frauen - 2.9.1, Germany, July 20-25, 2004
Giro d'Italia Femminile, Italy, July 2-11, 2004
Tour de L'Aude Feminin, France, May 14-23, 2004
Other 2004 entries
2003 entries
World Road Championships, Hamilton, Ontario, Canada, October 7/12, 2003
Giro della Romagna Donne - 2.9.1, Italy, September 28, 2003
Giro della Toscana Internazionale Femminile - 2.9.1, Italy, September 16-21, 2003
Trophee d'Or Féminin, France, France, August 27-31, 2003
World track championships, Germany, July 30-August 3, 2003
Giro d'Italia Femminile, Italy, July 4-13, 2003
Other 2003 entries