Tour de France Cycling News for July 13, 2007
Edited by Bjorn Haake and Laura Weislo
Pippo as promised
By Gregor Brown in Autun
The stage winner, Pozatto
Photo ©: Sirotti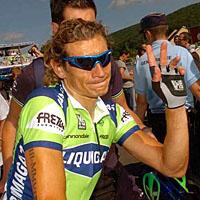 Filippo Pozzato lived up to his promise and took the 182-kilometre stage five from Chablis to Autun. The long-haired 25 year-old Italian put the power on high after the final right-hander at 350 metres to go to overtake his adversaries and live up to his promise of the day before. Cyclingnews' Gregor Brown reports on 'Pippo' Pozzato's second career stage win in the Tour de France.
In 2004, Pozzato took his first win in the Tour de France at a mere 22 years old. The Italian from Sandrigo was riding on Giancarlo's Ferretti's Fassa Bortolo team and put a marker down of greatness to come by winning the 204.5-kilometre stage to Saint Brieuc. "I took a big risk to win today and it worked out," stated Pozzato after his win three years ago.
'Pippo' steadily grew by taking one solid win a season; after switching to Quickstep in 2005 he won the HEW-Cyclassics, in 2006 the big one came with Milano-Sanremo and this year he had already taken the Belgian Classic Omloop Het Volk. (Read the Cyclingnews Het Volk post-race feature.)
Cyclingnews had spoken with the talkative rider the day before in Villers-Cotteręts and he had hinted strongly of a win to come. "Tomorrow will be good for me," he predicted. "I think it will be a stage to control because everyone will want to go into an escape but we will try to control it so that it arrives in a sprint. A sprint from a small group." He concluded, "I will tell you how it goes tomorrow night."
Coming up on
Cyclingnews will cover the 60th edition of the Dauphiné Libéré live as of stage 4 on Wednesday, June 10, at approximately 15:00 local Europe time (CEST)/ 23:00 Australian time (CDT)/ 9:00 (USA East).

WAP-enabled mobile devices: http://live.cyclingnews.com/wap/
See the full story here.
Full Stage 5 coverage: Stage details, Full results, report & photos, Live report, Video
Vinokourov, Klöden injured
By Brecht Decaluwé in Autun
Alexander Vinokourov (Astana) finishes
Photo ©: Sirotti

The Astana team had a major setback on Thursday when their two GC contenders, Alexandre Vinokourov and Andreas Klöden crashed in separate incidents. Andreas Klöden was the first to go down, having touched a wheel of the rider in front when the peloton slowed suddenly. He fell into a roadside ditch, but managed to rejoin the peloton with the help of his team-mate Daniele Navarro. Post-race he was taken to hospital in Autun where X-rays revealed a fracture in his tail bone, which he had already broken in 2003. He also suffered contusions on his thigh and hip.
The team had a second serious mishap when Alexandre Vinokourov crashed after his chain jumped, and had to mount a furious chase for the last 30 kilometres of the stage. He arrived with blood pouring from both knees and his shorts ripped open on the right side.
In a first reaction, Astana's general manager Marc Biver was disappointed that his two leaders went down and was hopeful that things would turn out better than feared. "We heard from [Antonio] Colom on the team radio that Vino was on the ground, and 10" later we were there while he was already back on his feet," Biver explained. "We gave him another bike and he rode on, meanwhile the others didn't wait of course," Biver smiled.
"Everybody described us as favourites for the Tour, but I always said that the race is three weeks long and that it's not good to forecast the winner," Biver told Cyclingnews. "The Tour de France is three weeks long and many things can happen. And today our two leaders crashed but tomorrow it's Friday 13 and we'll see what happens, it's another day," the Luxembourgian said.
"The injuries from Vino looked like the most serious - at least visually. Klöden has hurt his vertebra, but we'll know the medical verdict tonight. Tomorrow morning we'll know if they could sleep and recover," Biver indicated.
Klöden already had to abandon the Tour twice. In the 2003 Tour, when the team was followed by TV cameras for the outstanding documentary Höllentour ("Hell on wheels"), he suffered a fractured tailbone, while in 2005 he broke his navicular bone, lying 11th overall.
"It reminds us that we have to remain humble. If accidents decide that we can't battle for the victory then that's our destiny, there's nothing we can do about that. It's sad to lose the Tour de France like that, but life goes on," Biver tried to put everything into perspective.
Cancellara gets a bonus day
By Brecht Decaluwé in Autun with additional reporting from John Trevorrow
With only 33" separating Cancellara from GC-contender Andreas Klöden, and 29" to second-placed Thor Hushovd, it seemed likely that the time trial World Champion would finally concede his Maillot Jaune on stage five, but fate worked in his favour and despite nearly crashing on the final descent into Autun, the Swiss rider prevailed for another day.
"When the mountains come the time in yellow will be over for me," he told Cyclingnews. "So for sure there will come a day that I have to give this back. Then another job starts for me as I want to give everything back what they [the team -ed.] are giving to me these days, I want to thank CSC, my teammates for that."
"With Fränk Schleck and Carlos Sastre we have guys with GC ambitions and I hope that it stays with the team; we will try to keep it. For now we'll focus on the coming days as Thursday's stage isn't too hard."
Stuart O'Grady, who has been faithfully devoting his entire Tour to the service of the yellow jersey, despite being banged up by his crash in the prologue, had been ready to let the jersey go Thursday morning. "Thor Hushovd is now within striking distance of the jersey, so maybe we will look at handing it on sooner rather than later," he said after stage four. However, when the race unfolded, it played into the CSC team's hands.
"By this morning the team had decided that enough was enough. We'd worked very hard and solidly and had been fortunate enough to have been rewarded with a large slice of the cake. But we know there's a hell of a long way to go. So we made the considered decision to let the break go, and the yellow with it," O'Grady explained. "But as we know, this is the Tour de France, and quite a number of teams haven't done anything yet. We took the view that it was up to them to decide if the Tour was to have a new leader. Or that one of them was going to try to win a stage.
"I believe that justice was done as it was Liquigas which did most of the work all day, and thoroughly deserved the win. Full credit to them and Filippo Pozzato. It was a tough, typical Tour stage. There were a lot of riders really suffering on the narrow, dead and unforgiving roads today. Now the tour is really starting."
Cancellara, for his part, has been too busy this Tour de France to truly appreciate what he's done so far. "I think I need a few days after the Tour de France," he confessed. "During the race you haven't got time to really realize what you did. It's still two and a half weeks hard work. For sure, for me it's easier as I already have a few things in my pocket," he smiled.
Boonen out of green
By Brecht Decaluwé in Autun
Boonen gives up green jersey
Photo ©: AFP

Quickstep's Tom Boonen has had a frustrating Tour. Deprived of stage wins first by Robbie McEwen, then by his own team-mate, then by the yellow jersey himself, Fabian Cancellara, Boonen's lead-out again failed to deliver the Belgian in a good position at the stage four sprint in Joigny. In stage five, the Belgian suffered at the hands of an old enemy - gravity.
With eight climbs to cross, the last of which came 8.5 kilometres to go, Boonen let go of the peloton and struggled in more than a minute down, conceding the jersey to Milram's Erik Zabel. "I've gone full on every day," the former World Champion told Sportwereld. After Thursday's stage he said, "It was not possible for me to go any faster, and I had to let the rest go." Boonen was lucky enough to wind up in a motivated chase group with Alexandre Vinokourov (Astana), who crashed and was trying to save his hopes for the overall classification. But when they came into the finish town, Boonen was philosophical about his chances in the points classification. "The green jersey? I'll take it day by day. Perhaps tomorrow there will be a bunch sprint where I can gain some points."
Boonen's green jersey lead was lessened on the cobbled section of the royal roads of Compičgne on Wednesday when the Quickstep train was surprised by an unexpected turn with 500 metres to go. Boonen threw a protesting arm in the air at the finish line, but assured that it was not his team that was to blame.
The Belgian told Cyclingnews, "It wasn't the team's fault. The last kilometres were very chaotic and riders were thrown around in every direction. We tried to do our best to stay in front, but at one point we couldn't move up anymore, then there was a hole we jumped in. Then there was a little corner at 500m that wasn't in the book and that's where it went wrong," Boonen explained.
The other riders avoided the suddenly wide open inside position, knowing the corner was coming up, but the Quickstep train was trapped on the slowest line. "We had to brake completely and got out of position. Where Hushovd went for it we had to brake and that killed us," Boonen lamented.
Medical report: bloody Thursday
By Brecht Decaluwé in Autun
The stage from the small town of Chablis through the Bourgogne wine region towards the bi-millennial city Autun caused many casualties in the peloton. There was the young climbing talent Rémy Di Gregorio who didn't start after yesterday's crash. The Française Des Jeux rider told Cyclingnews yesterday, "if tomorrow brings the same pain like today there's no way I can continue." There was no way the Marseille-born rider could continue as a medical check-up at the hospital revealed a broken elbow for the poor 21 year-old. Di Gregorio will be sad to realize that he can't ride the stage to his hometown on July 18.
Milram's Australian rider Brett Lancaster, who crashed in the prologue and wasn't spared from bad luck in the following days abandoned. His hurt on his right side, especially his upper leg and abandoned today.
The medical report after stage five revealed minor sores like a headache for Anthony Charteau, an insect bite for his team-mate and yesterday's star lead-out man Julian Dean. Former Spanish champion Juan Manuel Garate received treatment for backaches, and after 83 kilometres there was a crash caused by Belgian Leif Hoste. "I was the first to crash in a corner, it was my fault. It hurts everywhere," a suffering Hoste said to Cyclingnews in Autun. Also afflicted by that crash were his team-mate Johan Vansummeren and Iban Mayo, but all three riders are reported to have only several bruises and superficial wounds.
Andreas Klöden crashed after 108km and was hurt near his hip and received further treatment in Autun hospital. He did manage to finish in the first group.
Brave Geoffrey Lequatre earned the sympathy of all of the French press, and indeed the viewing world, as he arrived 44'04" after the finish. Having crashed dramatically in the feed zone, he was dripping with blood and covered with wounds on his right knee, elbow and both hands. Just like Klöden his was brought over to Autun hospital to suture his wounds and to undergo further investigation.
GC-contender Alexandre Vinokourov crashed after 158km in the descent of the Haut-Folin, and after his pursuit towards Autun - where he finished 1'20" down on the leaders - he was brought over to Dijon hospital to receive treatment on his right knee. He was covered with scrapes on his right hip and backside and had blood dripping from his knees when he passed the finish line in Autun.
On the descent of the ultimate climb with no more than eight kilometres to go, Benjamin Noval Gonzalez had an unfortunate run in with the team car of Bouygues Telecom. He managed to reach the finish line where he immediately received treatment in an ambulance. "Noval was distanced by the group of Vinokourov when he crashed into the back window of Bouygues' team car," said Discovery Channel's directeur sportif Dirk Demol. "It doesn't look good for him. The glass has caused a deep cut in his armpit, it has cut through his veins and muscle."
Stage five reactions
Philippe Gilbert (Française Des Jeux)
Before the stage it was expected that we would see Philippe Gilbert in the attack and he didn't disappoint his fans. Gilbert made it into the breakaway that left the peloton after only 19 kilometres. Despite a maximum lead of 14'50" - after 52 kilometres - the five leaders reached the penultimate climb with little more than 40". The Belgian could react on the acceleration of Sylvain Chavanel on the Haut-Folin, but on the final climb, the Côte de la Croix de la Libération, it was over for the two French speaking men. "We attacked and build up a big lead but behind us the speed was just too high," a worn out Gilbert said to Cyclingnews at the finish line.
David Millar (Saunier Duval)
David Millar joined Xavier Florencio in the attack during the final kilometres, but failed to seal the deal and they were hauled in by the peloton with only 300 metres left. "It was better than I expected. I didn't actually realize it was such a fast downhill to the finish. I'm happy," Millar said to Cyclingnews about his time trial towards the finish line.
"It was hairy and we were going flat out. It was time to move up, it was good fun," Millar said, clearly having enjoyed the finale of Thursday's stage. In contrast to the Scotsman, GC-contender Alexandre Vinokourov probably had another opinion on the descent, Vino crashed while descending the penultimate climb, the 'Haut-Folin'. "Poor guy," Millar empathised, "It was a pretty big crash - we were going 70 km/h when he went down. It was a real Tour de France stage today."
Simon Gerrans (Ag2r Prévoyance)
Christophe Moreau was one of the unlucky few to have problems on Thursday, but his was just a minor mechanical. His Australian team-mate Simon Gerrans described the situation for the team. "It is going well so far. We have not have any big issues or crashes in the team. We have not have anyone come down with anything."
"The first few days have been quiet for us. I think today will start to heat up a bit. There will mostly likely be a breakaway. Like always we have to watch for any dangerous moves. I have to watch Moreau and make sure he does not have any problems," he said prophetically before the start in Chablis. "He is looking forward to the Alps and he is not too worried about today's stage. That is when the real shake-up on the GC will happen. We just have to stay at the front and out of trouble. If it splits today at the finish, which I think will happen on the technical descent, we just have to be at the front."
Hunter on stage hunt
By Gregor Brown in Autun
Robert Hunter (Barloword),
Photo ©: Nicolas Götz

Robert Hunter has been inching his way toward a stage win in the Tour de France after taking fourth on stage two, fifth on stage three, then second on stage four. The 30 year-old South African is back in the Tour de France after racing last year with Phonak and is proving that his Professional Continental Team Barloworld team was a good selection for ASO.
"My sprint is coming on good enough at this moment," said Hunter to Cyclingnews Thursday morning in Chablis. "I just missed out on the luck. The last few days have been very close but I suppose that is how it always is." He had finished second on Wednesday in the sprint behind Norwegian Thor Hushovd. "It is the luck of the draw sometimes."
This year's Tour de France seems to be open for every sprinter, Hunter agreed. "I think there are a couple of guys that have really good legs and up until now there has been a different winner everyday. So, there is no team that is really dominating at the moment. It is good. I can't really complain, and I am feeling good, we will have to wait and see what happens in the future."
Hunter is using men like Kanstantsin Siutsou for his lead-out. "I think it is a bit difficult," he said of the team's lead-out train. "We are a slightly smaller team and we don't have... I can't expect anymore than what they are doing. There is no one here who has huge experience in this type of race. What they are trying to do for me is already fine; I am trying to ride off of everyone else and it seems to be working - it is not always the perfect situation but I can't complain."
After getting shelled on the final climb to Autun on stage five, he will have another chance when the Tour finishes in Bourg-en-Bresse on stage six after 199.5 kilometres of racing. "I think tomorrow will be another day for the sprinters. Tom [Boonen] still hasn't won, Robbie [McEwen] would like to get another one." He hopes to factor in to that list of sprinters on Friday. "Yeah. I would like to have another big bash tomorrow. I am sure if the other team try to get it down to a bunch sprint tomorrow then we will be up there with one or two guys to help this and see what happens from there."
Being back at the Grand Tour level is a special experience for the former ProTour rider. "The last time I was here was with Phonak. Obviously it is good to be in the Tour this year and just, basically, racing for myself."
The theory of bike racing
Today's stage five was a difficult affair from a tactical point of view. While on paper it still belonged to the opening week with the usual breakaway looking for glory that gets reeled in the final few kilometres by the sprinters' teams, it practically had no flat parts in it and the final rise was only eight kilometres form the finish.
George Hincapie, the American Champion on the Discovery Channel team, said before the start that "we will try to send someone in an early break, but in the end it will be up to us leaders to finish the job." For him personally going into a break was out of the question, as he was not far behind leader Fabian Cancellara in the overall classification, indicating that "it would be a waste of energy." Nonetheless, with only 43 seconds behind there was always the chance to move in GC with a late attack.
Australian Simon Gerrans on the Ag2r team also expected a break but cautioned that its success would "depend on the composition of the break; who is in it and how many riders there are. If it's only two or three guys then CSC will just ride tempo and control it. But if it's bigger then CSC will send a guy into the break."
While some riders are just happy to make a break and try to win a single stage, the tactics are getting more interesting with all the competitons going.
For example, at the beginning of the day, Cofidis had just one goal in mind, keeping the Polka-dot Jersey "in the house." Stéphane Augé (was leading the competition with nine points and was two points ahead of teammate and compatriot Sylvain Chavanel. The latter could have taken the jersey yesterday, but let Knees go ahead so Augé could enjoy another day in the maillot à pois rouges. Tactics can sometimes mean giving presents that will be later remembered by teammates or even riders on other teams.
The competition for the green jersey also had an interesting constellation. Thor Hushovd had moved up into fifth, only 19 points behind Tom Boonen. While the Norwegian is not particularly build as a climber, he could stand a chance if he could make it over the top with the front group or at least with not too big a gap.
But to make things more complicated, second-placed Erik Zabel is one of the best climbers of the sprinters and was certainly looking to take some points out of his competitors, while Tom Boonen has shown in the Flanders region that uphills don't scare him. But he is better at shorter climbs where his power propels him to the top of the little bergs in no time. His reputation on longer rises, such as the category two Haut-Folin, that came after 135 kilometres, is less stellar.
Then of course there is also the team classification, which is a very prestigious prize to win. The top three riders' time are added up for each stage. With only twenty seconds separating the top five teams, there are always calculations going on who to possibly send into the breaks. The two second difference between Astana in first and CSC in second could be wiped out with a simple first or second place in an intermediate sprint, which credits four or six seconds in time bonuses, respectively.
But both teams, along with Discovery Channel in third and Caisse d'Epargne in fourth, are more interested in the overall, which would open the door for Cofidis, who is not eyeing the overall.
The overall seemed a little less complicated and CSC had to just control the breaks and Thor Hushovd. The only question that remained was if Fabian Cancellara would try for another crazy move at the end to win a stage in yellow before he will have to surrender his jersey this weekend in the Alps.
And in the end all tactics can be thrown out the window if a crash like today happened. Vino's bad luck meant the team had to forget about the team classification (dropping from one to 15 out of twenty teams) and the overall classification has also received a damper.
(All rights reserved/Copyright Knapp Communications Pty Limited 2007)