News feature, July 13, 2007
Pippo as promised
By Gregor Brown in Autun
The stage winner, Pozatto
Photo ©: Sirotti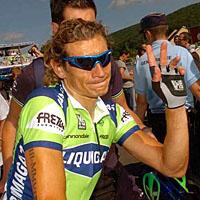 Filippo Pozzato lived up to his promise and took the 182-kilometre stage five from Chablis to Autun. The long-haired 25 year-old Italian put the power on high after the final right-hander at 350 metres to go to overtake his adversaries and live up to his promise of the day before. Cyclingnews' Gregor Brown reports on 'Pippo' Pozzato's second career stage win in the Tour de France.
In 2004, Pozzato took his first win in the Tour de France at a mere 22 years old. The Italian from Sandrigo was riding on Giancarlo's Ferretti's Fassa Bortolo team and put a marker down of greatness to come by winning the 204.5-kilometre stage to Saint Brieuc. "I took a big risk to win today and it worked out," stated Pozzato after his win three years ago.
'Pippo' steadily grew by taking one solid win a season; after switching to Quickstep in 2005 he won the HEW-Cyclassics, in 2006 the big one came with Milano-Sanremo and this year he had already taken the Belgian Classic Omloop Het Volk. (Read the Cyclingnews Het Volk post-race feature.)
Cyclingnews had spoken with the talkative rider the day before in Villers-Cotterêts and he had hinted strongly of a win to come. "Tomorrow will be good for me," he predicted. "I think it will be a stage to control because everyone will want to go into an escape but we will try to control it so that it arrives in a sprint. A sprint from a small group." He concluded, "I will tell you how it goes tomorrow night."
"Tomorrow will be good for me. I will tell you how it goes tomorrow night."
-Filippo Pozzato predicted his victory the day before
"The last 50 kilometres were really, hard," he said one day later, Thursday, after racing and winning the stage of four hours and 39 minutes. "We were pulling hard with CSC and Rabobank who were working for [Fabian] Cancellara and [Oscar] Freire. I want to thank my teammates and my directeurs, like [Roberto] Amadio."
The day presented eight categorized climbs with the last, the category three climb of the Croix de la Libération, appearing at 8.5 kilometres to go. "The finale was very difficult. I was ready to make a go and I felt good on the last climb. I tried to stay up front in the end. I saw [Alejandro] Valverde and he was worrying me."
His worries seemed unnecessary as he was able to stick with the sprinters through the final bend at 350 metres to go and up the closing kick. "In the sprint, the other two were really closing on my side in the sprint and it was close." Three-time World Champion Oscar Freire (Rabobank) charged up the left to take second and Daniele Bennati (Lampre-Fondital) finished with the top two on either side of him in third.
"I had heard that sprint was slightly uphill. In the last 200 metres it was tough because [Alessandro] Ballan swung off really soon and I was on the front. I could either put on the breaks or keep going. I saw Freire and I know he goes strong with an explosive sprint. I was able to hold. To take on Oscar in the sprint is a great feeling."
'Pippo' gave the nod to his Italian acid-green team. "There was a lot of 'grinta' today. Thanks to the team. The group that is in this team is great." Besides Pozzato, there is only one other Italian on the team, Manuel Quinziato. The other six riders are a mix of nationalities, including Brazilian Murilo Fischer and Brit Charles Wegelius. "There is a great union between us."
General Manager Roberto Amadio confirmed that there would be a party tonight for Liquigas' first ever win in the Tour de France.
"I think that these wins give a good image to cycling," Pozzato continued when questioned abut cycling's problems with fighting the doping image. "This brings good credibility to our sport. We do this sport in the end because the passion is there. We do it for all the people on the street that have the same passion. Maybe without this passion cycling won't go on. [Besides my win] there are others, like Vincenzo Nibali and even Giovanni Visconti, winner of the Italian Championship, who are giving a good image to cycling."
The stage win of Pozzato also triggered change in the general classification. He moved from 18th to third in the overall, 35 seconds behind Fabian Cancellara (Team CSC) while Alexander Vinokourov of Astana suffered. The Kazakh crashed with 25 kilometres to go and was forced on the chase.
"I don't know about Vinokourov. I am sorry for him because of the push of the pace. I did not know that he had crashed and I am sorry because he is a grand champion. Like I said the other day, there is no respect for the grand champions. There is no respect in the peloton like in the days of Mario Cipollini and Lance Armstrong. Someone like Vino deserves the respect. He is a great guy in the group and has lots of respect of the others, even if he does not talk a lot."
Pozzato continues to think that Vinokourov will be a threat despite his time loss of one minute. "My favourite for this Tour is Vino. Even after today's loss, which was not a lot. The Tour is still long. Then there is also [Andreas] Klöden and Valverde. Valverde, you do not see him a lot, but he is a favourite."
Tomorrow's stage, 199.5 kilometres from Semur-en-Auxois to Bourg-en-Bresse, could be another good story for Pozzato as he has a good sprint, however, he will take the Tour day by day. "The Tour is long," he continued, smiling and breathing hard after his win. "Maybe there is another, stage 12, it is similar to this one. We are lacking many stages before then... Maybe even tomorrow. But the team will talk and we will see."
With a strong kick at the end of a demanding course, 'Pippo' is noted as a favourite to lead the Squadra Azzurra at the World Championships in Stuttgart this fall. "At the end of the Tour I will start to think of the Worlds," he concluded.
At the Worlds, he could have the support of teammate and Giro d'Italia winner Danilo Di Luca. The Abruzzo was recently put out of suspension by the Italian Olympic Committee (CONI) in regards to the Oil for Drugs investigation. Pozzato, who started his sporting career in Ice Hockey, reflected further on the beauty of the sport and the suffering that cyclists, like Di Luca, go through.
"My opinion is not so important in this matter. I think [the opinion] of CONI is important, and look, the case has been shelved. For me, I see the work that he [Di Luca] does; I have a lot of trust in him. The issue ends there.
"I think that it is bad that every time that someone wins an important race it follows that stories are dragged up. The cyclists are always there, in the rain and the wind. We sign documents and do everything we can to deliver the trust. Everyday, like here at the Tour, there are battles and grand shows of sport. We will go forward from this problem."