Tour de France Cycling News for July 18, 2007
Edited by Bjorn Haake
Demol's Disco boys on the attack
Contador "has the legs"
By Gregor Brown in Briançon
Alberto Contador (Discovery Channel)
Photo ©: Sirotti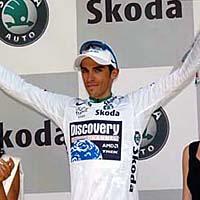 Discovery Channel Directeur Sportif Dirk Demol expects a lot from his charges over the coming days but warned them to be on the defensive for the last stages in the Alpines.
"We think there are going to be attacks from the start again, like two days ago," said the Belgian Tuesday morning in Val d'Isère. His boys went on the attack, first with Popovych and then Contador and they helped eliminated GC-contender Vinokourov. "We have to make sure that when big groups go that we have at least one of us there," he modestly continued. "But on the other hand we need our GC men not spend too much energy, just following the favourites, and that's it."
Demol was impressed with the Alps but thinks the real battle will be played out in southwest France. "We went [in training] to see the Pyrénées stages of next week and they will be hard, and they are still a long ways off, especially considering the two time trials. You have to save energy as much as possible."
Even without Vinokourov, the Tour is as wide open as ever. Demol has his two best-placed riders, Contador and Leipheimer, at 3'08" and 3'53" back, respectively, but considers Moreau the danger man. "I cannot answer who will win the Tour; it is so open and so close. It is good for the fans. For me, the other day [to Tignes], Moreau had a good performance. It was a strong wind and maybe his move was not so smart. It was a long climb. It was maybe not the best to attack from the bottom. When he has the legs he attacks, we saw that in the last Dauphiné.
Coming up on
Cyclingnews will cover the 60th edition of the Dauphiné Libéré live as of stage 4 on Wednesday, June 10, at approximately 15:00 local Europe time (CEST)/ 23:00 Australian time (CDT)/ 9:00 (USA East).

WAP-enabled mobile devices: http://live.cyclingnews.com/wap/

"Contador had a little bad luck but without the puncture he would have finished with Mayo or Moreau," noted Demol. The Spaniard came back with the Disco one-two thanks to Popovych's early move on the Col de l'Iseran. "He was planning to try something at the very end [of Tignes]. We told him to wait because of the strong wind. He lost about 35 seconds due to his puncture. He has the legs. ... In one or two years he could vie for a Grand Tour."
Soler solos to special win
By Shane Stokes
Mauricio Soler (Barloworld) rides well
Photo ©: Roberto Bettini

Two decades after Luis Herrara took the first Colombian King of the Mountains title during the 1985 Tour de France, compatriot Mauricio Soler today showed dazzling climbing form to land a stage win in what is his debut showing at the race.
The 24 year-old caught and then attacked the day's break with approximately 47 kilometres to go to the finish in Briançon. Discovery Channel rider Yaroslav Popovych hung on for a little longer but then he was forced to let go of the flying Barloworld rider, who crested the summit 2'02" ahead of the Ukrainian and a further two seconds ahead of Popo's team-mate Alberto Contador. The two joined forces to try to bring him back but were unable to do so before being caught themselves by the group of main race favourites such as yellow jersey Michael Rasmussen (Rabobank), eventual second-place getter Alejandro Valverde (Caisse d'Epargne) plus several other big guns.
Surprisingly for a Colombian, Soler time trialled strongly to the base of the final climb in Briançon, then powered up the slopes to take the biggest win of his career.
"My big goal was to ride in the Tour de France and to win a stage," the delighted young rider told the media after the presentation. "It is a surprise to have already done so at this early point [2007]. My team showed confidence in me and allowed me to take part in the race. It is a huge satisfaction for me and I am very happy."
You can find out more about Soler here.
Riders reflect on a memorable day
By Brecht Decaluwé and John Trevorrow in Briançon
"We put a lot of effort in today. Popovych, my teammate worked very hard for me. In the end the group came back but all in all it was a good day for us," Alberto Contador (Discovery Channel) reflected on his excellent performance today. During the first mountain stage Contador had already shown some strong accelerations and today he pulled off the same thing during the final kilometres of the Col du Galibier.
"The conditions weren't ideal," Contador referred to the headwind and his flat tyre. "I managed to save time instead of gaining time obviously there's still a long way to go," Contador said. It was clear that Contador didn't want the white jersey he was wearing, he wants the other one.
Yellow jersey Michael Rasmussen was never in serious trouble today and after the finish in Briançon we asked him if he was happy with his performance. "I'm still in yellow and I managed to defend the jersey quite well. Only Evans and Valverde took five seconds so I can be quite satisfied," Rasmussen told Cyclingnews. When Contador attacked on the Galibier Rasmussen surprisingly didn't respond although he is one of the best climbers of the peloton.
"I would like to have joined him but he attacked really hard. Before that I covered about 25 attacks from Valverde and Evans so I was a little bit at my limit to say the least. At the same time I knew that there was still a long way to go for them and eventually they were brought back." In the finale Rasmussen was alone in the front group and he was asked if he wasn't disappointed with the team's performance.
"The team did a really good job in controlling the race until halfway up the Col du Télégraphe. After that I got isolated but eventually only the top contenders were left in the group so you can't expect to have your full team there. It's still up to the team managers to decide but I think things are clearer now in my opinion," Rasmussen pointed out that he's going well and Menchov not.
Rabobank directeur sportif Erik Dekker didn't want to make a choice between Rasmussen and Menchov. "There are still two time trials coming up. Who knows how much time Rasmussen will lose there? It wouldn't be surprising if he loses five minutes and seeing Valverde within that time isn't too good. Rasmussen worked on his position but he didn't do much training on the time trial bike," Erik Dekker admitted.
"I'm still convinced that this can become a strange Tour de France and Klöden is the most consistent factor in it, Evans as well." Rabobank still didn't make a choice between Menchov and Rasmussen although the Russian is already 7'10" down on his teammate. "It's becoming clearer but everything has to be decided yet. The facts are there and Menchov is seven minutes behind but first we have to bring the yellow jersey to Albi where Rasmussen will ride the time trial of his life, then we will know more.
It's true that we can't keep saying that Menchov is equally strong as Rasmussen but what if Menchov can get into an escape? Because that's the Tour that we're going to get in my opinion." In contrast to Dekker was the other directeur sportif's, Erik Breukink, explanation. "I have mixed feelings today. Menchov had an off day and if you have an off day in the Tour then you can't win the Tour de France. Rasmussen is clearly the strongest rider of the two," Breukink said.
Tom Boonen didn't have to battle out intermediate sprints today as the breakaway was already clear, Cyclingnews asked the Belgian how he enjoyed his day in the mountains. "I was doing nothing else but hanging on. Just like other times I didn't suffer that much on the Télégraphe and Galibier but the Iseran was something else. I can't cope well with the height and I suffered a lot especially the last kilometres as there isn't enough oxygen. I wasn't afraid as five guys stayed with me; it was also reassuring that there were many other guys that got dropped," Boonen said.
For stage 10 the green jersey didn't have much ambition and send out the message that Quickstep will not be pulling the peloton. "It won't be a sprint tomorrow, who's going to work for a sprint?" Boonen pointed out that Quickstep will try to avoid a bunch sprint to make sure he can keep his 13-point lead over Erik Zabel.
Michael Rasmussen pointed out that "July is a pretty good time of the year to be on top of your game. At the moment I'm aiming for the yellow jersey all the way to Paris. If I can take the polka dot jersey as well then I'll take it but the main thing is the yellow jersey.
O'Grady recovering, frustrated at being unable to continue
By John Trevorrow
Stuart O'Grady (Team CSC) is lifted onto a stretcher
Photo ©: AFP Photo

After the Australian 60 Minutes TV crew left Stuart O'Grady's room, he finally relaxed and gave more detail about his accident. He told Cyclingnews that he actually felt he was lucky, "If I hadn't hit that post I would have gone over a 10 metre embankment".
O'Gady's thoughts were on his performance leading up to the accident. "The most infuriating aspect of it all is the fact that I was feeling great, the best I had felt in the Tour."
He described climbing the big mountain with the front group and how he "felt pretty happy about that". Then he went back for some bottles to help his "boys" out. "I was loaded up. I was coming back to the group and I remember thinking 'don't go too hard because it was a tight descent and I had plenty of time to get back on the peloton'.
"But as I came around the corner an Astana guy suddenly swerved, around a hole or a rock or something, and the next thing [I know] I hit the post at about 80 clicks. I came to a very abrupt halt," O'Grady explained with dry humour.
"I didn't lose consciousness. It's not very often I scream but I was screaming like a little baby. I struggled to breath and all the broken ribs and cracked vertebrae, well I just smashed that hard I couldn't breath."
He is understandably frustrated now, being confined to a hospital bed. "It's really hard to lay here and watch the Tour on TV. I sometimes joke about retiring and having a bit of fun watching the Tour, but I'm not ready for that yet. I just want to be out there, racing my bike.
"It's going to take a while to come back. I hope to be able to get back on the bike in August but I can't see me getting good enough form for the later season races. I was looking forward to riding the Worlds and it is a hard one and I even contemplated riding the Vuelta (Espana) as preparation."
O'Grady also reflected on compatriots Michael Rogers (T-Mobile) and Robbie McEwen (Predictor-Lotto) being felled by the Tour, which has no mercy at times.
"Gee it was bad luck for Mick. I just watched the highlights before and he was on a ride. Hard luck for Robbie too. I said to the boys the other day that I didn't think Robbie would finish as he obviously hadn't gotten over the fall (in stage 1) and he couldn't put any pressure on up the climbs."
O'Grady is frustrated he can no longer help his teammates in the 2007 race. "I'm really going too miss being with guys and helping Carlos (Sastre) and Frank (Schleck). I guess the only consolation is that I've still got that rock [the cobble stone he received for winning Paris-Roubaix earlier this year - ed.] sitting on the mantlepiece at home."
Carlström keeping a low profile
By Gregor Brown in Briançon
Kjell Carlström of Liquigas is keeping a low profile in this year's Tour de France. His goal is to help Filippo Pozzato win stages and Manuel Beltrán to fight for the Paris podium.
"I am not sure if I would have the legs for an escape," noted the 30 year-old Finnish rider to Cyclingnews. "Wegelius will point towards escapes [in the mountain stages]. Also Albasini and Willems. Wednesday [to Marseille] will be better for me."
Even though Carlström comes from northern Europe, he enjoys the hot weather of southern France. "I would prefer something like 28, 30 degrees; I prefer warm weather over cold weather," he noted. He was happy with the temperatures for the stage to Briançon and in good spirits before the start, appearing relaxed, how a rider needs to confront the stressful days of the Tour de France.
The acid green team did not do a tremendous amount of kilometres on theirs rest day. "Monday we did one hour and 15 minutes on the bike... We just spun the legs easily. We rode from Tinges and down to Val d'Isère, and then back up to the hotel. It was okay, just to loosen the legs."
Riding in the peloton of 170 other riders, Carlström has a chance to observe the GC favourites up close. "He has a chance," he said of current maillot jaune, Michael Rasmussen. "In my opinion he needs to get a couple of minutes more on guys like Valverde and Evans.
"It depends how they go in the following stages. Also, the Pyrénées are going to be tough... although in the book they are not assigned as difficult as the Alps, in my opinion they will be tougher. The Col d'Aubisque will be really... That is the one that goes through Spain [stage 16]. In my opinion that is very hard."
Quickstep's Barredo waiting for Spanish run
By Gregor Brown in Briançon
Carlos Barredo (Quickstep-Innergetic)
Photo ©: Gregor Brown

Carlos Barredo joined Quickstep this year to learn from the Classics' best, Tom Boonen, but he is anxious for his turn when the 94th Tour de France approaches his home country of Spain
"I feel good," the 26 year-old told Cyclingnews on Tuesday. He noted his relaxed rest day in Tignes, "Yesterday we made some good training, three hours. "We did the first climb of today [Col de l'Iseran] and the climb up to the finish of stage eight, the Tignes. It went well, three hours was good for my legs. I road with Garate and the others. If we did not do the training yesterday then the stage today, leaving from Val d'Isère, would have been very difficult."
He is eyeing escapes and stage 12. "If there is an escape I will try to go with them," he continued in his friendly voice. "It will be difficult but if an escape of 15 to 20 goes free we have to be in the escape. We have to have a Quickstep man in the escapes. ... Wednesday and the day after will be a day for Tom and Gert."
The Tour is wearing on many, including Barredo. "This morning I felt tired. I don't know if it was because of the altitude, or the Tour, or... I don't know. However, I think that all the riders are equally tired." He is not giving up on the Tour and, in fact, he has the fighting spirit of an experienced professional. "I have looked at the road book and I like the stage for this Friday, stage 12 to Castres. It is a stage with many small climbs and the final climb of second category."
Cyclingnews explained to Barredo how Stefan Schumacher and Filippo Pozzato were eyeing the 178-kilometre stage to Castres and he laughed. "A lot of riders want to try. We will see how these next days go."
Perhaps the inspiration could come from his family when they arrive for the Tour's second set of mountains. "I think they will come for the three stages in the Pyrénées. For Saturday, Sunday and then Monday," Barredo concluded with a smile.
Penalties all around
By Brecht Decaluwé in Briançon
After stage 9 there were again many riders who received penalties for infringements they made that day. Among them was stage winner Juan Mauricio Soler Hernandez who was punished with a 20" GC penalty and 200 Suisse Francs for receiving a disallowed feed during the final 11 kilometres.
Together with the 1000 Suisse Francs that the team has to pay it is a lot of money but the team will be glad to shell out the euro since they now have a stage win under their belt. There was also a more common name on the list, Stéphane Augé of Cofidis, who once again received a 10" GC penalty and has to pay 50 Suisse Francs as he was caught being pushed when taking on the bottle.
At the start of the stage the French rider confirmed once again that he was planning on some sort of protest to point out to the officials that they exaggerating. "At some stage after Marseille we will do something, we will find a way to do something to take on bottles in another way," Augé entrusted Cyclingnews' Brecht Decaluwé. For now, Augé is still using the old style of taking on bottles... and penalties.
(All rights reserved/Copyright Knapp Communications Pty Limited 2007)