Tour de France Cycling News for July 30, 2007
Edited by Laura Weislo
Contador delivers ninth Spanish Tour title
By Laura Weislo with additional reporting from Brecht Decaluwé
Contador receives the trophy
Photo ©: Sirotti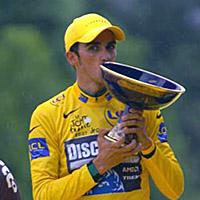 Alberto Contador made the 146 kilometre journey from Marcoussis to Paris safely on Sunday, winning the 3569.9 kilometre long Tour de France by a wafer-thin margin of 23 seconds over Australian Cadel Evans. With his victory, he adds his name to the history books along with just four other Spanish Tour winners: Federico Bahamontes, Luis Ocaña, Pedro Delgado, and the great Miguel Indurain, and sends the ninth title to Spain.
Many a Spaniard has tried to live up to the name of Indurain and fallen short, but at his young age, Contador has the talent and ambition to stand up next to 'Big Mig'. The slightly built 24 year-old has a very different style than the powerful five time Tour champion, and came into this Tour not as a team leader, but as a domestique for his American leader Levi Leipheimer and dark horse candidate for victory in Paris.
"I had not come to the Tour thinking that I could win it. It is true that, after my victory in Paris-Nice last March, I knew that I was able to pull off other beautiful things but it is always very difficult to imagine a scenario like this," Contador admitted following the final parade lap in Paris.
Contador pulled off a magnificent stage win atop the Plateau de Beille, pulling himself into second overall when he put 1'52 into Evans. After three days of battling with Rabobank's Michael Rasmussen on the climbs in the Pyrénées, he had all but resigned himself to second overall when he trailed the Rasmussen by a virtually insurmountable 3'10 after the final mountain stage. But the winds of fate turned against the Dane, and Contador inherited the yellow jersey when the Dane was withdrawn from the race under a cloud of suspicion that he evaded out of competition controls prior to the Tour.
Going into the final decisive stage, the 55.5 kilometre time trial on stage 18, Contador would be in for a nail-biting battle with Evans for the yellow jersey. He led the Predictor-Lotto rider by just 1'50 at the start, but rose to the challenge and held onto the lead by just 23 seconds. "I did not know that I would still be in contention for victory after the time trial on the penultimate stage. That race in stage 19 was definitely the hardest of the Tour for me," Contador said. "I was afraid, but I was preparing for it one day at a time. And, when it mattered most, I was able to deliver a good result."
He certainly delivered the time trial of his budding career, but his lead was nearly eclipsed not only by Evans, but also by his own team-mate Leipheimer, who obliterated the time trial and pulled himself to within eight seconds of Evans. With two Discovery Channel riders on the podium, the team cinched the best team award - something which surprisingly was a first for the team, despite Lance Armstrong's seven Tour victories.
Contador's team-mate and designated protector George Hincapie led the yellow jersey into the final laps of the Champs Élysées just as he had done for Armstrong seven times before, but was able to take in a view that was new to him - the vista from the podium in Paris. "It's actually my first team classification victory," Hincapie said to Cyclingnews. The American champion was certain that the Tour hadn't seen the last of Contador. "There's a good chance we'll see him there a lot more. He's an amazing talent and he's got a good chance to win a lot more Tours."
Doubling up in successful Tour
By Gregor Brown in Paris
The Italian held off Hushovd and Zabel
Photo ©: AFP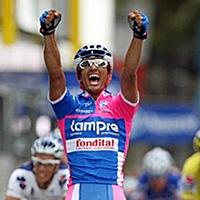 Sprinter Daniele Bennati equalled the success of fellow sprinter Tom Boonen in the 2007 Tour de France, adding to his stage 17 victory on the Champs Élysées with an explosive sprint victory in Paris. The 26 year-old Italian from Arezzo blasted clear of Thor Hushovd and Erik Zabel to take a sprinter's "dream win".
Bennati exudes a quiet and down to earth attitude off the bike, but the former lead-out man of Mario Cipollini unleashed a violent sprint on his competitors on the Tour's final stage. The second win in four days more than made up for a first week spent suffering the effects of a crash, and his persistence certainly paid off, much to the envy of his rivals.
"I still don't believe that I have won this great sprint. As far as I am concerned, it is a dream," Bennati explained with a calmness that must have belied the excitement in his heart.
Through the corners out of Rue de Rivoli and onto the Avenue des Champs Élysées the Lampre-Fondital sprinter was left in the best position possible behind Tom Boonen's lead-out man Sébastien Rosseler. The Belgian of Quickstep end early but 'Benna' was able to hold the distance while fading right towards Hushovd and Zabel.
"I went off the wheel of Rosseler and he had practically taken me to the last metres. It was long and hard for me to conquer. The 200 metres were so long over the cobbles but I had a huge sprint.
"As soon as I raised my arms I saw the Arc de Triomphe ahead of me, I had goose bumps right away. There were tears... It was the most beautiful win for me. ... These two wins at the Tour are not small."
His luck changed significantly from his rough first half of the Tour, where he fought hard just to finish in the top three on stages and had to swallow his pride and give up the status of protected sprinter to his team-mate Danilo Napolitano on several occasions. He never gave up home, however, that he would attain his first ever stage win. "I had hoped to win but I was never secure. ... This Tour, I started bad. I crashed in the stage to Gent I was able get through a hard week and then win a stage, and now a second stage. It is a fantastic moment."
His roommate and close friend Alessandro Ballan, winner of the Ronde van Vlaanderen, rode on the front of the race for many of the first parade-like kilometres before going into an escape on the closing 6.5-kilometre circuits around Paris. Once Ballan's escape group was caught, the blue brigade hit the front for Bennati.
"My team-mates did the most for me in the last laps and that was great. Claudio Corioni did the last two laps all-out; it was amazing." Corioni pulled off with about 1300 metres remaining. "Then there were the other team-mates, they did well too."
The only thing that could dull the experience for the Italian was the absence of his wife on the sidelines at the finish. Police barriers and traffic prevented Chiara Bennati from seeing her husband live out a dream. "The most important person in my life is my wife. She came here to Paris last night. I heard that she was stopped from entering the finish area, the last kilometre," he paused and looked down for a minute in sorrow, "and for this, I am sorry."
The couple will have no trouble finding their way to the first Lampre Champs Élysées victory party since the team won here in 2001 with Jan Svorada.
"You can't really select when you win or don't win," continued Bennati. His last win came at a time when Michael Rasmussen had been forced out of the Tour de France. "I am sorry it happened while all this other news was going on but as far as I am concerned for an Italian to win a Tour stage, it is always great. Like I said before, we can always go forward [in the fight against doping]."
Evans does Australia proud
By John Trevorrow in Paris
Cadel Evans waves
Photo ©: AFP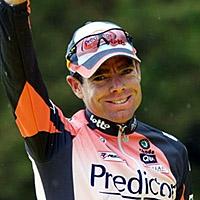 Cadel Evans may have just missed snatching a historic win in the Tour de France, but he was magnificent in defeat. Although this is the greatest achievement by an Australian in cycling, there will definitely be a sense of mixed feelings amongst the Australian camp. To step onto to the podium in Paris is a life's dream for any cyclist, but to miss the top step by less than two dozen seconds can add a certain angst to the equation. "I can't quite believe it to be honest," Evans told Cyclingnews after the finish. "For the amount of work I've put in - well, it's going to take a while for it all to sink in."
One could say that Evans really only lost by three seconds without time bonuses (Contador took 20" with the win on stage 14 and 8" for the third place on stage 16, while Evans took eight seconds bonus on stage nine), making the close call all the more heart-wrenching. Following the time trial, Evans hugged his wife Chiara in a tearful embrace soon after the finish, and it was evident that the three weeks of intense pressure that built to a thrilling climax in the final five kilometres of the time trial bought about a release of raw emotion between the obviously close couple. "I am so happy for him," Chiara said moments before she was wrapped in Cadel's arms. "He rode so great and I am very proud of him. The many messages from Geelong and Barwon Heads have been just fantastic," a beaming Chiara said. "He is going to win it next year."
Evans was kicking himself over the stage 16 finish, where he relied on the other teams to chase Contador and Rasmussen, but hadn't truly come to terms with his achievement. "I think you may have to talk to me in a week when it really sinks in," he said after the finish in Paris. "My only regret is that I relied on other teams into Loudenvielle and lost 55 seconds to Contador. Now I think everyone understands why I was so frustrated."
Those 55 seconds could have easily brought him the overall win in Paris, but the 1'52 he lost to Contador on stage 14 was the one physical breakdown that leaves room for improvement in the future. Predictor-Lotto team manager Marc Sergeant was proud of Evans, and is aiming for bigger things in the future. "It has been a wonderful journey we have done together," Sergeant said in Paris. "Cadel has improved each year. He was 8th in 2005, the 5th last year, now second. We have to work now on the win for next year."
The biggest scare of the Tour for Evans came on stage 18, where Evans clashed with a spectator during the run-in to the finish, resulting in a sore, swollen shoulder. "It was pretty sore actually and it was a worry during the night when it got quite swollen," Evans said. "Luckily it was OK the next morning."
Alberto Contador may have conquered the 94th Tour de France, but there are many who feel that Evans was the real star of the race. The 24 year-old Spaniard put in a tour saving time trial behind stage winner and team-mate Leipheimer, and had to dig deeply in to all reserves to hold off a superb effort by Cadel.
This Tour will be remembered for many reasons. Of course, it will take a concerted effort from all the powers in cycling to recover from the disqualification of Rasmussen, Vinokourov and the entire Cofidis team, but for his countrymen and fans, the feat of Evans will remain indelibly impregnated into memory as one of the greatest contests ever witnessed and one of the most dogged performances by an Australian athlete. Magnifique Cadel!
Green is beautiful for Boonen
By Brecht Decaluwé in Paris
The jersey podium
Photo ©: Sirotti

It was uncharacteristic to see Quick.Step Innergetic's Tom Boonen taking a back seat to the sprint on the Champs Élysées, but with drops of rain beginning to fall and a bigger prize on the horizon, the Belgian decided to be safe and take the green jersey he'd cinched during the stage. He merely kept an eye on his rivals Erik Zabel and Robert Hunter, and followed them in. "I sprinted on safety so I choose their wheel but that way it was impossible for me to win [the stage] of course," Boonen said.
Just by crossing the line in Paris, Boonen finally achieved the coveted green jersey. "You can't compare it with the Tour of Flanders, the world championship of whatever other race. It's the highest achievable goal for me in a Grand Tour," Boonen explained. "I'm very happy and proud about it," Boonen said at the post-race press conference.
'Tornado Tom' explained that it was very special for him to finally win the jersey since he has been targeting it for four years. "If you have to fight for it a couple of years it's more beautiful." He went on to explain that the pressure of early success may have doomed his earlier efforts to take the overall points classification. "You can't start in the Tour like I did in 2004 [with two stage wins]. It's not good - like Contador - that you win straight away, you need experience to handle it," Boonen warned the winner of the Tour de France. "Here you get to know yourself better than in any other race."
After the Belgian went winless in the 2006 Tour de France, there were critics saying he'd lost his speed, but this year, Boonen has shown he was again the sprinter of 2004 and 2005. "I knew that the sensations I had one month before the Tour were fresh and good. That's the way to prepare myself for the Tour: take it easy and stay relaxed," Boonen explained.
Then the 26 year-old said he would take his form to the lucrative post-Tour criteriums next. "I'll do five criteriums and then hopefully no races until the Vuelta," Boonen detailed. "There I will prepare for the world championships for 100%, and if it turns out that I need three weeks then I'll ride three weeks there.
"I still need to take a detailed look at the course of the Worlds but I think it's possible," Boonen expressed he has set his sights on the world championships in Stuttgart. For tonight Boonen hoped to find some decent food. "We have dinner with the team and I don't know what restaurant it is, but I hope they have stoofvlees met frietjes," Boonen said optimistically, referring to the Flemish stew that is served with fries.
(All rights reserved/Copyright Knapp Communications Pty Limited 2007)