Tour de France Cycling News for July 23, 2007
Edited by Sue George
Rasmussen fortifies lead over all but one rival
By Shane Stokes, with additional reporting by Gregor Brown
Rasmussen got second
Photo ©: Sirotti

Michael Rasmussen surprised many with his strong stage 13 time trial and, if anything, he looks more like the possible winner of this year's Tour de France after a storming stage 14 ride to Plateau de Beille.

The maillot jaune dropped all of his rivals bar the Spaniard Alberto Contador, and while the Discovery Channel climber won the sprint for the stage, Rasmussen was the day's big winner. Their ferocious pace consigned many GC contenders to the 'better luck next year' heap, with Alexandre Vinokourov, Christophe Moreau, and Iban Mayo completely collapsing on Sunday. Moreau was worst off, finishing 34'52" back, but Vino was just 6'02" quicker. He said afterwards that he 'had no legs today,' and also had a tumble on the penultimate climb. As for Mayo, he finished 9'31" behind on a stage he was aiming to win and, once again, must be wondering what he must do to have a consistent Grand Tour.

Other challengers limited their losses today, but all conceded important time. Mauricio Soler (Barloworld), Levi Leipheimer (Discovery Channel), and Carlos Sastre (CSC) all finished between 37" and 53" back. Andreas Klöden (Astana) and Cadel Evans (Predictor Lotto) lost 1'52", while Andrey Kashechkin (Astana) and Alejandro Valverde (Caisse d'Epargne) were 2'33" and 3'45" back respectively and can wave goodbye to their yellow jersey aspirations. It was a long, tough day and many paid a price.
Coming up on
Cyclingnews will cover the 60th edition of the Dauphiné Libéré live as of stage 4 on Wednesday, June 10, at approximately 15:00 local Europe time (CEST)/ 23:00 Australian time (CDT)/ 9:00 (USA East).

WAP-enabled mobile devices: http://live.cyclingnews.com/wap/
Rasmussen was, as might be expected, very happy with how the stage turned out. He's now 2'23" ahead of Contador and over three minutes ahead of the rest.
"Obviously Alberto Contador and Discovery Channel were the ones making the race hard in the end," he said after the presentation. "I tried to take advantage of that. Eventually Contador and I got isolated, and we had an interest to take as much time from our competitors as possible. In the end he was better and passed me in the sprint for the win."
Contador and Rasmussen
Photo ©: AFP

He said that there was no arrangement to give the Spaniard the stage, even though Contador appeared to later contradict this. "We didn't speak about the stage win, I think everyone could see that we were both going for it. We went all the way to the line. It is the Tour de France, we don't give presents here. It is a well-deserved victory for Contador, he was very strong.

"This is the Plateau de Beille and it has been won by Pantani and Armstrong in the past. I would have rather beaten him in the sprint than given the victory to him," said Rasmussen.

Given the devastation behind, Rasmussen was asked if this day made it more likely that he would win the Tour. "First of all we will see how tomorrow goes," he answered.

He agreed that Contador is now his main rival. "Yes, certainly. Disco still has two cards to play. Leipheimer is still close in the classification. We still have more than 400 kilometres of riding in the Pyrénées and everyone knows that nothing is over until we reach Paris."

If Rasmussen does win the Tour, he will be a controversial victor thanks to the news that he has missed four out of competition tests and is on his final warning. The missed tests were split between UCI and the Danish national anti-doping agency, and so this 2-2 score means that the Rabobank rider falls just short of the three missed tests for either body that would result in him being banned. Recently, a former mountain biker has also accused Rasmussen of trying to trick him into transporting a blood doping product.

He was asked again today about the cloud over him but, as was the case yesterday, declined to answer such questions. A journalist then asked him how he could justify not discussing the subject at a time when there is general suspicion about cyclists. "For now, I am trying to stay focused on cycling," he answered. "I have one more week of competition. If I have to deal with everything else, then I go crazy."
The Spanish hope for a successor to Miguel Indurain
By Brecht Decaluwč
All is well for Discovery Channel after stage 14, with brilliant performances by Alberto Contador, Levi Leipheimer and Yaroslav Popovich. Cyclingnews talked with the team before the start and got first reactions after the stage.
Alberto Contador (Discovery Channel) seems to smile
Photo ©: Sirotti
After two weeks in the Tour de France the peloton hit the Pyrénées, the chain of mountains separating France and Spain, will likely separate the wheat from the chaff. Many Spaniards were aiming on success near their homeland but when the peloton hit the ultimate climb to the Plateau de Beille they were gasping for breath as a train of Rabobank and Discovery Channel riders maintained a high pace.
Michael Boogerd and Yaroslav Popovych were the last to take a pull and then a firework of attacks followed even though there were more than seven kilometres to cover before the summit. There was only man who could respond to an acceleration by Alberto Contador with six kilometres to go, and it was yellow jersey Michael Rasmussen from the Rabobank squad. The two worked their way to the top where the young Contador outsprinted Rasmussen and grabbed his first ever Tour de France stage win. It was the first win for Discovery Channel in this Tour de France and the first Spanish winner in this Tour.
The young Spaniard - Alberto Contador Velasco in full - was delighted with his victory. "It's a dream come true, a stage win in the Tour de France," Contador smiled. "This was so impressive," he continued, "with all those people along the side of the road. I want to thank everybody who supported me, my team and my family and everybody who was also there in the bad times," Contador said. The Spaniard had a huge clot in his brain after a crash in the Vuelta de Asturia back in 2004.
He overcame this life-threatening situation and returned to the scene in 2005 with a stage win in the Tour Down Under and he continued his recovery by also taking stages in the Tour of the Basque Country and the Tour de Romandie. He ended his first Tour de France in 31st position and looked forward to do better in 2006. That was impossible as Contador and his Liberty Seguros team weren't allowed to start because of the Operación Puerto.
He was a victim of speculation because soon after the Tour de France he was cleared. The Spanish climber didn't regret that missed chance too much. "It's a pleasant surprise to be in this situation now if you compare it with last year," Contador said at the post-race press conference, "but after that incident I focused on the new season and a new Tour de France." The talented climber did that in style by becoming the first Spanish winner of Paris-Nice since Miguel Indurain and by winning the Vuelta a Castilla y Leon.
To read the complete feature, click here.
Cioni and Horner shepherd Evans to Cognac
By Gregor Brown and Brecht Decaluwé in Montgailhard with additional reporting by John Trevorrow
Cadel Evans (Predictor-Lotto)
Photo ©: AFP

The Predictor-Lotto team is thin on mountain domestiques to help Cadel Evans vie for the maillot jaune but Chris Horner and Dario Cioni have promised to do all they can so that their leader reaches Paris in top spot. Stage 14 to Plateau de Beille saw the Aussie come under fire from Contador and Rasmussen and lose time. He is currently in 3'04" back in the overall classification, however, the 55.5-kilometre Cognac time trial still looms.
Evans, who lost almost two minutes Sunday, realized his chances were smaller but he didn't want to give up for the overall win just yet. After the stage, Evans said, "They kept attacking, attacking, and putting me over my limit. I had to stay with them and accelerate with them to show that I wasn't weak but unfortunately, maybe, that was what cracked me, and that was their focus. I just have to stay consistent – it's not over yet. It's my first day of the Tour that hasn't gone as I wanted so I need some time to consider the next few days but every second counts."
Just like Evans, directeur sportif Hendrik Redant didn't want to panic. "Evans ran short against two pure climbers, Contador showed earlier that he is the better climber. We expected this scenario where Rasmussen would attack. He had to do that as he needs at least 2.5 minutes for the time trial," Redant referred to the penultimate stage. "For now, we didn't lose the war," Redant said. "There are still two hard stages coming up and we will see in Paris who the strongest rider is."
The team came to the Tour de France with two types of leaders, Robbie McEwen for the sprints and Evans for the overall. However, a difficult day meant that the sprinter went home and that the team has now shifted its entire focus on a GC push. "We have been protecting Cadel from the beginning," explained Cioni on Sunday morning in Mazamet.
"It the beginning, we also had Robbie to look after, so we were divided in two groups, one with Cadel and one with Robbie. Unfortunately, Robbie went outside of the time cut in the first mountain stage, and since then, the team has really only been for Cadel." Van Summeren, Rodriguez, Vansevenant, Aerts and Hoste also remain in the team of eight.
Evans' solid crono on the roads east of Albi moved him into a brighter spotlight. "Let's say that now there is no more hiding. Up to now there were quite a few race contenders and now there are bit less even if it is still not decided."
The race was further decided by Sunday afternoon when Vinokourov and Valverde dropped out of contention.
"It is difficult, you sort of make plans before the start and then something else happens," Cioni continued on the team's role." Going into the first Pyrenean stage, Sunday, Horner said,. "We are not done with the Tour yet so we don't know. At this moment I would not see any a problem with having the jersey or being one minute back."
The 35 year-old American is in fine form. He was the last Predictor rider to stay with Evans on the Plateau de Beille, and reckoned that the hardest stage will be Monday, the 196-kilometre day that ends in Loudenvielle le Louron.
"My legs are fine, I did not ride hard yesterday [in the time trial], I rode on the low side of hard just to save something for the mountains. I am sure if I really wanted I could do a minute or two minutes in the time trial, but that was not the plan, what was that going to do?
"I think tomorrow is the most threatening, Monday's stage. ... Tomorrow, you will have multiple climbs in a row with a final descent [off the Peyresourde]." Rasmussen had to follow everyone up the climb Sunday, but Monday, "He has to follow them down the hill. You can't cover all of them [the GC men]. You can cover all of them going up the climbs but you can't cover them going down, it is impossible.
"Rasmussen's most dangerous stage has got to be tomorrow's [Monday's] stage because if he goes over the top without any team-mates then he is going to be in trouble."
Gerrans getting by
"My legs aren't too bad"
By Gregor Brown in Montgailhard with additional reporting by John Trevorrow
"I am okay," said Australian Simon Gerrans at the start of stage 14 to Plateau de Beille. The 27 year-old went down with team leader and French Champion, Christophe Moreau, in a gusty Tour de France stage to Montpellier, but he is determined to do all he can for Team Ag2r in the Pyrenean stages ahead.
The rider from the Victorian Alps was worried about the 197-kilometre stage on tap. "At the moment I am okay, but it might be a little bit different in about ten kilometres," he noted with concern to Cyclingnews.
After the stage, he said, "Tough day today. It went out of the blocks up the cat 2 which hurt. Then things settled down until the Hors Cat where the bunch split up. I ended up back in the grupetto and we finished at around 35 minutes down." Gerrans ended up with Moreau. The duo will have to focus on two remaining stages, Monday and Wednesday, the day after the rest day.
The scenery was stunning on stage 14
Photo ©: Sirotti

He welcomed the sunny start in Mazamet, home of Laurent Jalabert, after Saturday's rain-soaked time trial affair. "There was no point in me going flat out yesterday. I am a long way down on the GC and so there is a no use hurting myself any more than I had too. It rained on me from start to finish."
He had seen time trial World Champ Cancellara slide-out in a right-hander but he explained his day out was a lot less intense. "He went really close a couple of times. He did not back it off at all, he just kept pushing it and he eventually went down. It was the last sort of tricky corner where he went down.
"I took it really easy on the descent to avoid crashing. It was only that first descent that was tricky." Gerrans finished with a time of 9'30" down over the 54 kilometres. "So, otherwise, I just rode tempo to the finish, it was a long way."
Gerrans and Moreau will focus on taking a mountain stage for the team. Gerrans explained that Moreau's lost time might help his escape chances. "He was on a really bad day. After his crash, he was shook up a bit. Now he has nothing to lose, he is a long way down on GC so I think he will be looking for a stage win. ... The next three days are going to be hard, and I am not really worried about any particular stage. My legs aren't too bad."
Pippo passing Pyrénées
By Gregor Brown in Montgailhard
Filippo Pozzato (Liquigas) has no pressure
Photo ©: Gregor Brown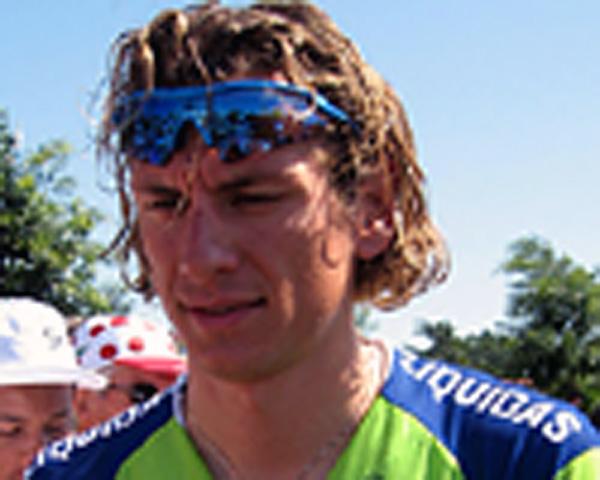 Filippo Pozzato may have the Milano-Sanremo and Het Volk on his palmarès but that does not mean he stands a chance in the hot and demanding stages of the Pyrénées. The Italian from Veneto, winner of the Tour de France stage to Autun, is looking to pass the Pyrenean climbs and is focused on his last three stage possibilities.
"It was calm and very cool," Pozzato explained to Cyclingnews of the time trial around Albi. He was one of the many riders who road in the rain over the 54 kilometre test but fortunately there was no pressure on him to perform. Just like in the current mountain stages, he is looking to save himself for the flatter days to come. "I will need to save myself and I hope for the best."
His Byelorussian teammate, Aleksandr Kuschynski, tried his luck in the stage to Plateau de Beille while 'Pippo' rode in the gruppetto to finish 34 minutes back.
"After the mountains there are two nice stages and then Paris. I hope to be able to do something good," said the tall, 25 year-old. The Tour will finish with closing circuits on the Champs-Élysées as normal. "I would really enjoy winning in Paris because Paris is a grand bel arrivo but I have to arrive there first."
Pozzato had pointed toward stage 12 to Castres after his win in Autun but he was a little held up in the finale, where he ended fourth behind team-mate Murilo Fischer. "We had a problem with the round-about after the last kilometre banner and we lost a little bit. It was also a little bit of a mess in the sprint; I bumped against Ballan but it was fine, the same."
The next chance for Pozzato will come on Thursday, with the 188.5-kilometre stage to Castelsarrasin.
Coalition of Predictor and Rabobank?
By Brecht Decaluwé in Montgailhard
Going into Sunday's mountainous stage 14, two teams shared mutual interests and were well set up to lead the peloton through the Pyrenees. The two Dutch-speaking teams Rabobank and Predictor both wanted to defend the yellow jersey; Rabobank held the maillot jaune while Predictor was not far behind with Evans one minute down on the Danish captain of the Rabobank team. Evans proved that he can take at least one minute back on Rasmussen in a long time trial which made him, at least before Sunday's stage, perhaps the top candidate to wear the maillot jaune in Paris, considering that that there's a time trial scheduled for the penultimate stage of the Tour de France 2007.
Before the start of the first mountain stage in the Pyrenees, the two directeur sportifs gave their view on a possible low-countries-coalition. Erik Dekker, whose Rabobank team was leading, said things would have to change for his Dutch team. "It's obvious that we're not in the most ideal position," said Dekker. The former quadruple Tour de France stage winner explained to Cyclingnews that the team built up a lot of confidence in Rasmussen after his strong time trial in Albi.
"Riding a time trial like that proves how strong he is," said Dekker of Rasmussen's strong stage 13 time trial. "I'm not surprised that he stood tall but it's obvious that his time trial was of exceptional class." Dekker explained that Rasmussen was confused about the reference times he had asked for Alejandro Valverde. "Up until now, he still thinks that he received the split times from Boogerd from Breukink but when he spotted Valverde with 10km to go, he received an enormous boost." Approaching the big mountains, Dekker predicted that Predictor would lend them a hand and work hard at the front of the race.
Marc Sergeant
Photo ©: Gregor Brown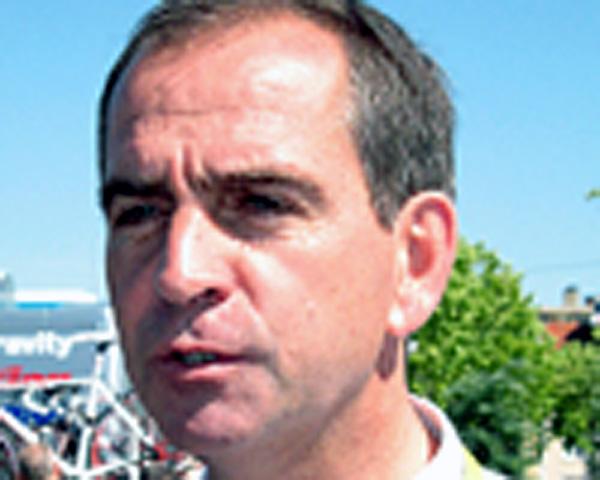 Marc Sergeant, a manager for the Predictor team, confirmed that the Belgian team would support Rabobank in the day's stage. "I don't know who the other guys are, but for sure there will be a few of our guys," Sergeant said he wouldn't force the complete team to work. "We have the same interests as we both want to reach the mountains together. We don't want groups to get away where dangerous guys are featuring, like Moreau," Sergeant explained why the two teams would work together.
The Belgian manager was quietly hoping for the biggest prize of all in Paris, but he'd said earlier that the team was not strong enough to defend a yellow jersey at the moment had Evans managed to collect it after Stage 13. "If we would've drawn out a pattern before the Tour showing us where we would like to be before we hit the Pyrenees, well than it would be just like it is now," Sergeant said before Sunday's stage. One minute behind the less talented time-trialist Rasmussen and 1'31" before the number three seems to be perfect.
"After yesterday I think both Rasmussen and Evans received an enormous boost," Sergeant said. When asked to give away his three names for the podium in Paris in random order Sergeant picked Evans, Rasmussen and Klöden. "Depending on the order I will be happy, very happy and super happy," Sergeant laughed and then focused on getting the team car ready for the first mountains stage.
He may not be too far off in his prediction. Even after Sunday's stage 14 GC shake-up in the mountains, his three picks remain in first, third, and fifth, all within 4'38" of leader Rasmussen. However, he may need to re-evaluate, taking into consideration two strong Discovery riders, best young rider Alberto Contador, now sitting in second at 2'23" and Levi Leipheimer, in fourth at 4'29".
As the Tour crawls its way to the ultimate time trial, Rabobank and Predictor are likely to work more as rivals. Rasmussen will be trying to gain time on Evans and other key GC riders, such as the two Discovery racers. "Let us first start the last week and try to gain time. For sure now it [Rasmussen's advantage in GC] is not good enough but it's better than what we expected 24 hours ago," Dekker smiled. Rasmussen's advantage over second place is even greater after today.
(All rights reserved/Copyright Knapp Communications Pty Limited 2007)