Tour de France prologue post-race press conference, July 7, 2007
Rainbow warrior - Cancellara takes first honours
World time trial champion Fabian Cancellara took the first yellow jersey of the 2007 Tour de France with a scintillating ride in the prologue. Cyclingnews' Shane Stokes heard his reaction in London.
Cancellara wears the first maillot jaune
Photo ©: Cyclingnews.com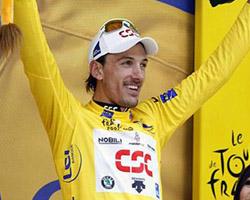 As he did at the Tour de Suisse three weeks ago, Fabian Cancellara today blitzed the field in a prologue time trial and ended the day firmly wrapped up in the yellow jersey of race leader. It was just as well; he's been running a bit low on team kit since arriving in England.
"I have a message for British Airways," he told the media at the end of his post-race press conference on London's Mall. "I would very much like to get back my suitcase. If someone finds it, please return it to me. Okay, I have a yellow jersey to wear now but maybe in a couple of days I will need my usual one."
Before the 7.9 kilometre race, Cancellara was seen as one of the major favourites. There were several reasons for this but the fact that he was heavily tipped meant that this experience was quite different than his victory on day one of the Tour in Liège, three years ago.
"I think the big difference [compared to before] is the pressure," he stated. "To take the start in London with the world champion's jersey on my shoulders and to ride as one of the favourites meant that I had a lot of pressure on me.
"We won the Americas Cup, I hope that tomorrow Federer will win Wimbledon for the fifth time and I have the yellow jersey."
-Cancellera on the purple patch that his country's sports stars have enjoyed in recent weeks.
"Everyone spoke of me because I made a demonstration in the races in the Tour de Suisse. I am in good condition today. At Liege [in 2004], nobody spoke of me. Okay, a couple of people said to watch out for Cancellara, but it was different then.
"Today the thing that helped me a lot is what I learned in Paris-Roubaix this year, taking the start there with a lot of pressure. That was certainly something that gave me the ability to be calm today and give my maximum."
Cancellara was the third last rider to go and, cheered on by the massive crowds in the capital city, his powerful effort broke the hold that Andreas Klöden (Astana) held until that point. The German rider had looked like the likely winner when he went a full twelve seconds quicker than previous leader Vladimir Gusev (Discovery Channel), especially when other tipped riders such as George Hincapie (Discovery Channel), Bradley Wiggins (Cofidis), Alexandre Vinokourov (Astana) and David Millar (Saunier Duval Prodir) failed to match his time.
However the big Swiss rider was on another level, racing through the 4.5 kilometre intermediate time check seven seconds clear of Klöden and then putting another six into him over the concluding 3.4 kilometres. He was delighted with the result, especially as it showed that the team is coping well with the fact that Bjarne Riis is not acting as directeur sportif here.
World TT Champion
Photo ©: AFP

"I think it is a demonstration of how the team is in good condition. It is true that it is different without Bjarne. But the team has values, this we learned that from Bjarne and everyone is going in the same direction," he said.
"It was very hard that he is not with us on the Tour but everybody is old enough, we are bike riders and we will give our maximum for the team. I think today was a very important day for us as a team to show something, and also because our sponsor CSC has a headquarters in London. I think that the team is ready and now we can go with a little bit less pressure for the next days."
Against expectations, Riis was actually at the Tour start. But he will not be leading the team in the race. Those duties will be carried out by Kim Andersen.
Cancellara said that Saturday was a special day for his country. "I think that we can say today that Switzerland is the heart of sport. We won the Americas Cup, I hope that tomorrow Federer will win Wimbledon for the fifth time and I have the yellow jersey. It is very good for Swiss sport and I think also for Swiss cycling."
Setting an example
Cancellara is part of a CSC team which has introduced a strict no-doping policy this season, complete with extensive internal medical tests. He considered that his win showed that it was possible to take big victories when riding clean.
"I think that everyone knows the problem in cycling [doping]," he said. "Me, I want to give an example for the future. With what happened before, it is normal that things have been difficult.
"I have made a very good progression in the last year. You need to train hard, to be able to manage the pressure, do everything right.
Blazing through the streets of London.
Photo ©: Sirotti

"I am not young but it is important for the youth that there is message for the future," he continued. "There are many things that cause the problem. If you work really hard you can achieve great things; I always give my maximum for this sport. Today, I won the prologue of the Tour de France and that is because I worked hard, I dealt with the pressure, I worked on my time trial, and I also work with my head.
"There have been a lot of problems in our sport but I think that the time trial is something that is very important for that as it is very hard. Now I want to give a message to say that we need to look to the future and to go on. And I think that maybe to do that in London is also a way to open the window for the future for cycling."
Cancellara's talk about racing clean led on to a question about his past working relationship with Luigi Cecchini, the controversial Italian trainer. He said that their collaboration is at an end, and that the CSC boss now dictates what he should do in training.
"I think today is a demonstration that I am a good rider on the best team in the world. They know what is our message on the team. We train hard and do well.
"Cecchini was my trainer before. With the problems that everyone thinks he has, it was hard to leave him because I trained with him for a few years. He has 30 years experience in cycling and it's hard to find someone with the same sort of experience.
"I am with Bjarne now, who also has a lot of experience. The way Bjarne works is important in cycling. What he did was good [admitting to doping in the past]. He said what happened. We have our training camps, our tests and we work very hard; people may not believe us but they can come and see what is going on."
Aside from that, his big goal is to defend the maillot jaune on Sunday's stage. In the Tour de Suisse he showed he was a strong sprinter in picking up important time bonuses the day after the prologue; doing so again will greatly help his cause, giving him another yellow jersey to wear and thus helping matters until British Airways finally show up.