News feature, July 18, 2007
Soler solos to special win
By Shane Stokes
Soler liked riding alone
Photo ©: Cyclingnews.com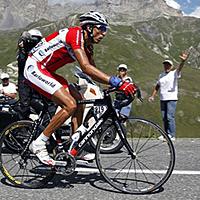 Two decades after Luis Herrara took the first Colombian King of the Mountains title during the 1985 Tour de France, compatriot Mauricio Soler today showed dazzling climbing form to land a stage win in what is his debut showing at the race.
The 24 year-old caught and then attacked the day's break with approximately 47 kilometres to go to the finish in Briançon. Discovery Channel rider Yaroslav Popovych hung on for a little longer but then he was forced to let go of the flying Barloworld rider, who crested the summit 2'02" ahead of the Ukrainian and a further two seconds ahead of Popo's team-mate Alberto Contador. The two joined forces to try to bring him back but were unable to do so before being caught themselves by the group of main race favourites such as yellow jersey Michael Rasmussen (Rabobank), eventual second-place getter Alejandro Valverde (Caisse d'Epargne) plus several other big guns.
Surprisingly for a Colombian, Soler time trialled strongly to the base of the final climb in Briançon, then powered up the slopes to take the biggest win of his career.
"My big goal was to ride in the Tour de France and to win a stage," the delighted young rider told the media after the presentation. "It is a surprise to have already done so at this early point [2007]. My team showed confidence in me and allowed me to take part in the race. It is a huge satisfaction for me and I am very happy."
"I attacked like a loco today."
-Mauricio Soler on his winning strategy
Soler started cycling at 17 and racked up a number of good results in Colombia, including second place in the national road race championships in 2005 plus a win on stage 15 of the Vuelta a Colombia. He was also sixth in the general classification.
"I started cycling because there was a race in my village," he said, when asked about his past. "I liked it right away and I wanted to be professional. I turned pro in Colombia."
Mauricio Soler (Barloworld)
Photo ©: Sirotti

He then went on to make his European team debut last season with the Acqua & Sapone squad and showed they had a good signing on their hands, finishing second on stage four and seventh overall in the Vuelta a Burgos plus taking a stage and the general classification victory in the Circuit de Lorraine Professionnels.
This then led to an offer from Barloworld and he joined the British-registered squad prior to the start of the current season. Things moved fast; the team got a wildcard to the Tour de France and soon after he was selected for the race. He proved that was a good decision on their part by winning stage nine in the race, but nevertheless remains grateful. "I thank [Claudio] Corti and Barloworld for allowing me to be here," he said, somewhat modestly given what he had just achieved.
"It is my first time to race here in the Tour so I don't know the climbs," he continued. "I attacked like a loco [madman] today and I cannot imagine it would come true. It is like a dream. It is the best thing in my life.
"Now I think of my family, my wife and my country. They will be happy and it is wonderful for the whole country."
Soler gets a handshake
Photo ©: Sirotti

In winning in Briançon Soler continues a strong tradition in the city, the second highest in Europe after Davos in Switzerland. Compatriot Santiago Botero won there in 2000 and was then runner-up behind Vinokourov in 2005. The high altitude undoubtedly suits the Colombian riders, who are used to living and training high above sea level, and so too the uphill terrain. After all, when they first came to the Tour in the early eighties they hammered many of the top professionals in the high mountains.
That Latin American onslaught petered out at the end of that decade – due, perhaps, to the introduction of EPO within the European pro peloton, negating the high altitude aptitude – but Tuesday's stage nine performance was a return to glory for Colombian climbers.
Soler said he remembered seeing the world's top riders in action on his home soil. That made an impression on him, encouraging him to take up the sport. "I was not a rider at the time of the world championships in Colombia," he said. "I started one year after. I watched the race that year on television. My big idols then were Indurain, and also the climbers in Colombia like Fabio Parra and Luis Herrera."
Like the latter two, he is also dreaming big. "My ambition is to one day win the Tour," he stated. Today's showing proves that with age and experience, he could well be a factor.