An interview with Roger Hammond, June 29, 2007
Hammond hoping as Tour approaches
Hammond at Gent-Wevelgem
Photo ©: Sirotti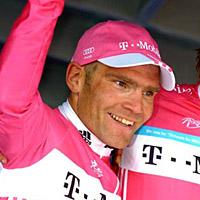 The Tour, or not? Roger Hammond is one of several T-Mobile riders who are hoping for selection for the Tour de France team. He's motivated to ride the race for the first time, especially as the first two stages will be held on his home soil. Cyclingnews' Shane Stokes spoke to the 33 year-old Briton in recent days.
It's been a long wait, but Roger Hammond should find out today or tomorrow if he will be part of T-Mobile's Tour de France team. Hammond is a proven Classics rider who has results such as third in the 2004 Paris-Roubaix and second in this year's Gent-Wevelgem. He may lack a Grand Tour history but on the plus side, his experience, his solid 2007 form, his ability to chase stage wins and the fact that the Tour de France is starting in London all help his chances of being selected.
So far this season, Hammond has performed well in several races. He got things underway by finishing ninth in both the Grand Prix Ouverture "La Marseillaise" and stage four of the Etoile de Bessèges. Sixth on a stage and seventh overall in the Ruta del Sol followed, then 13th in Kuurne - Bruxelles – Kuurne and 4th in Memorial Samyn.
Hammond took second behind team-mate Marcus Burghardt in Gent – Wevelgem and completed his Classics campaign with a strong seventh in Paris Roubaix. After that, he finished third on stage three of the Four Days of Dunkirk, netting 15th overall, then did Commerce Bank Series races in the US and the Tour de Suisse. He found the going tough for the first few stages in the latter event, telling Cyclingnews that he suffered badly from jet lag.
"I remember going to see the Tour when it came to England the last time and it was massive."
- Hammond on the prospect of racing the Tour on home soil
"I wasn't worried," he said when asked if there was a chance that T-Mobile would think that his condition had dropped. "They know what I have done, it is not is like I haven't been racing for months and suddenly turned up with bad form. I was going well in Dunkirk and then Rheinland Pfalz as well. In America, I felt actually okay, so this has just been a bit of a blip.
"Anyway, as regards the difference between being good and being bad here [in the Tour de Suisse], I wouldn't have been that much further forward in the groups because it is not my type of race. I am not going to win, so it is hard for me to be super motivated to fight for being in the fourth group instead of the fifth group. It is almost better for me to be in the fifth group and come out of this Tour profiting from it, rather than being smashed."
Last Friday Hammond was named on T-Mobile's 13-man preliminary squad for the race. From this, nine riders will be picked this week. The short list comprises Hammond, team leader Michael Rogers, Linus Gerdemann, Patrick Sinkewitz, Lorenzo Bernucci, Marcus Burghardt, Mark Cavendish, Bernhard Eisel, Andreas Klier, Bert Grabsch, Giuseppe Guerini, Kim Kirchen and Axel Merckx.
Of those, Rogers, Guerini and Kirchen would seem the clear and immediate choices. Rogers was ninth in last year's Tour de France, Guerini has won two stages in the past and is one of the top climbers on the team, and Kirchen was second overall in the Tour de Suisse. However Rogers (injury) and Guerini (illness) pulled out of the Swiss race, and so the structure of the Tour squad will depend on their recovery.
Hammond's chances of riding the Tour may depend on whether or not Rogers [and, to a lesser extent, Guerini] goes to the race. If the team is chasing a high overall finish through Rogers or Kirchen, it may opt to have as many proven Grand Tour riders on the team as possible. If the target is stage wins, then the emphasis shifts and Hammond's ability in breaks plus his speed as a possible leadout man would be very important.
"It is good [to be on the short list]," he said. "I am happy that I am still part of the preliminary selection going into the final week before it is decided.
"I don't know yet what my chances are, this is the whole point about them waiting to select the team. They are waiting to find out what type of team will ride at the Tour. If I am there, I think a lot of it [his role] would be going on the attack, chasing stage wins. And if Mark [Cavendish] or Bernhard [Eisel], whoever goes, needs help in bunch sprints, then I'll be helping him out."
When Cyclingnews sat down with Hammond last Saturday, Hammond wasn't sure about the state of Rogers' knee injury - something that has been bothering the Australian this season. "I have no idea. I am not part of those conversations," he said, while trying to cram down more pre-race food prior to the start of stage 8 of the Tour de Suisse. "I just know that he has worked hard. If you can almost win Catalunya [he was second overall] and then come here and ride okay despite some knee pain, then that is pretty impressive. He was riding in the front group, apart from the day where he had a bit of knee pain and he eased off a bit. You can only go so well with an injury. You have got to be injury-free, otherwise there is no point."
Home town boys
Hammond's power on the flats
Photo ©: Sirotti

The Tour de France is starting in London this year and that fact, plus the expected huge interest of UK spectators and media and the considerable share that T-Mobile has of the UK market all bode well for Hammond or Cavendish – or perhaps both – to be in the race.
While Cavendish is only 22, the first year pro has won six races this season, including ProTour stage victories in the Tour of Catalunya. He recently told Cyclingnews that he would not be required to finish the Tour if picked, thus improving his chances of getting the nod.
Hammond has been something of a mentor to him this season, giving important advice and helping him settle into pro life. Indeed Cavendish is currently staying in his house in Belgium.
"We have a lot of contact," says Hammond, when asked about the younger rider. "I have had five or six calls with him this week, so we do keep in touch a lot."
Hammond plays down suggestions that this could help determine if either gets selected for the Tour. "No, I don't think there is any prerequisites like if he goes then I go, or vice versa. It will be on the basis of form.
"I am certain that they [the management] are looking at the balance of the team. They are very keen on that sort of stuff, that side of it [how riders interact and work together]. But it is not a case that only Mark and I get on together, we each get on with most of the team anyway. There are very few people - in fact I can't think of anybody - who I don't get on with."
If things come down to a bunch sprint and he has the role of helping out, how does he fit into the train? "It is a little bit down to how it works out on the day," he answered. "That is the thing about having these trains. If you've got one guy having a bad day – say, for example, he is the 2 km to go rider - to me it seems crazy to leave him there. It is better to move him out, move him earlier, rather than having a set day-to-day structure that you have to follow.
"Anyway, I can do anywhere between five and one kilometre to go. It was 500 metres to go in Dunkirk. I think that is partly one of my advantages as regards the Tour team, as I can do that. But on the other hand, I can still be dangerous in breakaways as well."
Happy with T-Mobile
Hammond delights in his team-mate's win
Photo ©: Sirotti

Hammond is new to the T-Mobile squad this year, having moved from the Discovery Channel team last autumn, and says that he is very happy with the German squad. "It's been fantastic. The initial momentum has calmed down and the team has settled into what it is now, but it is still really, really good. They are still working really hard to keep the team atmosphere. It is very much the best team that I have been in.
"There is a lot of attention to detail and the riders are always treated as a very important part of the team. The rider is the most important component and the rest revolves around that. For us that is great; every detail is looked after, from things off the bike to travel to who is sharing rooms with who, ensuring there is no cliques. It is all done."
He suggests that Bob Stapleton is responsible for this more professional approach. "I think this [kind of structure] is something that is majorly overlooked in professional cycling. It seems like a novel thing in T-Mobile but if you look at any other business in the world, it is the norm. That is one thing that Bob has brought into T-Mobile…a good business plan and business structure."
The 2007 incarnation of the team is very different to that of previous seasons. The Operación Puerto affair saw Jan Ullrich implicated, excluded from the Tour de France and ultimately had his DNA linked to bags of blood from the clinic of Eufemiano Fuentes. It led to a major clearout from the team, which many previous riders and staff leaving and others coming on board in their place. The emphasis now is on a strong antidoping policy; the riders have been chosen because of their stance in this area, and there is stringent internal testing throughout the year.
Given that other teams may be doing things in a less 'ethical' way, T-Mobile's attention to detail could act to help narrow the gap that would otherwise exist. Hammond accepts that the team does what it can to get 100% out of the riders, but says that he doesn't mull over what other riders may or may not be doing.
"We don't think about that [the others having an unfair advantage] because if you start thinking about that, then it is going to be hard.
"We are all professional riders, we all want to do as well as we can, but quite often it is not possible for you as a rider to implement those things [support structures, different training methods] when you are away on races. In the past, it hasn't been acceptable on traditional cycling teams. But now those doors have been opened, like pillar strength, core stability – they are not the easiest thing to do after five hours training, but if somebody else motivates you to do it then you get the benefits out of it as well.
"Everybody is pleased that they are trying to get the best out of us," he continued. "But they are not thinking that it is just because we have got to make up for a deficit on anybody else. If you start thinking like that, then it will be really difficult."
Has he ever felt antagonism or intimation from other teams over T-Mobile's vocal antidoping stance? "No, I have never noticed it," he answered. "I think we are sometimes regarded as a reference point, though. For example, take this latest development, the UCI letter. Some people have come and asked us what our views are on it. I am quite proud to be thought of as a reference point.
"I think people come and bounce their ideas off us and they know what our philosophy is, they know where we would stand."
When attending the team training camp earlier this year, Cyclingnews noticed a buzz that was different to that around many teams. There was a sense that something new was in the air, and this is partly down to the collective stance on the issue of doping.
"I think it is amazing what a common goal can do," said Hammond. "It is difficult to have 30 people with a common goal, even within a cycling team. We all want to be great riders but for example, Linus Gerdemann isn't interested in being good in Paris-Roubaix or Gent-Wevelgem or whatever. So all these people have different criteria. But, at the end of the day, there is one common goal and we are all fighting a similar battle in the end. It [the antidoping stance] has helped in a massive way, actually."
What's next
Hammond demonstrates his strength
Photo ©: Luc Claessen

Hammond's wait is nearly over. Last Saturday he explained what would happen before the Tour team would be finalised. "They are saying that the team will be announced to somewhere towards the end of next week," he said then. "There is a few obvious thing is that they have to do - they have to see how Mick's knee is and how Guerini is after his illness. They are both fairly important figures in the Tour team and I think it is only right that they give them as much time as is possible."
Hammond went back to the UK after the final stage of the race in order to prepare for the UK nationals. He's won the title several times before, finished second last year, and was motivated to take the jersey back again. However on Wednesday it emerged that the race has been cancelled due to extensive flooding in the area.
It means that, if selected, his next racing will be in the Tour de France prologue. "The thought of the Tour in Britain is great," he said. "I am trying not to get too excited about it just in case… I don't like to get too built up for something and then not do it.
"I do think it will be massive. The only sort of reservations I have about it is that there is a time trial on the first day and then a likely bunch sprint on the second. So it is limited as to what I can do, if in the race. It does depend on who goes, but the ideal scenario would be myself and Mark coming into the finish, me leading him out and him winning the stage. That would be nice. But we have to both be picked first, then we have got to get there [in those circumstances]."
Even if he is not there, he feels that the race is going to be very big for cycling in Britain. "I remember going to see the Tour when it came to England the last time and it was massive. T-Mobile have done quite a lot of behind-the-scenes work, publicity –wise. They are huge in the UK. They are one of the biggest advertising telecom companies as well.
"Vodafone are big but they only do football, whereas T-Mobile spreads itself around doing all sorts of things… from Robbie Williams to a cycling team to football teams. They invest a lot in it. And the guys who work there are bike riders as well. I have been out on training rides during the winter with them and I have got to know them."
Cycling has boomed in recent years there due to greater numbers of people using bikes to get around. "When we went back to London to do a publicity thing with T-Mobile, I was just amazed as to how many bikes there were. My old long-term sponsor Evans Cycles have a chain of bike shops and they said that as soon as the congestion charge was introduced in London, the sale of bikes just shot through the roof. These charges are likely to go up further and so this will encourage more people to use bikes."
The use of bikes is growing in Britain, and so too interest in the sport. That should ensure a huge turnout of spectators on the opening two days of the Tour. It's going to be a very exciting time for cycling, so little wonder Roger Hammond is hoping to be part of it all.