Tales from the peloton, July 26, 2007
Can Cadel take the top step of the podium in Paris?
Cadel Evans (Predictor-Lotto) is hoping to make
Photo ©: David Reinhardt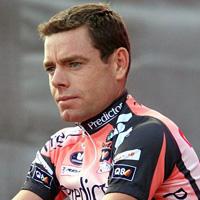 Cadel Evans knows he's been beaten by cheats before. Despite the omnipresent doping controversy at this year's Tour de France, the Australian is focused on nothing other than bringing his country its first Tour victory, reports Cyclingnews' Greg Johnson.
Australia's reputation on the international cycling scene has skyrocketed in the past 15 years, with the country now considered among the top cycling nations in the world, especially in the hyper-competitive area of men's road cycling. Despite its successes at almost all other levels and disciplines of the sport, one victory has eluded its riders: a Grand Tour victory. The Tour de France's maillot jaune has been worn by several Australian riders, most recently by a flying Brad McGee and a tenacious Stuart O'Grady. But to take the leader's jersey as the race hits the mountains and reaches its destination in Paris is another thing. The country's greatest road cyclist, Phil Anderson, came close twice during the '80s, finishing in fifth place in both 1982 and '85. However, Anderson did secure the maillot blanc of the race's leading 'young rider' in 1981.
More than two decades would pass before another rider matched Anderson's accomplishment, with Davitamon-Lotto's Cadel Evans finishing fifth in the general classification at last year's Tour. The 30 year-old Evans is currently on track to become the highest place finisher of all his countrymen at the world's most prestigious race, as he effectively holds second place on GC, but it's one position higher Evans is eyeing off.
"Back in London we had two goals," Predictor-Lotto team manager Marc Sergeant explained on Tuesday's rest day. "The first was to win a stage, which we did with Robbie [McEwen]. The second was to be on the podium in Paris with Cadel, and right at this moment he is in third place with five days to go. So we're on schedule. We're going to need to do everything we can to keep him there or maybe to improve."
"I'm sure I've been beaten by cheats before, I know I have, and I'm sure I'll be beaten by cheats in the future."
-Evans knows the reality of the sport
A lot can happen in two days at a Grand Tour, and the period since Sergeant made the comments hasn't been any different. Since then the Tour's leader, Michael Rasmussen, has been sacked by his Dutch Rabobank ProTour squad. The Dane's sacking should see Evans take back second place on GC once the order reshuffles at the end of today's stage - depending on how the day unfolds, of course.
"To be honest, I am happy to have [the mountains] behind us," he wrote on his website, cadel.com.au. "[The stage was] a bit of a mess at the start, with some riders trying to protest. I thought we were here to race our bikes, not to make political statements."
Evans' team is expected to sue Astana
Photo ©: Cyclingnews

Rasmussen's removal from the standings sees Evans sitting 1.53 behind race leader Alberto Contador (Discovery Channel), a significantly smaller margin than the 5.03 minutes the Rabobank rider had over him. The change at the pointy end of the leader board sees the dual mountain bike World Cup champion have a genuine chance at riding into Paris with the maillot jaune on his shoulders this Sunday.
Pulling back nearly two minutes on 24 year-old Contador will be no easy feat, especially as the youngster's American teammate Levi Leipheimer holds third place, allowing the pair to double up against Evans. But there are no more mountain stages for Disco to 'one-two' the solo Australian, as they did in stage 16. Further, Evans is determined to give the remaining 601 kilometres of the Tour de France everything he's got, and with compatriot McEwen out of the race his Belgian team's resources will be entirely dedicated to the general classification effort.
Evans is no stranger to taking a Grand Tour's leader's jersey when it counts. He won the maglia rosa of the 2002 Giro d'Italia on stage 16, the toughest stage of that year's Giro. It was a stunning accomplishment for the shy former mountain bike racer. The following day, Evans had a 'shocker' and cracked spectacularly on the tough ascent to the mountaintop finish at Folgaria Passo Coé, losing 15'00 to eventual race winner Paolo Savoldelli in the last nine kilometres. But unlike some recent performances, he didn't then come back in 'super-human' fashion; rather, he silently and stoically finished the Giro and won a legion of fans in Italy, who witnessed the humanity of an athlete blowing up but refusing to give in.
That incident on May 30, 2002, haunted Evans for years and it's likely to only strengthen his resolve to ride the time trial of his life this Saturday. In the first ITT of this year's Tour, Evans finished second to now-disgraced Alexandre Vinokourov, but he also came in 1.04 faster than Contador, who's known more for his climbing than his time trialing ability. Further, the parcours of this Saturday's 55.5km race against the clock is technical but quite flat, compared to the hilly profile of the first ITT. It is more likely to suit a rider of Evans' qualities, rather than the lighter Contador.
"It's going alright and we'll see in the results in the final time trial," Evans told Sydney's 2KY radio. "That's all I'm here to do. Whether I feel good or bad, it's where my place is on classification is all that matters to me in the month of July."
Evans struggled to keep up with constant attacks
Photo ©: Sirotti

"I will ride to win," declared Evans at a rest-day press conference. "You are never going to win the Tour if you ride to save your place. I came to the Tour to do the best result I can. If that's third it will be fine, but if I feel I could have done better than third I will be disappointed."
Evans admitted that Rasmussen and Contador uniting to work against him in the brutal Pyrénées climbs scared him. He also confessed to being frustrated at other riders' reluctance to chase the pair down.
"Those two collaborated together to work against me," he said. "That scared me a bit. I also saw there were other riders there with teammates who I thought had an interest in racing to win as well. In the split second I had to make a decision - I banked on what I thought the other teams were there to do. Either they couldn't or they wouldn't [bring the pair back]. You can be sure there were a few words of fury yelled in the bus afterwards. Certainly nothing against my team, but the other teams and how they raced."
Evans was been strong in the mountains,
Photo ©: AFP
Despite dropping time to the pair on the closing Pyrénées climb, Evans has been widely credited with a tactically smart and mature ride at this year's Tour. It's a point - win or lose - that Evans is delighted about.
"That, for me, is one of the more important things to come to the Tour and just do everything as best you can," he said. "Whether you come first or 10th, if you've done the best you can then you have to be satisfied with that.
"[On Monday] you could debate weather I made the right decision or not but yeah it's been really good," he added. "But things can go wrong as well. I'll just keep working at it. A lot can happen on the Tour de France."
Tom Boonen (Quick Step - Innergetic) respects Evans,
Photo ©: David Reinhardt

In addition to having every remaining Predictor-Lotto rider at his disposal for the final four stages, Evans also has the respect of big names within the professional peloton. It's unlikely the peloton would ride against an Evans victory. Indeed, if an informal popularity contest was held, the relatively quiet Australian may find a few more friends than the previously all-conquering Discovery Channel team.
It also helps to have big names come out on your side. One such rider is Belgian superstar Tom Boonen (Quick.Step-Innergetic), who named Evans as one of the riders he still trusts in the peloton. "I have given up my belief in most of the rest," the former world champion told Hln.be overnight. "It is possible to ride the Tour without doping and to ride and win, too. And Cadel Evans proves in my eyes that you could win it without doping."
Cadel knows some of his rivals have used performance enhancing drugs to win against him before, he's even said it will happen again, but the Aussie is hopeful by the end of this year's Tour de France he will prove that it's possible to win clean.
"I'm sure I've been beaten by cheats before, I know I have, and I'm sure I'll be beaten by cheats in the future," Evans said. "So I just go and do the best tour I can and people who believe in me and people who know me respect me for that. [I can think] 'oh well, I did my best' and my conscience, I'm very happy with that [for] I just race my bike and do the best I can."
Without his compatriot McEwen in the squad,
Photo ©: AFP

It's that clear conscience that, following yesterday's stage, Evans is certain some of his rivals done enjoy. While signing yesterday's startlist, Rasmussen was booed by the thousands of spectators, a noise the Dane became accustomed to throughout the day.
"Judging by the booing that Rasmussen was getting as we were racing today, I'm not sure if his conscience is really clear," Evans remarked after Stage 16.
One thing is certain for though, an Evans Tour de France victory would be received better than Rasmussen was on Stage 16 - both by his nation of 22 million people and his peers within the industry. As Evans lines up for today's stage, an entire nation will be staying up late, draped in the Boxing Kangaroo and barracking for the nation's remaining maillot jaune contender.
"My website is getting heaps of messages and all my friends are texting," said Evans. "I am proud to be able to fly the flag for so many people and that Aussies are getting a thrill out of it."