An interview with Brad Wiggins, July 6, 2007
Home soil victory chasing
Bradley Wiggins (Cofidis) believes he's capable
Photo ©: AFP Photo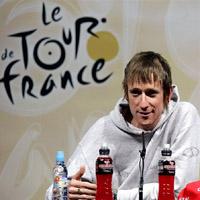 For many of the fans who will line the streets of London, victory by a home rider would be the dream start to the Tour de France. Cyclingnews' Shane Stokes listened to Bradley Wiggins about his chances.
Bradley Wiggins has an outstanding record as a track rider, taking two world championship titles as well as medals of each colour at the 2004 Athens Olympics. However, this is the first season where he has consistently translated that ability into strong performances on the road.
The 27 year-old has had some decent results in the past, such as his stage win in the 2005 Tour de l'Avenir plus his time trial success on Stage 2 of the Circuit de Lorraine that same year. But, with all respect to both races, taking prologue wins in the Four Days of Dunkirk and the Dauphiné Libéré this season has marked the first time he has really taken on and beaten the world's best riders outside the velodrome.
Wiggins' timing is, of course, perfect. This season the Tour de France starts in London, giving him a once-in-a-career opportunity to take yellow on home soil. The hours, minutes and seconds are ticking down to his start on Saturday afternoon and around 6.17 pm local time he will know if he has been successful or not.
"I think that if I won it, yes, it would be fantastic," the Cofidis rider told the media at his pre-race press conference. "I would have a big party. But I think if you asked everyone in Tour de France if they would love to win the prologue on the Saturday, they would all say it would be great.
"It is pretty simple, just ride flat out for eight kilometres."
-Wiggins approach to the Prologue is simplistic
"It is better to answer that question after it has happened, because we all have dreams about the Tour de France," he continued. "I'm sure that every one of you would like to win the Tour de France one day. We can start dreaming and say how fantastic it would be, but there is a process to go through first. I would rather wait until that is done and then maybe answer the question about how special it is to wear the yellow jersey."
The 7.9 kilometre prologue is heading through the heart of historical London and as a result, it is uncertain how much pre-race riding time the teams will actually get there. Wiggins isn't phased by that thought; indeed, it might actually work to his advantage.
"All I know is that it will be the same for everyone if that is the case," he said. "It is kind of one of those things, you just have to deal with it, really. The good thing is I already pretty much know the course. I had been around in the middle of the night as well, when there weren't many cars on the road. I have taken most of the corners at speed."
While compatriot David Millar has struggled to find winning form since beating the field at Paris-Nice, Wiggins' condition has been impressive all season. Back in March he won individual and team pursuit titles at the track worlds in Palma, Mallorca. On April 11 he finished just two seconds behind Andreas Klöden in the nine kilometre time trial at the Circuit Cycliste Sarthe et Pays de la Loire, and then just under a month later he was a full twelve seconds ahead of William Bonnet (Crédit Agricole) in the prologue of the Four Days of Dunkirk.
A further confidence boost took place at the Dauphiné, where he finished a second ahead of Levy Leipheimer (Discovery Channel) and two up on Andrei Kashechkin (Astana) at the prologue there. The top ten read like a who's who of world cycling, with George Hincapie (Discovery Channel), Alejandro Valverde (Caisse d'Epargne), Dave Zabriskie (CSC), Tom Boonen (Quick Step-Innergetic), Nick Nuyens (Cofidis), Egoi Martinez (Discovery Channel), Sébastien Joly (Française des Jeux) and Millar all placing behind him.
When you consider that last season he was seventh in the prologue at Paris-Nice and only 16th in the same test at the Tour de France, it's clear he's jumped up a level. So what's made the difference?
Wiggins has enjoyed a stellar build-up
Photo ©: AFP Photo

"I learned a lot last year from the mistakes I made," he answered. "I think I rectified them this year. I haven't thought too much about the prologues this season, I have done specific training for them but not as much as last year.
"I just think that last season the form just wasn't there, really," he admitted. "However this year I have carried a lot of form from the track and the season has just gone from strength to strength. It has been pleasing for me because I knew I was always capable of doing that. It has just taken up till now to do it."
He said that he hasn't been obsessing about this Saturday's test. "I haven't really been thinking about the London prologue all year, only after the Dauphiné," explained Wiggins. "For me, it was about stepping-stone objectives, winning something else [first]. For example, I had never won Dunkirk prologue before and until I won that I felt that I couldn't consider myself as a favourite for something like the Tour prologue. After Dunkirk I was thinking about the Dauphiné and it is only after the Dauphiné I have been thinking about the Tour, really. It just a case of proving to myself through the year that I can do it.
"As I said, I just simplified things this year. I haven't over-complicated things by thinking too much about the prologues."
There is another factor that has helped, both in terms of split seconds and also his mental outlook. "I think the material [equipment] that we have got this year on the team is much better," he confessed. "We have got the best bikes now in the peloton, which makes a bit of a difference when you're juggling with thousands of a second, which I'm sure this prologue will come down to. We have got the best wheels now and everything. All those little things make a big difference when you're in the ballpark for winning.
"But when you are 20th or something like that you may as well be on Fausto Coppi's old bike, for all that matters," he joked.
Coping with a question mark
Wiggins has long been outspoken against doping. He's blasted those who use or have been accused of using performance enhancing products, having harsh words for riders such as Floyd Landis, who he felt was guilty. He's come up through the British Cycling track system, which has a very good reputation for doing things the correct way.
Even though he's got a reputation as being a clean rider, he knows that the scandals of last summer and before means that there is a lot of suspicion of professional cyclists in general. Even those who do things in a transparent manner risk being tarred with the same brush; you go fast, you ride a bike for a living, there will be a question mark. It's the tragedy of modern cycling.
He's able to remain philosophical about it, though. "That scrutiny has always been there with riders" he said. "I had been with several teams now and every race we go to, whoever wins the race is always talked about at the dinner table, in terms of suspicion and things like that.
The 27 year-old is confident he's got the attitude
Photo ©: AFP Photo

"I think that it has got to that point now that whenever you achieve in cycling, people will always doubt whether you're done it properly," he noted. "We went out training this morning - okay, we went out in Essex and maybe it is to be expected there - but God knows how many men in white vans shouted out the windows that we were dopers and things like this and they didn't want to Tour de France here. It is quite bad, actually, I was quite surprised. But that is the kind of the level it has got to now in cycling. You've just got to live with it.
"For me it is just a case of being open and honest about what I believe in. I am not saying that what other people do is wrong, we all got to make certain decisions in life, but I am clean and proud of that. If I can win like this, then fantastic. If it is not good enough then it is not good enough."
There is however room for optimism, he said. "For sure, after last year's race people are going to watch this year's Tour and have doubts, wondering if the winner is clean. But I think the lengths that the UCI is going to now are fantastic. They have made a big step forward in terms of the riders' charter. I think as a governing body that is all you really can do, to make steps like that."
He seems to believe that there are some encouraging signs. "Hopefully the sport is going the right direction now, there are a lot of young riders at this Tour which I think is another good thing. If you look at a team like Française des Jeux, the average age of the team is below 25. And the British riders include [Mark] Cavendish and Geraint Thomas, who are just young guys who are in there and who are clean.
"That is the kind of new generation which is coming forward now and for me, as a rider in the Tour de France, it is perhaps the most promising time for the Tour. The events of last year have sparked such a warning sign in the sport that that something has to be done about it. Things are being done about it now.
"Thank God we are not here now talking about what happened last year [the riders being excluded on the eve of the Tour due to Operación Puerto], because that would have been really detrimental to cycling in this country," he said. "If what happened last year had instead happened here in London, then the Tour would never come back to the UK."
Dealing with stress
Wiggins sits the customary pre-Tour
Photo ©: AFP Photo

Given that a huge amount of the spectators on the route will be wishing for a British victory, Wiggins would be forgiven for feeling under pressure as time gets closer to the start of the Tour. He's only done the race once before and needs to go significantly quicker that he did last season if he is to succeed in his prologue goal.
He's been working with former world hour record holder and Tour prologue winner Chris Boardman in recent months and perhaps this has helped him come up with a straightforward approach. "It is pretty simple, just ride flat out for eight kilometres," he says. "I guess if I get a result then afterwards I will take it from there, thinking about the days afterwards then.
"I am trying not to make it too big in my head," he added. "It is quite simple, really, it's just riding a time trial flat out for what should be nine minutes of effort. Last year I really would have overcomplicated this whole weekend but now, with a bit of experience, being a bit older and having other things in life which put those things into perspective, I just go into relaxed mode, really.
"The riding is the easy bit now, you get to the point that when you ride down the ramp, that is what you are paid to do. That is the easy bit. The days beforehand are the interesting part; it is not difficult to deal with, but it is just something I am not used to as it did not happen to me before."
He is content with how the fine-tuning has been of late. Rather than worry about chasing extra seconds, he seems to be quite content to maintain his form. "After the Dauphine we had five days before we had to go to Eindhoven for the team time trial," he reported. "I was riding my bike most days but not making big efforts. I finished the Dauphiné quite tired, really, so it was a case of recovering as much as possible. Eindhoven went well, we had a really good race as a team and individually I felt I had a good day.
"Since then I just made the most of my time at home," he explained of his lead up. "I've been riding my bike every day. In terms of training, there wasn't really much to do. Everything was pretty much there at the Dauphiné and I just had to sort of maintain it really, and not put myself in a box by doing too much. I was really just concentrating on some drills, getting the bike right, making little adjustments to kit and things like that.
"And also just enjoying things. I went out with the local chain gang, which just broke it up a bit and make things different. On Tuesday I just did the first half of a club 10 mile time trial, doing 5 miles as a bit of a test. Again it was with the number on my back, doing it in semi-race conditions."
Britain's Wiggins isn't too concerned
Photo ©: AFP Photo

This provided further confirmation that he was in excellent form. "I was on 17 minute 30 pace for five miles, which if I had continued on for ten miles would have been a fantastic time. My national record is 17 minutes 58 seconds, so it was very quick."
So who does he see as his main rivals for Saturday? "Well, I think it is completely different to last year's prologue," he answered. "I think that this is much more of a rouleur's prologue, I think it is going to favour the sort of guys who have got more time to get into position and open up time gaps relative to the others.
"I think that it suits myself, David Millar, Hincapie is good in any kind of course," he added. "But no, I don't think that it is fantastic for guys like Hushovd or O'Grady. I'm not saying that they don't want to do a good ride, but it certainly favours the riders like myself, Cancellara and Millar. That kind of rider."
Whether or not he wins the race opener, he has another goal in mind for later in the Tour. It reflects his growing confidence and ambition as a rider, and is quite an encouraging sign for someone who seemed a little out of his depth 12 months ago.
"I think once the prologue is done and dusted and I get back into France, there is a week of racing where I really want to be involved in things before we get to the hills," he said. "My ambition is to get into a breakaway on one of the days and try to win a stage that way.
"I know I am capable of it, I've got a lot more self belief this year," he confessed. "I feel like a different rider to last season because I have got a lot more results. I have much more self-belief and confidence and believe I'm capable of doing something like that on a road stage.
"This year, I have been in several breakaways and really had a go at it, whereas last season I was hardly part of any race," he concluded. "So it is definitely something I have got a big ambition for."