Tour de France Cycling News for July 24, 2007
Vinokourov restores pride with second win in three days
By Shane Stokes, with additional reporting by Gregor Brown
Alexander Vinokourov (Astana)
Photo ©: AFP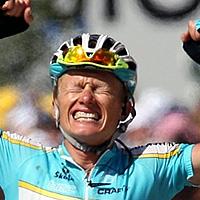 Alexandre Vinokourov has long had the reputation as a scrappy, determined and driven competitor and the Astana team leader underlined that on Monday when he soloed to victory in Loudenvielle-Le Louron. Monday saw 'Vino' bounce back to a emphatic stage win just one day after the disappointment of a disastrous stage 14, where he lost nearly 29 minutes.
The Kazakh was in the action from the drop of the flag and infiltrated a strong break which pulled over eight minutes clear of yellow jersey Michael Rasmussen and the other overall contenders.
Vinokourov used the break as a platform to launch his attacked on the final climb of the day, the Col du Peyresourde, where he shed breakaway companions such as Haimar Zubeldia (Euskaltel – Euskadi), Juan Jose Cobo (Saunier Duval – Prodir) and Kim Kirchen (T-Mobile) and hitting the summit well clear.
A fast descent took him down into the finish, where he hit the line 51 seconds ahead of Kirchen and Zubeldia. Cobo was a further seven seconds back, while maillot jaune Michael Rasmussen (Rabobank) and the Dane's closest challenger Alberto Contador (Discovery Channel) came in 6'27" down.
"I was very motivated to show I have good condition and I also wanted to motivate my team," he said after the stage. "I was here to win in Paris but the first week was very unlucky for me [due to his bad crash – ed.]. I made a lot of effort to recover and then I changed my plans. But it is life and I don't have any regrets."
Vinokourov's strong time trial gave him an outside chance of taking yellow but his body didn't co-operate with his ambitions on Sunday. He was asked about that experience. "Yesterday was a very bad day," he said. "I was dropped quite soon and then in my head something went. So I decided to be quiet, knowing my Tour was over. Then in the last climb I crashed because of a fan who touched Ivanov, when I was behind him. I avoided crashing on my bad knee, though."
He felt much stronger on stage 15 and was determined to chase a stage win. "When the break started with 20 riders I knew it was a lot," he said. "I knew the final climbs from the past. Then, when there were riders clear ahead on the Col de Port de Balès, I was calm because I knew it was possible to catch them. I believed that if I was alone on the Peyresourde that I could win. I know the last kilometres from there. I think I won with courage and panache today."
Team-mate Andreas Klöden finished 17th on the stage, coming in with most of the other GC contenders at 6'17". He is now fifth overall, 5'34 behind Rasmussen's yellow jersey, and 1'34" off the third podium place which is currently being held by Cadel Evans.
Vinokourov was asked what tactics the team will follow on Wednesday as regards boosting the German's chances. "It is too soon to give out the tactics," he stated. "I will talk with him tonight and tomorrow. I will try to help him to take him on the podium.
"I know the Col d'Aubisque is very hard and difficult, especially after the rest day, but it will be our main target to get him on the podium in Paris."
Klöden has also been injured in this race, and had the disappointment of riding below his aspirations. However Vinokourov's two stage wins and determined spirit can serve as an encouragement for him, showing that it is possible to fight back despite misfortune.
Rabobank passes the test
Menchov assumes domestique role for Rabobank
By Brecht Decaluwé in Loudenvielle - Le Louron
Michael Rasmussen (Rabobank)
Photo ©: Roberto Bettini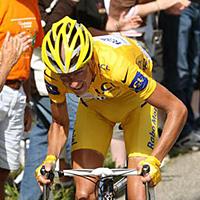 In the first mountains stage after the relapse from GC-favourites Cadel Evans, Alexandre Vinokourov, Alejandro Valverde, ... it was clear that the battle for the yellow jersey is a battle between current leader Michael Rasmussen and young Alberto Contador. The Rabobank team defended their position very well on the climbs leading up towards the ultimate climb and there - on the Col de Peyresourde - the pair of slender climbers battled it out.
"Boogerd set the pace on the penultimate climb and when Menchov was done with his work on the last climb Boogerd took over again," Rabobank's directeur sportif Erik Breukink said. Former team leader Denis Menchov hasn't been going well in this Tour and he was ordered to be in the breakaway today to anticipate on a Discovery Channel coup.
"We knew that it could happen. We had Menchov up front so we certainly had someone if Discovery Channel attacked," Breukink explained to Cyclingnews. The Russian Rabobank rider had a chance on the stage win but he might have given a sign to the team to inform them he wasn't going too well. "No, we waited to see how he went for the stage but as soon as we needed him we asked him to drop back to Rasmussen. Boogerd came alone and we needed a bit of everything - like water bottles - and the Peyresourde was coming up," the former number three of the Tour de France 1990 said.
On the Peyresourde Popovych tried to launch an offensive but he couldn't worry the three-men Rabobank train. When Contador accelerated Rasmussen reacted immediately, and in the end only Contador's team-mate Levi Leipheimer lost time on Rasmussen. "They play the card of Contador now, he's their leader, that's clear now. They [Discovery Channel] are not confident with the current gap and I guess they want to get closer before the last time trial.
"For us it was good that Evans lost another minute; also Klöden and Leipheimer are further back now, so what that concerns it turns out to be a good day for us," Breukink analysed the result of the fifteenth stage. When asked if the interval acceleration tactic from the Spanish climbing goat was a good one, Breukink confirmed.
"I saw that Rasmussen had a hard time to come back but it was clear that Contador played all or nothing. Rasmussen knew he just had to be on Contador's wheel on the top of the climb otherwise it would be dangerous. Rasmussen didn't break but I guess that's the way to break someone although those accelerations suit Rasmussen as he is the same kind of rider as Contador. You can see that they're both not really confident about it," Breukink referred to the gap that needs to be defended/bridged in the last time trial.
Denis Menchov (Rabobank)
Photo ©: Sirotti

"The result is a battle between two jersey's - white and yellow - which is nice to see. I think the Col de Aubisque [Wednesday] will deliver the same kind of tactics." The war between the two climbers will most probably be concluded with a battle on a less comfortably terrain for the protagonists, in a long flat time trial. The time trial is a discipline that should suit Contador a little more than the Dane but Breukink didn't completely agree with that.
"The gap isn't big and if Contador has a super day and Rasmussen isn't 100% then it's possible for Contador but if Rasmussen can ride again like his first time trial then it is defendable," Breukink expressed his hopes for glory in Paris. The team's other Erik, directeur sportif Erik Dekker also enjoyed the battle between the two climbers. "Clearly they went 100% for it. I just saw Rasmussen for ten seconds and, aw!" Dekker pulled a painful face to explain how the Dane explained how deep he had to dig to get back on Contador's wheel. "Even for me behind the steering wheel it hurt," Dekker laughed.
"It was on the limit, for both of them. Did you notice that Contador tried it again with 1.5km to go? So it's clear that every seconds counts for them," Dekker pointed out that Contador wants to reduce the gap with Rasmussen. Different from Sunday Rasmussen didn't attack early on in the stage, he only responded attacks from Contador. "For the yellow jersey it was a battle of only three kilometres but do realise that they also covered about 200km before that," Dekker said.
The problems for the Rabobank team around the unavailability from Rasmussen for doping tests keeps everybody busy in the team although Dekker said he tried to focus on the racing. "That works out well, for now. Erik [Breukink] and Theo De Rooij are more busy with that, but also Michael of course," Dekker said. When a Belgian journalist said that French and German teams wouldn't be bothered if 'chicken' Rasmussen would leave the race, Dekker reacted bored. "For a few years now the French teams have been living with the idea that the leader of the Tour de France should be dumped and I don't know if that's good or not," Dekker said.
"I noticed it myself when I was still riding, it was in Paris-Nice. An echelon was formed; it was tactically and technically perfect but then they [the French teams] started to talk about 'cyclisme a deux vitèsses', cycling at two speeds. In other words, there has to be a leader and a lantarne rouge, otherwise you can't race," Dekker concluded.
Disco relentless in pursuit of seconds
By Brecht Decaluwé in Loudenville - Le Louron
Alberto Contador tried everything
Photo ©: Roberto Bettini

During the stage to Loudenville the Discovery Channel team showed that they are keen to take time back on yellow jersey Michael Rasmussen before the ultimate time trial. The American team doesn't seem to be confident that Contador can make up the time of 2'23" between the two riders, and launched a series of relentless attacks on the yellow jersey to try and shake Rasmussen's hold.
While Levi Leipheimer didn't offer himself up there was another team-mate in what was left of the peloton. Yaroslav Popovych attacked on the Col de Peyresourde in what seemed to be an attempt to disturb the Rabobank teamwork. Cyclingnews asked the Ukrainian if that was his goal when he attacked. "Yes, I spoke with Contador that I would try to make Rasmussen's team work," Popovych said.
In the end his attack didn't result in a panic reaction as Boogerd and Menchov maintained their own pace. A few minutes later 'Popo' was caught back by the yellow jersey group that immediately dropped the former Giro d'Italia podium finisher. "It was a good day for us and we will try to do it again. I think the team did a great job," Popovych explained.
Last year the absence of Lance Armstrong left the team from Johan Bruyneel without a real leader. As a result the team wasn't performing well in a whole. This year everybody in the team seems to be back in fighting spirits. "Last year was a really strange year for the team without Lance but now's another thing," Popovych confirmed that the Disco-train is back on the rails.
Kirchen happy with second
By Brecht Decaluwé in Loudenvielle - Le Louron
Kirchen showed better form
Photo ©: Sirotti

Luxembourger Kim Kirchen held tough on a brutal day in the Pyrénées, where he was one of the last survivors of the breakaway and took second behind the rampaging Kazakh Alexandre Vinokourov. The result gave his German T-Mobile another high on a rollercoaster Tour which saw the team hold yellow, lose its GC leader Michael Rogers to a crash and another rider, Patrick Sinkewitz receive notice of a antidoping positive test for testosterone.
The team's replacement GC-rider, Kirchen was riding in 10th overall until he had a rough first day in the Pyrénées on Sunday, where he ran into difficulty on the climb towards the Plateau de Beille. "Kim [Kirchen] didn't have a great day yesterday," directeur sportif Rolf Aldag said to Cyclingnews. "He was still there in the first group, even after guys like Popovych dropped back but then they hit the last climb with full gas after the long downhill and that killed him," Aldag reflected on Sunday's stage.
The Luxembourgian bounced back from his setback and managed to join the early escape on Monday. In that big breakaway group the unpredictable Alexandre Vinokourov featured as well, and on the hors categorie Col de Peyresourde, the final climb of the day, 'Vino' accelerated a couple of times and dropped David Arroyo, Kirchen and eventually also Juan Jose Cobo and Haimar Zubeldia (13th in GC).
Kirchen didn't try to follow the accelerations from the Kazakh powerhouse and maintained his own rhythm. Just before the top of the Peyresourde he came back on Zubeldia. The duo wasn't strong enough to catch Vinokourov, forcing them to sprint for second place. Kirchen started the sprint and easily held off the Euskaltel rider.
At the finish line Cyclingnews asked Kirchen if he was happy with a second place. "I had very good legs and was very concentrated and I think I couldn't do better today," Kirchen reacted. "You might say that I finished second again," Kirchen referred to his second place in 2004 behind Hushovd, "but behind a champion like him that is fantastic, doing better was impossible. He has a lot of experience and the real panache and obviously he's still a big champ," Kirchen complimented today's winner.
With today's second place Kirchen returns to the top ten overall, and that's a goal for the T-Mobile rider. "It wasn't an objective before the Tour but now that I'm back up there, I want to stay there. There's one more mountains stage coming up but luckily there's a rest day tomorrow, I can use it," Kirchen pointed out that his legs were tired.
After the doping confessions from former Telekom riders and the positive doping test for T-Mobile's Patrick Sinkewitz there was a lot of negative media attention for the German team. Some riders were ready to pack their bags as they couldn't cope with the mounting pressure, but after an internal team meeting the team decided to go on and battle. "The team is very good, also the ambience within the team. [After the Sinkewitz incident] the riders stayed together. The manager [Bob Stapleton] is behind everybody. It's a really great team and I hope it will continue next year," Kirchen referred to the possible doubts from sponsors T-Mobile and Adidas.
It was clear the Luxembourgian had enough of the assumptions being made towards some riders when he was asked if he felt that the peloton didn't feel comfortably with the doping accusations towards yellow jersey Michael Rasmussen. "I want to focus on my race and I'm not really interested in what the other riders do," Kirchen said.
Wegelius bets on Rasmussen
By Gregor Brown in Loudenvielle
Charley Wegelius keeps plugging away in the 2007 Tour de France for himself, Team Liquigas and for his mom watching in Britain. The team's ace Pozzato has scored a powerful win with the finish in Autun while climber Manuel Beltrán continues in the general classification battle, meanwhile the 29 year-old Wegelius is hoping for a chance for an escape but is also keeping an eye on the team's overall position.
Two weeks have passed in the world largest bike race, but the affable Brit hasn't yet lost his good-humoured edge when the microphone was set to record. "Get that out of my face," was the comical greeting by Wegelius Monday morning in Foix. When asked about the stage ahead, he said, "I don't have a crystal ball but if I had legs like I had lately then I don't think I will be there [in escapes]. I had this really special plan to get into breaks after the Alps but I think that about 150 other guys had the same plan too... Joking aside, I will try to get into the break but you know I have to do what I can with the legs that I got," he continued to Cyclingnews.
"And then I will be the second guy for the team classification, which nowadays is very important." The team is currently 11th in the rankings. He is followed by fans around the world but also by family, including his mom Jane and girlfriend Camellia, who call and check on him regularly. "My mom watches, my girlfriend and my father in-law, who has never watched a bicycle race in his life. None of them knew about cycling before but they have become experts, which is a bit awkward because they start asking me why I don't do this or that.
"My dad rang me and said that he couldn't believe that the flat day was the hardest day in the race, so I had to explain all about crosswinds and things like that." Wegelius makes his home in Italy like the current race leader, Michael Rasmussen of Rabobank, which he tips as the eventual race winner. "I think Contador and Rasmussen both showed that they are on a differently definitely level than the other favourites in the race. I think it will come down how they perform in the time trials.
"They are both light guys but if one can go a little better than the other one then that can make a bigger difference than the mountains." Regardless, Wegelius is placing his bets on one man, "Rasmussen."
Barredo riding on empty
By Gregor Brown in Loudenvielle
Carlos Barredo (Quickstep-Innergetic)
Photo ©: Gregor Brown

Carlos Barredo paid his dues in the first two weeks of the 94th Tour de France by helping team-mates Steegmans, Boonen and then Vasseur won stages and Sunday the 26 year-old Spaniard had his chance to go on an escape. Although riding on "empty" and then getting caught on the Plateau de Beille he was happy to have had the chance. "I did well yesterday but right after the start I was feeling hungry on the first climb," commented Barredo to Cyclingnews Monday morning.
"I was feeling 'empty' because the first hour and a half is always the fastest, and I did not eat anything. After that, my entire day was bad. However, was good because I joined the escape." He kept going but suffered when the day hit its climax and he could no longer stay with his compatriots in the escape, Colom, Txurruka, Pérez and Gutiérrez.
"It was important to try my chance to get into an escape," Barredo continued in his friendly tone. "I will try again. ... I am tired but the others are tired too." Maybe he is encouraged by the spectators. "Yesterday my friends came out to watch and cheer me on because it was close to my region [of Asturias]. Also today there are my friends and family."
He will enjoy the rest day with his Quick.Step mates, who have made a victory haul totalling four. The day will have to include riding which was a lesson Barredo learned in the 2006 Vuelta a España. "Normally if I try well on the rest day then my legs go well but if not then they don't go well. Last year, at the Vuelta a España there were two days of rest where I hardly rode; I only did 30 minutes and the next day I was tired. If I train well Tuesday [in and around Pau] I believe that Wednesday I can go, more or less, well.
"I went out for three hours with Garate last time but I don't know for tomorrow [laughs - ed.]. I think that tomorrow the pain might be heightened and I believe it will be two hours or one and a half hours with a climb, and basta!"
Barredo raced with Alberto Contador during his time on Liberty Seguros and he is hopeful that his compatriot, currently at 2'23" back in second, will capture the race overall by Paris. "He has lots of class and I think that he can win the Tour. I think he is a rider with his head on straight; he is concentrated. He is a person that, for me, has a Tour in his legs. One or more.
"He is my friend. I raced with him at Liberty. ... I hope he wins. He is from near Madrid and I am from Asturias but we have known each other for a long time, we were on the same team for three years. I think he is feeling well and will win." Contador punched the accelerator numerous times in the closing kilometres of Monday's stage to Loudenvielle but will have to wait until the day after the rest day to try again as he was unable to distance race leader Rasmussen. "I think that he has to attack in the mountains and gain some time in hand, not on Rasmussen, but on the others. Then in the chrono he will pummel them."
Merckx's "great experience" in cycling
By Gregor Brown in Loudenvielle
Axel Merckx
Photo ©: Cyclingnews.com

Axel Merckx is close to ending his 15-year career as a professional rider but he insists on enjoying the final moments. The 34 year-old Belgian is looking forward to the five days remaining of the 94th Tour de France but he is happy to reflect on his proudest moments, including riding with Floyd Landis as race leader through Paris.
"I know this is the last time and I absolutely want to make the best out of it, and make it to Paris, for sure," commented Merckx on Monday morning to Cyclingnews, the day before the Tour's rest day in Pau. He made the switch this last winter from Phonak to T-Mobile and he used his domestique abilities to ensure the team's youngster Gerdemann was in yellow with a stage win on that hot day to Le Grand-Bornand.
"It has been fifty-fifty for T-Mobile at the Tour but you always remember the good parts and the good memories," the son of Eddy continued. "Having the yellow already with Linus, who is only 24 years-old, was really exciting. It was beyond our expectation. We have to acknowledge his accomplishment and look forward to a great future from him. ... It was for sure my favourite moment of this Tour; that day was the best moment of the Tour."
He is hoping there could still be a chance for him to grasp that coveted Tour stage to add to a palmarès that includes wins in the Dauphiné Libéré, the Giro d'Italia, the Belgian Championships and a Bronze in the 2004 Olympics. "I will try. I know that yesterday was fast and I am short of being with the best in the climbs. I know it will be tough but I will keep trying to see if I have a bit of luck to be in a good break.
"Over the years there have been some ups and downs that is life in general, and in cycling particular. I have had some tough moments but some really good moments here too, but I think that is the case every year in the Tour." The best came in 2006. "Riding with the yellow jersey in the Champs-Élysées was pretty exceptional [as part of Floyd Landis' team]. Being part of that winning team was special, the feeling of that Tour de France was special and pretty high for me."
Wife Jodi popped in to check on her favourite rider during the transitional stage of Marseille and she will return one last time in Paris. The two are looking forward to spending more time in Canada with their daughter after Merckx retires. "I will head there [to Canada] at the end of August, my daughter is starting school there in September so we will go there before then. We will be based ourselves out of there, just outside of Vancouver, and then we will wait and see what I will do next year."
Merckx is in the finishing stretch of his cycling career. "Right now, I am trying to enjoy it as much as I can, day in and day out. I know that soon this will all be over with and it will only be a good memory. To have a career for 14 years means a lot and it is a big part of your life and, of course, I tried to make the best out of it. I will also try to make the best out of my future. Cycling was really challenging for me; it was a great experience."
(All rights reserved/Copyright Knapp Communications Pty Limited 2007)