Tour de France Cycling News for July 6, 2007
Edited by Gregor Brown
More Moreau: French Champion ready for best Tour ever
By Tim Maloney, European Editor in London
Moreau winning on Vontoux
Photo ©: AFP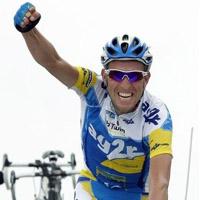 Since the birth of his daughter Margaux on April 23rd, Christophe Moreau has led a charmed life as a racing cyclist. The 35 year-old from Belfort in eastern France finished fourth in the Volta a Catalunya in June, then took a surprising win in the Dauphiné Libéré with a stage win atop le Mont Ventoux. The momentous ride was followed by great performance in the French Championship, where the long, lean AG2r man was clearly the strongest, and captured the Maillot Tricouleur on a tough course in Aurillac where.
It has been a decade since Richard Virenque was the last French rider on the Tour podium as runner-up at the 1997 Tour de France Moreau could be a factor in this year's race and AG2r team manager Vincent Lavenu told Cyclingnews that, "for the last few years, Christophe has shown a new maturity, and greater focus as a rider than ever before. We have a team that is like a family and we've put less pressure on [Moreau] than he's had in the past and it has worked for him and us."
Moreau was delighted to win his first French championship last month. "It was a special moment for me, a very emotional one too," he explained. "Like my prologue win in 2001, it was truly something special." That year, Moreau won the Tour de France prologue and wore the Maillot Jaune for two stages. He has finished as high as fourth place overall in the Tour in 2000, but never been as much of a Tour contender as he is now.
Smart, experienced and enjoying the best form of his career, a smiling relaxed Moreau told Cyclingnews in London that "this year with the French jersey, I think I might be better known in the peloton. I'm glad to be at the Tour this way. So when the race really starts, on the roads of France, I'll be happy to show the jersey off."
As a former winner of the Tour prologue, Moreau must have ambitions for the short course through central London. "I'll go all out in the prologue for sure," he stated. "I still think of my win in 2001. So I'm looking to check out the course well and then have the best possible performance. I don't think I can win but that I can kick off the party well at this Tour." As for his ambitions for the overall Tour, a realistic Moreau explained, "My form is there and my morale is good and with the French champions jersey and we have a solid AG2r team. So I think I can have a good Tour."
Moreau stated his overall ambitions. "Yes, I've spoken about the Maillot Pois [of Best Climber] as another objective at the Tour as well as a podium place or top five and maybe a stage win. [Our strategy is] in the Alps, we will go all out to see where we are and if the goal of a high finish on the general classification is realistic. Then we can see what our strategy is in the Pyrénées.
Coming up on
Cyclingnews will cover the 60th edition of the Dauphiné Libéré live as of stage 4 on Wednesday, June 10, at approximately 15:00 local Europe time (CEST)/ 23:00 Australian time (CDT)/ 9:00 (USA East).

WAP-enabled mobile devices: http://live.cyclingnews.com/wap/
"We have to look at the situation day-by-day to see what the possibilities are. Right now, I'm feeling really relaxed. It's my 12th Tour and, more than ever, I am feeling ready. I've had the Maillot Jaune, been top ten and first French rider already, so with my French Champions jersey, what do I have to lose in this Tour? I'm hoping to have the best tour of my career."
(Read Cyclingnew' recent interview with Moreau.)
Blow to Freire on eve of Tour start
By Shane Stokes in London
Freire
Photo ©: Sirotti

Triple World Champion Oscar Freire is uncertain about his chances in the Tour de France following a reoccurrence of the cyst, which ruined much of his 2005 season.
The talented but fragile Spaniard told Cyclingnews on Thursday afternoon that he intends to take to the start in London on Saturday, but will play it by ear after that.
"I crashed twice in the Tour de Suisse but recovered okay from that. But now I have another problem, a problem with my rear end. It is the same problem as I had three years ago. I was operated on then and lost two months, but this time the problem is that it is only four days before the Tour de France and it is not possible to rest. I have to wait until Saturday and then we will see how it is.
"I expect to be starting, but we will see. If it is getting worse than it is the best thing to start, because my experience is not very good of this thing. Three years ago I continued for one week with this problem and then I was operated on afterwards."
Freire said that he was unsure as to the reason why the problem flared up again. "I changed my saddle and I did two days of long training; then the day afterwards, it was bad. I was using the same kind of saddle before, so it is not my first time with it. I don't understand why there is a problem."
He noted that he was happy with his general condition. "Other than that I am happy with my form. ... We will see now, we are in a different race. However, it is not nice when you start like this. Four days ago I was perfect but now it is a different situation."
Time constraints and the medical rules applying to riders means that there is only so much he can do. "Before the start of the race all I can do is take a rest today, and also use some cream on the area. That's all I can do. The best thing would be to stop for one week, but now it is not possible."
Freire has a very strong sprint and has proven he is the equal of all of the big sprinters in the peloton. This year he won Milano-Sanremo and his ability on undulating stages would seem to suggest he is a contender for the points jersey. However, he explained why he is not on many people's list of favourites for that.
"I have only finished the Tour de France once and I also have had a lot of problems at this time of year. Last year I was good until the last four stages. This year is different, in that I am bad at the beginning... we will see how things go."
2007 Tour by numbers
As one of the world's largest sporting events, the Tour de France boasts a huge impact and infrastructure. Here is a look at the numbers behind Le Grande Boucle:
4,500: accredited people (organization, teams, media, publicity caravan, service)
2,400: vehicles (including 200 vehicles in-race and 135 trucks in TV technical area at finish line)
725: staff in Tour race organization
1,300: hotel beds reserved each night for Tour race organization and teams
189: professional riders in the Tour Peloton (21 teams of nine riders)
280: team staff members
45: motorcycle patrolmen of the Garde Républicaine
10: policemen of the Tour permanent task force
23,000: police officers along the Tour roadside for traffic control
1700: accredited journalists, photographers, TV cameramen, consultants and producers
185: countries with TV coverage of the Tour
51: countries with live TV coverage of the Tour
4,500,000,000: people will view the Tour de France worldwide on TV
3,200: hours of total TV coverage
12,000,000: roadside spectators (81% French / 19% other)
15,000,000: free gifts handed out during the Tour de France
34: stage cities
Quietly moving forward
US TT Champ David Zabriskie (Team CSC)
Photo ©: Sirotti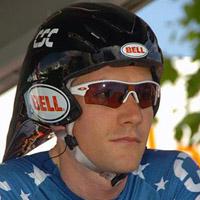 David Zabriskie got the confirmation of his participation in the 94th Tour de France last week. The American, who briefly held the famed Maillot Jaune in 2005, took time to talk with Cyclingnews' Gregor Brown the day before his flight to London for this year's Grand Départ.
David Zabriskie has been quietly building towards the 2007 Tour de France with his training mates, including compatriot and Tour teammate Christian Vande Velde, at home in Spain since the finish of the Dauphiné Libéré. "I have been taking it easy this week with training," noted the 28 year-old.
Many might expect a rider like Zabriskie, who won the 2005 Tour opening time trial and wore the Maillot Jaune for four days, would be getting a little nervous for his return to the world's largest race, but instead he's calm, and well organised with his program. "I have done a couple long but easy rides to just spin the legs fast," he explained in a soft voice. "Thursday and Friday we have sponsor things - medical checks, and all that stuff."
The winner of the opening day two years ago has not yet tested the opening route in London. "I hope to see the course [on Saturday before the late prologue start]," he said. "I will ride it as many times possible. Dave Millar told me it has maybe one turn where you will have to feather the breaks a little bit, but other than that there are wide-open boulevards and it is pretty straight forward."
Read the full interview with David Zabriskie.
Discovery Channel team "goes green"
The Discovery Channel Team today announced it is going "Green" by becoming carbon neutral beginning with the 2007 Tour de France (and retroactive to January 1). The team plans to reach its goal of carbon neutrality through a combination of energy savings, reduced carbon emissions and investments in carbon offsets.
The Disco squad of the 2007 Tour will ride with green-accented jerseys, shorts, helmets and cars. The goal is to educate fans on the risks associated with climate change, provide everyday solutions and inspire them to simply "ride a bike" as an alternative means of travel.
"Global warming has become a major concern worldwide and our sport and team is uniquely positioned to raise awareness about the importance of being more 'green,'" said Team Manager Johan Bruyneel. "We realize that there have been others helping in this cause, like the US-based Kodak Gallery Team, and our hope is that we can also help lead the way forward."
Previous News Next News
(All rights reserved/Copyright Knapp Communications Pty Limited 2007)