An interview with David Millar, July 7, 2007
Millar time again?
Having returned to the sport last year and proved that he can, once more, perform to a similar level as before, David Millar is now rightly regarded as one of a few red-hot favourites for Saturday's Tour de France prologue in London. Cyclingnews' Ben Atkins and Shane Stokes have been in regular contact with him as he builds up to what will be the biggest day of his season.
Millar gives it his all
Photo ©: AFP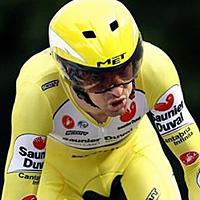 David Millar has always had something of a love/hate relationship with the Tour de France prologue. Victory in the millennium edition (which, at just over 16 kilometres long, was technically stage 1) was the win that really put him on the map, but the following year he crashed badly on the final bend while pushing too hard. He finished in a respectable fifth place in 2002, but once again, disaster struck in the centennial Tour as his chain jumped off on the Parisian cobbles, robbing him of victory by eight hundredths of a second. Last year's unspectacular 17th place behind Norway's Thor Hushovd marked his return to racing, without the impact he was hoping for.
This year, his results from the second half of last season – including a Vuelta stage win over the to-be World time trial champion Fabian Cancellara – combined with the fact that it is starting in the British capital has put him firmly amongst the favourites.
Millar seems to display the typical mind-set of the British rider, preparing to ride the biggest race in the world on home soil: one of nervous anticipation, while trying to remain focused on the job in hand. An initial: "Yeah, I am excited." is tempered with a more measured: "To be honest I'm not really thinking about it emotionally so much at the moment, trying to think professionally on it, on the whole thing."
When he spoke to Cyclingnews earlier in the year, Millar expressed an initial liking for the course, after having checked it out last year. "It's good for me but, to be honest, when I am at 100% most of them are. This one seems to be as good as any of them, I suppose.
David Millar
Photo ©: Sirotti

"It is actually probably better than last year, the one that was technical... I guess last year's was good because it was punchy and about bike handling, where this one is is more about pure speed."
Even then, there was the feeling that to ride – and possibly win – the prologue through the streets of London was special. "There will obviously be a certain amount of stress and expectation, but that always happens around the Tour anyway. I think more than anything it is going to be exciting, it is going to be exciting. It is obviously going to get pretty scary, but my biggest sensation at the moment is just excitement. I think that is going to override everything else.
"The more I think about it, the more I think it is just going to be a surreal experience."
- Millar on racing through London.
"The more I think about it, the more I think it is just going to be a surreal experience, one of those things that will hit home afterwards. I think that when my career is finished, it will be one of those races that will be really clear as day for the rest of my life.
"It is hard to differentiate between any Tour de France prologue, they are all so high on the scale of scary objectives. It doesn't matter where it is; it is the same sensation, the same feeling. It will be a dream race, but it is one of those things - it is going to be a post-rationalisation."
If he was becoming excited about it then, then he's clearly looking forward to it more and more now. As a British rider – or any other nationality for that matter – it's impossible to ignore the fact that the course passes through one of the most historic places in the world.
"I rode it a couple of weeks ago again, and it's a fabulous course, I mean, on a purely racing sense it's going to be really fast and not very technical, and just the sheer spectacle of it is going to be pretty enormous. I think it's just beautiful, breathtaking views..."
Millar, of course, is not the only British rider who has a penchant for short distance time trials. One of the chief opponents who could come between him and that first yellow jersey is London raised, World and Olympic pursuit champion Bradley Wiggins. Naturally, this has led to a lot of media hype predicting a "Battle of the Brits," which Millar feels is at least partly justified.
Race leader
Photo ©: AFP

"There's a fair chance it could be now, Wiggo has raised his game enormously this year. He's rightfully hailed as a serious contender as well, which is good, it's a good story as well."
Of course, a the one-two would be a dream result for the British organisers, but there are a few obvious – and less obvious – contenders, holding foreign passports, who could spoil the local party: "Cancellara, Zabriskie, Hincapie. They're the main guys. Then you've got another handful of guys that you wouldn't put down as your clear cut favourite, but who are fully capable of a surprise result.
"You always keep an eye on your competition, and Cancellara was blistering in Switzerland. But then again it was his home race and he knew the course well and he kind of knew he was in incredible form. Cancellara gives me a bit of fear, but then this course, I think, isn't exactly perfect for him. It's more of a graceful course; it's not just about pure brute strength."
In fact, earlier in the year he singled out one American contender who would be particularly well suited. "It will be amazing for Zabriskie, because it is not very technical at all."
Having the Grand Départ in London isn't the only British coup for this Tour de France. There are a total of five British riders due to roll down the ramp at Whitehall this weekend, which is the most in a great many years.
"Obviously three of those are kind of exceptional because it's London: Wiggo, Charly and [me]. I think more Cav [Mark Cavendish of T-Mobile] and Geraint [Thomas of Barloworld] are real representations of British cycling, that they've come through the development programme and through the British Cycling system, so the fact that they can have two guys come right through their whole system and are now at the Tour de France at their young ages, it's quite remarkable."
Quite remarkable indeed, and surely evidence that something great is beginning to happen in British cycling.
"I think it's probably safe to say that it's already great what [British Cycling is] doing. I think it's good and it's going to add an incentive to the next wave of young guys coming through. You've actually got evidence now that it takes you somewhere other than just gold medals at worlds [laughs]. You can do all of that now; it's quite a vehicle."
Gunning it
Photo ©: Luc Claessen

Despite this increased presence, and the razzamatazz of le Tour en Angleterre, Millar doesn't believe that cycling is going to suddenly surge in popularity in the UK, but feels that the positives will be less tangible.
"I don't think it has much effect on cycling per se, but perhaps people will understand what the Tour de France is a bit better. You can't have any conception of what the Tour de France is unless you actually see it in the flesh, especially in the scale it's at now. When it last visited here in 1994, it was still, just night and day to what it is now. It's just mammoth now. So, perhaps people might start to understand what our sport is, and the level of professionalism that is involved. Perhaps if it just feeds that passion into a few youngsters, who then get on to the British Cycling youth programme and stuff, then that's going to be – and I'm sure it will – that's going to be good for everyone over here."
The London prologue is a major target for Millar, but it is only 7.9 kilometres out of a total of 3569.9, but he has no specific plans for the remaining 3562, save for one thing. "Win a stage. That's it, and I'll pick that as I go along, whether it is a time trial or a road stage. I want to win a stage."
Evidence from previous Tours would show that when he decides to do this it can be difficult to stop him (winning a road stage to Beziers from a small group in 2002, and a time trial to Nantes in 2003), but the once held general classification ambitions have been shelved. "It's just not realistic, so there's no point. I mean I'll be trying hard, but if I'm just realistic a stage win is well within my capabilities."
The same is true of that previous potential Tour winner, Iban Mayo. "He won't be doing GC either. He'll go for stage wins." The whole team, in fact is here to get noticed and ambitions are relatively modest, due to its relatively short history and experience winning at this level.
"Our team is never won a stage in the Tour de France, so it'll already be a pretty big deal for us, and the team's pretty realistic. The team is designed and built for the Giro, so you've just got me and Iban as kind of like the free electrons, trying to get the big wins at the Tour."
Having come back from his suspension a different, more serious character, Millar is now happy to reflect on his dark days and what he sees as the cause of his fall from grace. When he started in the sport, he was seen as one of the new, clean breed of riders. He insisted at the time that he was not going to be drawn into doping. Yet that's exactly what happened.
"The culture was always there. You have to remember that when I was 20 years old and turned pro, you had soigneurs delivering ice to rooms [to keep EPO fresh]. So the fact that I held off for so long [was something], knowing that it was going on from when I was 20. That was a real slap in the face, to turn pro and to realise it was that serious.
"In a way I hold the team responsible, to an extent, because they signed me as a 19 year-old, wet behind the ears. I think they should have treated me better. Okay, at the same time, Moncoutié is still with the same team, but I was definitely treated differently to him. I was given other responsibilities, pointed in certain directions, and made to room with different people than he was."
So, is he saying that they steered him towards doping? "Yes," he answered. "I can say that now because the court case is over." Millar also said that teams deliberately gave young riders very heavy racing programmes, in order to exhaust them and to increase the chances that they would start taking something.
Fortunately, he sees hope in the future, but doesn't expect things to change overnight. "Unfortunately, it is going to keep getting worse until it gets better," he said earlier this year. "Operación Puerto needed to happen but unfortunately there are still so many guys cheating. I think that DNA testing is necessary, unfortunately, and that is simply because of the state of our sport at the moment. It is in a mess.
"But you have to remember that there are a lot of really good guys out there who are clean. And there is a huge new generation coming through who aren't having to go through what my generation went through.
"I think it is a question of time that will change it, with this younger generation coming through and that older generation going. The talking, and the paranoia, which is always huge. If you have a good day people are going to accuse you of taking drugs - your fellow pros -but I don't think the younger generation talk like that so much, it is the older guys.
"I hope for their sake that they believe that they can do it [clean], that is probably why some of us older guys are more vocal and made sure that this younger generation now that you can win big races clean, 100 percent clean. If you don't believe that, then it is never going to happen. But it is going to take time - five years, 10 years. It is just going to be a big generation shift, from the riders, the doctors, the team directors, different attitudes from the sponsors - like what you see with T-Mobile and CSC. That is how it is going to change."
He has obviously signed the UCI riders' declaration, both as a rider with a very outspoken anti-doping stance, and in order to be allowed to race. But he, like many riders is unhappy with the document's wording, and unsure as to what its legal status really is. On the whole, though, he feels it's a positive step that had to be taken.
"My general thoughts are that they had to do something like that, a lot of it is about a show of will, if you like. On an actual legal side, I think it's a bit, well; it's just plain odd. It's unfortunate that we've had to get to that point where we're signing contracts that even a first year law student would say 'don't ever go near,' but we have no choice. I think it's just more of a show of will and unity, in the right direction, but I think that's all it is."
Recent events in Britain – the attack on Glasgow airport and the attempted bombings in central London – have prompted the government to raise the security status to "critical." Tour organisers in the UK though, have reassured the public that plans have not changed and the race – and events around it – will be unaffected. Millar too is unconcerned about potential threats to safety.
"Not in the slightest, no. I mean these are probably about the most secure square miles in the world around here. So no, in that sense no, I mean I think it's a case of the show goes on. I think it would be hard or anyone to do anything at that point anyway, with the security that's going to be around. If somebody wants to do it then they can do it, that's just unfortunately inevitable."
He's not worried about safety this weekend, and believes that no one else should be either. "I think it'll be fine, just don't let it bother you."
London's Mayor, Ken Livingstone has agreed with this publicly, and has laughingly stated that he's more worried about the weather than terror attacks. It's true, Britain has recently experienced one of its wettest Junes on record, causing widespread flooding in the north of England, and causing the postponement of the national championships. Millar, on the other hand is more relaxed about the possibility of rain dampening the race.
"I saw [the forecast]. It's just something that's out of your hands. If it rains it rains, you can't worry about that." So, does he expect the great British weather to play its part? "I'm sure it will!" he laughed.