News feature, July 21, 2007
Green tornado churns through Castres
The bright green clad figure of Quick.Step's star sprinter Tom Boonen raged through the peloton in Castres as 'tornado Tom' took another stage win, all but shattering the hopes of South-African Robert Hunter and veteran Erik Zabel for the points classification. Cyclingnews' Brecht Decaluwè was in the eye of the storm.
Tom Boonen on the podium
Photo ©: Sirotti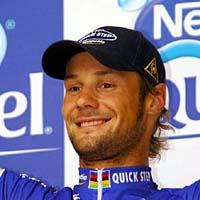 After grabbing his second stage win in this Tour de France on stage 12 - the sixth in his career - the Belgian seems to be cruising towards the overall win of the points classification. Just before the first time trial Boonen now has a lead of 20 points on Hunter and one point more on Zabel, but the Belgian insisted that the gap isn't secure just yet. "If Zabel would've been in the first group yesterday [stage 11] then the green jersey could've been gone," Boonen admitted.
The Belgian warned those who felt the battle for the green jersey was already over to keep watching. "The battle for green isn't a fair one, you have to work so hard for it but without a little luck you can't keep it. That's why you have to work for every point you can get," Boonen explained
Boonen's bad luck could have put paid to his hopes of keeping the jersey after he was involuntary held up by the crash in the final corner of stage eleven while riding in perfect position, and he was lucky his competitors missed the split and came in behind him. "I hope a situation like yesterday will not happen anymore because that's not acceptable for me," the 26 year-old said. "If that works out and I'm a little lucky then I have a good chance, but for sure I'll have to battle until Paris."
Boonen didn't hide his ambitions and felt he deserved the green jersey. "I know that I'm faster than Zabel and Hunter but without luck it's not possible to keep the green jersey, although with today's victory the motivation is perfect."
Besides enjoying luck in the sprints there's another factor that needs to be overcome by the sprinter: the Pyrenees. "There's a very long mountains stage and particularly because it's after Wednesday's rest day that will be very tough. I'm better now than I was when I won the worlds and that will be necessary next week," Boonen explained he will need to be very strong in the last week to hold off Zabel and Hunter.
"The battle for green isn't a fair one, you have to work so hard for it but without a little luck you can't keep it."
-Tom Boonen on the randomness of the points competition
This year, Boonen seems to be more relaxed than he was in last year's Tour de France, but he attributes the change to something else. "I'm dumber, I fell on my head," Boonen joked. "Seriously, up until last year I constantly did the same hard work but this year is more relaxed.
"To me, I did well in the Spring Classics and after that I had time for myself for the first time in a while," Boonen said of his mid-season break which was a little longer than normal since he had a minor injury from a car accident.
Tom Boonen wins his second sprint.
Photo ©: Cyclingnews.com

Last year a completely exhausted Boonen abandoned the Tour de France in the mountains, leaving the Tour without a stage win under his belt. Afterwards he expressed his dissatisfaction with the Tour de France in most uncertain terms. "It was and it is a !% race, nothing has changed," Boonen repeated his words from 2006. "But I'm a masochist," Boonen smiled. "For instance a day like yesterday, it's a day with mixed emotion but that's what makes it fun," Boonen said.
The fourth stage win for the Quick.Step - Innergetic team was overshadowed by the commotion around yellow jersey Michael Rasmussen. The Danish mountain goat was under fire since it became known that he failed to do his paperwork announcing his whereabouts to antidoping authorities. Rasmussen didn't inform the Danish federation about his training locations in June, and because of that he was cautioned that another infringement would be turned into a positive doping test.
Boonen thinks about carrying green over the mountains
Photo ©: Sirotti

It remains unclear who revealed the story, some say it was the Danish federation or the UCI, other say that it was Rasmussen himself who talked about it with the Danish newspaper Politiken. Regardless, the media certainly focused on the Dane on Friday and even Boonen wasn't safe from questions on the matter from a Danish newspaper.
"I don't know the details," Boonen admitted. "I heard that he didn't fill in his papers and that he received a warning for that, after that he was allowed to start in the Danish championship but now they keep him out of the selection for the worlds," Boonen summarized what he knew. "Why now? To me this is just sensation because the fuss is still about the same information", Boonen said.
The Belgian explained that riders have a hard time filling in those papers. "Four years ago I had to do it for the first time, we had to fill in papers and send them to the UCI via post," Boonen explained. He continued that the rules have changed many times since then. "Without being warned it appeared that we had to do everything via the internet, and when there was someone else in charge we had to print out the form and send it again. It changed so many times," Boonen complained, "it takes a lot of work and we have to find out how to do it all by ourselves."