An interview with Bob Stapleton, July 15, 2007
Pushing for reform
T-Mobile's Bob Stapleton has been one of the most outspoken managers in the business about the need to eliminate drug use in the peloton, and has been greatly motivated by Linus Gerdemann's stage win and spell in the yellow jersey. Cyclingnews' Shane Stokes spoke to the Californian at length before the start of the Tour, while Brecht Decaluwé caught up with him after Gerdemann's success.
Stapleton and 24 year old Linus Gerdemann
Photo ©: Shane Stokes/Cyclingnews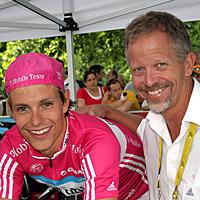 Whatever happens during the rest of the race, Linus Gerdemann's victory in Le Grand-Bornand was an important moment for cycling and the 2007 Tour de France. At the end of last season sweeping changes were made to the structure and lineup of the T-Mobile team, with a revised team roster, new look management, a considerably reinforced code of ethics and strict, innovative internal testing all being introduced.
In that light, Linus Gerdemann's success on stage seven would appear to be a big plus for the sport. One of the first things the 24 year old German rider said after the finish was that this represented a new start for cycling. He'd just scooped the stage victory, the maillot jaune, the white jersey and the most aggressive rider award thanks to his efforts during the day and, as David Millar pointed out, this was the sign of a cleaner generation coming through.
General manager Bob Stapleton has been behind many of the changes in the team. The 49 year old Californian is a highly successful businessman who began his relationship with the T-Mobile sponsor back in 2000 when it bought his communications company VoiceStream Wireless for $50 billion.
Stapleton is a cycling enthusiast and became directly involved in the sport when he founded High Road Sports Inc. Last year he ran the women's T-Mobile women's team; the fallout from Operación Puerto then saw him take over as general manager for the men's squad, with some reports suggesting that his appointment plus the sweeping changes he proposed were the crucial factors which ensured that the T-Mobile company remained involved.
In contrast to many involved in running teams, Stapleton has no background as a professional rider. This is something which may have worked to his advantage, though, as he comes into the sport with a very different view of doping. Unlike those who have themselves used such products while racing, or, alternatively, may have tolerated their use by their riders, his outsider's perspective is a plus. So too his business background and his recognition that cycling, as a brand, needs to quickly change if it is to recover from the travails of 2006 and to have a real future.
"To me this is more than we could've expected... It's a combination of hard work but also of luck"
-Stapleton is satisfied with the team's performance
Gerdemann's success is a big boost for T-Mobile. "This is just another step forward for our team," Stapleton said the morning after the stage win. "It's rewarding because it's the young guys who make an astonishing commitment. They have more and better testing than any other team in this sport, that's a fact.
"Our riders were concerned that they would be disadvantaged because they signed up to start clean in a very tough Tour de France. Now they see that thanks to their efforts, it is possible to win. The guys work really well together and every race we've won this year – 16 in all - have all been taken by guys who are clean. I'm proud of that."
Gerdemann cherishes the yellow
Photo ©: AFP Photo

Around the same time as Stapleton was coming on board and settling into his new role, a number of big T-Mobile names were heading out the door. Jan Ullrich went into semi-retirement and finally hung up his wheels just before DNA testing confirmed he was part of the Operación Puerto affair. Andreas Klöden, Matthias Kessler and others decided to go elsewhere, as did some of those involved in running the 2006 team such as Mario Kummer.
It meant that the 2007 line-up was vastly different. This plus the fact that the team would be subject to far stricter controls than many other squads prompted Stapleton to say that their ambitions would be solid rather than spectacular this year. Gerdemann's success [and the fact that he is a young, first-time Tour rider] is therefore a big plus.
"To me this is more than we could've expected," he said. "I would have been happy if one of young guys could provide a good showing. This is something we thought wasn't possible. It's a combination of hard work but also of luck. Don't underestimate luck."
Tour rookies
T-Mobile team general manager Bob Stapleton
Photo ©: Shane Stokes/Cyclingnews

Stapleton spoke to Cyclingnews the afternoon of the prologue in London and said then what he expected of the first-timers in the race. "We have got three rookies on the race right now - Mark Cavendish, Marcus Burghardt and Linus Gerdemann.
"I think that Mark will go for the first six or seven flat stages and it is day by day after that," he said, when asked about his expectations for the first-timers. "For us, it's important that we don't overdo it with him. We want to get experience and give him the chance of some success, but we are really planning to the future with him. Running him through the Alps and Pyrenees doesn't make a lot of sense."
"Mark has got no pressure at all other than the pressure he has put on himself. He really wants to do well, and that speaks a lot about his character. He is a real fighter, he is a real determined kid and it is one of the things that we talked about beforehand. We said, 'listen, this is the most elite part of the sport. You can get totally shut down here and you need to not let that discourage you.'
"I think he is got the personality to overcome anything. I think that even if he accomplishes nothing, he will just come back that more determined."
Gerdemann had already shown glimpses of his talent as a stage race rider, with results such as a stage win in the 2005 Tour de Suisse, seventh overall there last year, sixth in the Tour of Catalunya and fifth in the Four Days of Dunkirk all to his credit. Stapleton said prior to the start that the Tour was a big step up for him, but that it was part of his progression.
"He is a talented young kid and we will see how he gets on. Our basic plan is to give these guys a good environment, give them all the support we can and let's see what they can do. For us, this is a great Tour for us to build some experience in the team.
Axel Merckx
Photo ©: Cyclingnews.com

"We have got guys like Axel [Merckx] here and Bert [Grabsch], who do good work and who have done a number of Tours. They can help these guys along. We hope that this develops and they can take advantage of what goes on, taking parts of the race without trying to make it."
He said that there were three riders who should fare well in the overall classification. Michael Rogers was tenth in last year's Tour and while he has had a knee injury since the Tour of Catalunya, he was recovering. Stapleton said that he was hoping the Australian could ride into good form early on in the race.
He stated that he was expecting a strong showing from Patrik Sinkewitz in the mountains, and that Kim Kirchen could surprise. The Luxembourg rider finished second in Tirreno-Adriatico and second in the Tour de Suisse. "I think he can do very well. I consider him a good backup for Michael and for the overall for us."
As regards goals, Stapleton said that he thought that winning the Tour was out of reach. He said that the team would prioritise three things. The first was another top ten placing overall for Rogers, the second was to help the young riders gain important experience and the third was to chase stage wins. Targets two and three have already been achieved.
"I think that winning this race is beyond us, but we want to put on a good show and build for next year, which I am very optimistic about. Not only with these guys, but the level of interest in the team from other athletes is really high.
"Last year we were a new team with new management and people didn't know a lot about us. The team had a bad reputation, really. And so there was a lot of uncertainty about us. Now people see what we are trying to do and there is a lot of athletes who view this as a good environment for them. I am really motivated by that and I am really encouraged by the interest riders have been coming to a programme where they get good support, they get good tools, and not only is there no pressure to dope, it is absolutely not permitted. So I am very encouraged by that. It is personally motivating."
Need for change
Mark Cavendish is one of the new breed
Photo ©: Cyclingnews.com

As mentioned, Stapleton has been of the most outspoken team managers in the sport as regards the necessary reform. He feels that the recent Riders Commitment to a New Cycling unveiled by the UCI is a step forward, and also shows the divide within the peloton.
"I think that the rider declaration is a fascinating one, because it basically it was a little survey of how people feel about anti-doping. I think the results are quite telling. You had a good group of athletes who immediately said 'okay, we want to change in the sport, we are willing to do this. Even if it is not perfect, even if it is demanding on us.' And then you have got riders and teams who were highly reluctant. For me, that says a lot. It is a nice little survey."
In the commitment, riders undertake to pay a year's salary if they test positive. Does he think there could be problems enforcing this?
"For me, I don't know the legality of it but I think this is kind of a moral and personal commitment," he answers. "I think there is more power in it than people give it credit. I think if you sign this of your own free will and you test positive later, I think you've got an uphill argument."
He feels that this plus the UCI anti-doping programme introduced this spring are strong deterrents. "The UCI are doing a lot more tests. Basically, once the 100% Against Doping programme was approved, they went forward in a very progressive way and expand testing. There is a lot more blood tests, a lot more out of competition tests and targeted testing where they focused on riders that they had concerns about. And I think it has already been effective. So I give them a high mark for moving forward."
Stapleton told Cyclingnews before the Tour start that it could be too soon to see a pronounced effect on the general classification of this year's Tour. "I think if you keep the targeted testing up for a year, I think it will make a big difference. I believe that people are nervous and maybe they are watching what they are doing a little more carefully, but I think the big change comes from sustained action.
"This has been too little, too late, I think that for this race. But I think it is a good step forward, and if we make a couple more steps, I think it could be a completely different sport in the year from now. And I think that targeted testing absolutely works, absolutely works. It is cause and effect, one to one.
"If the wrong behaviour is being exhibited, you exert pressure. And then they either change their behaviour or you have the consequences. I really like that, just on a basic level. I think that for the other athletes it is very motivating. For the clean athletes, the biggest problem is how unfair the testing can be. Some were tested a lot, some not at all. So even by just getting everybody tested at some level, they have made it more fair."
One big step forward which he feels could be made is the introduction of blood volume testing, as is currently carried out on T-Mobile riders. While EPO use has been limited due to the current physiological profiling conducted by the UCI, there is currently little to stop riders [outside his team] from transfusing whole blood. However the volume testing can detect any changes in the overall quantity of blood in the body, making this type of doping impossible.
In the immediate aftermath of his win Gerdemann said that this testing was performed on the T-Mobile riders on Friday. They have, according to Stapleton, been tested on many occasions since the measure was brought in.
"If you can get all the riders to accept it, then it is a good test. Our guys are used to it, all of them have been tested 7, 8, 9 times now. They don't look forward to it, but they are very accepting of that. I think that they can tell other riders that it is not that big of a deal [to do]."
Mixed motives
Linus Gerdemann on his heroic descent
Photo ©: Cyclingnews.com

On the eve of the Tour start the AIGCP meeting was disrupted when the representatives of eight teams – T-Mobile, Gerolsteiner and the French squads – left, protesting at the mixed commitment to reform. Stapleton was not present but says that this happened due to the different stances within the peloton.
"There are people with different opinions about what to do about doping and maybe even what to do to progress the sport. For me that was another inning in the same ball game. At the moment we are trying to figure out who we can work with who we can't. It is pretty clear that there are eight or 10 teams who view the world quite similarly, and there are some who don't. So we have got to break those guys down. Break them down, or maybe these economic pressures in the sport will drive them out. I don't know. But for us, we are going to fight as hard as we can with the people that want to take action."
Stapleton is an inspiring figure to talk to. He's got a clear, straightforward view of what must be done and how it should be achieved. However he's also someone who has been frustrated by the reluctance of others to take their heads out of the sand and accept that cycling needs to leave the old ways behind.
When asked what he has experienced since taking over in charge of the team, he said that it's been a mixed time. "I think I have a real appreciation of the sport now, in terms of the difficulties and the challenges from every perspective. I think I admire those who succeed and do it in the right way, but I am still disappointed by how much there is to do in the sport. I guess that has been the highs and lows of it all."
Things have however changed a lot compared to before, when teams either encouraged doping or acted like it didn't exist. "I think there is a polarisation going on," he said. "And personally I think that we are certainly motivated by a good fight. The tide could change here and I would really like to push to see a change."
One thing that gives him a boost is the positive reactions he has encountered. "I think there is enough good feedback for it to be encouraging. And I am getting more and more determined with some of the adverse feedback. You can see the sport wants to change and there is a lot of people who want to make progress," he states.
"I get good feedback everywhere I go. People stop me on the streets and say encouraging things, and that is great to hear. I like to hear from the passionate fans. I like the feedback directly from the people who come out and watch the races.
"And the athletes' feedback is super-motivating. When these guys win, when young riders such as Mark Cavendish or Marcus Burghardt win, you feel like you are doing something worthwhile. So it is good to see them succeed. "Some of these guys weren't sure that this was possible, that they could really win in this sport. But they have got enough success that now they believe it." Gerdemann's triumph on stage seven will serve to further reinforce his view. A fully clean Tour may be some way off, but there are encouraging signs that some change is taking place.