Tales from the peloton, July 25, 2007
Bruyneel's eighth with Kid Contador?
Second placed Alberto Contador
Photo ©: Gregor Brown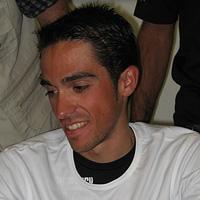 As the Tour de France approaches its final five days, Discovery Channel team manager Johan Bruyneel is within striking distance of his eighth Tour de France win with Spaniard Alberto Contador. The 24 year-old is within two and a half minutes of the leader's maillot jaune with one heavy Pyrenean mountain stage and a time trial yet to be confronted. Cyclingnews' Gregor Brown visited the American squad in Pau, France to discovery its strategy.
As a day of rest in Southern France greeted the riders of the 94th Tour de France, Discovery Channel enjoyed some relaxing moments in its Villa Navarre hotel in Pau - after a leisurely 90-minute ride, of course. The sun released its warmth on the villa's manicured gardens while the tall doors were left open to allow a gentle breeze into the wood-floored sitting room where the riders joked about and communicated with their families via phone or internet.
Team director Johan Bruyneel is happy with Alberto Contador's second position on general classification, in addition to the Spaniard's stage win from Plateau de Beille, but he still has some goals in mind. Contador is only one step away from the Tour's top spot and his Belgian director would like his rider to vie for the team's eighth Tour win, tagging onto the seven Lance Armstrong (1999-2005) has already brought to the squad. Bruyneel came to the Tour with American Levi Leipheimer as the intended leader but it was Contador who rode into a commanding position after the transitional stages towards the Pyrénées.
Belgian Bruyneel has plenty to smile about
Photo ©: Gregor Brown

"I do not think about much else, then riding my best," said a quietly spoken Contador. He is not worried specifically about maillot jaune Michael Rasmussen but, rather, sees him as another competitor. "I am in the race and I want to fight against them all, Rasmussen also. "He is a climber like me so it is difficult to make a difference with him."
Contador received a confidence boost with his ability to put Rabobank's Michael Rasmussen on the ropes while the two battled up the Col de Peyresourde. "After the stage yesterday I feel stronger, especially compared to Plateau de Beille stage," he revealed. "I felt I had him in trouble a couple of times. I think that Rasmussen will have thought about the difficulties.
"He is a climber and in good shape," noted Contador. "It will be difficult. I think that if I start with one minute behind then I stand a chance. I think it will depend on the day, if I am good and if he is bad."
The young Spanish rider Contador is strong in the young rider's classification
Photo ©: Sirotti

Contador is not ruling out Australian Cadel Evans (Predictor-Lotto) or other possible general classification contenders making a run for the maillot jaune. "We need all the time possible," he said. "If they do a great time trial, they can still push me off the podium. So I have to get as much time on them as possible before them."
The talk is exiting to hear given the team had been planning for Contador to win the Maillot Blanc of best young rider, not battling for the overall race leader, however Bruyneel revealed the Spaniard may have had different ideas from the start. "A week before the Tour I scanned the rivals for the Tour's white jersey and sent him an e-mail with names like Gerdemann and Dekker," explained Bruyneel. "He answered, 'I hope my rivals will be Valverde and Evans.'"
Bruyneel looked towards his young charge and announced that the next rider of Lance Armstrong's capabilities sat beside him. "It is difficult to compare people, I don't want to compare him to Armstrong or Armstrong with anyone," admitted the former professional rider. "But I will say this today, everyone asks who is the next Armstrong, I think he is here beside me. He is 24 years-old, he has won Paris-Nice. His future is bright.
Discovery headquarters
Photo ©: Gregor Brown

"He is capable of executing a strategy or a plan and this was the same feeling with Armstrong," noted Bruyneel. "When the team was good, we could execute the plan. We did this in Paris-Nice on the last day [in March]." Bruyneel used Yaroslav Popovych and Leipheimer to help Contador in the key finishing climbs. "This is the same here, with the Plateau de Beille," he noted. "Sometimes it feels for me in the car it is like directing the race with a remote control."
As an aspiring Tour victor Contador has had some of the best advice available, with the seven-time Tour winner and part team-owner calling in to offer a few words. "After the stage in Briançon he called me and gave me advice on how I was riding," said Contador. "It was a big motivation. Over the final week he will be with us so it will be an even a bigger motivation.
"It is an honour that Bruyneel thinks of me this way," said Contador, before reflecting on his recovering from a blood clot in his brain after starting the sport as a 16 year-old. "I never lost the hope...I had my accident, a blood clot in my head. It was terrible, and suddenly my life took on another dimension. Fortunately, they could do surgery and it was successful.
"As a result, I have this scare," he said, pointing towards a six centimetre line on his head. "You know, while I was in the hospital I was reading his [Armstrong's] book and it makes it a really nice story to be here."
George Hincapie has worked hard for Lance Armstrong
Photo ©: Sirotti

Contador was so delighted with his stage win that he said the Tour could finish there and he would have been happy, but now the stakes have been risen to the overall battle. "This always happens in life, things happen and they change," he said. "Yesterday [to Louisville], I tried and I am going to try again. I have nothing to lose and I will be there to try everything I can."
"I could say the same as Alberto," continued Bruyneel. "If it ended there we would be happy and we could go home happy. However, I don't want to go home yet. [Laughs. - ed.]
Bruyneel commented on his other charge - Leipheimer. After losing Ivan Basso when the Italian confessed to being involved in Operación Puerto, the squad approached the Tour with 33 year-old Leipheimer as its leader. "I feel bad for Levi because he is dong his best, and in the best form of his career," he said. "In any other team, he would be the big star. He is able to deal with situation very professionally. He is a pro and he will sacrifice himself for Alberto if needed tomorrow [to Col d'Aubisque]."
Contador takes his first Tour stage win
Photo ©: AFP

Contador has the best and trusted teammates at his side to obtain a Tour victory. Rasmussen may have some internal struggles within the Rabobank team, but Discovery has all of its men for Contador - the only exception Lithuanian Tomas Vaitkus, who abandoned early on. "I don't see his position [on GC] helping me, but I see it the other way around," commented a patiently waiting Leipheimer. "I wish I was with him in the final kilometres to help crack Michael [to Louisville]. I think the rest of the guys have conceded the first two spots because they are not worried about Michael and Alberto. I would love to be there too but I think if there is a chance to win with Alberto then we have to make some sacrifices.
"Alberto needs to put time into Rasmussen to have a real chance in the time trial," he continued. "It will be a really hard day tomorrow and if we are both good at the end then it is possible that we can gain time by the end."
George Hincapie, who was there to shepherd Armstrong's seven victorious arrivals in Paris, is ready with his support. After being in an all-day escape, the American joined forces with Contador for the final dash down from the Col de Peyresourde on Monday. "It is difficult to drop someone [like Rasmussen] on the descent but we were just trying to put more time into Cadel and Klöden," he said.
Even the team bikes get a rest
Photo ©: Gregor Brown

Hincapie had seen the TV replay of Contador's digs at Rasmussen and was impressed with the youngster's efforts. "His attacks were pretty amazing," confessed Hincapie. "He is definitely a lot stronger than Rasmussen. He has to attack tomorrow: he is still a young rider, so we don't know how he will respond from day to day. If he keeps riding like he did the last two days he has a real shot of gaining time on Rasmussen, but tomorrow will probably be the hardest day of the Tour."
Popovych, who started the Tour with a stage win in mind, will put all of his weight behind Contador. The Ukrainian was there to help the team leader on the last climb of Monday's stage. "I asked him, 'what would you like me to do, pull or attack?' He said attack so that we could try to tire Menchov and Boogerd, and also Rasmussen," said Popovych.
Rabobank's Michael Boogerd did a huge pull for Rasmussen that gained respect in all quarters. "He did a lot," confirmed Popovych. "He went so strong on that last climb, he had a really beautiful day."
Popovych's form is not at its best, but he promised to be with Contador on the last day. "I don't know yet how I will help him - it depends on how the legs go," he admitted. "I will rest my head tonight and tomorrow we will come up with tactics."
Contador will face a challenging finale in the Tour - but he has the help of his teammates, team manager and former Tour winner to help him to reach Paris on the top step.