News feature, July 27, 2007
Bennati blasts onto the big stage
The soft-spoken Daniele Bennati blasted his way on the big stage with a stage victory in southern France. He had been building to this day for years by leading-out Cipollini, winning in stages in smaller races and this year battling against super-sprinters Petacchi and Boonen. Gregor Brown of Cyclingnews was in Castelsarrasin to witness 'Benna' secure his first Tour de France win.
Daniele Bennati (Lampre-Fondital)
Photo ©: Cyclingnews.com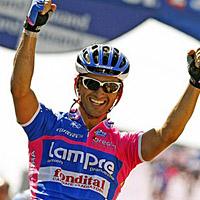 Bennati headed into this Tour de France with an eye on the maillot vert of best sprinter and a stage win, however, his chances for the points competition tumbled to the ground when he was the victim of an unfortunate crash on stage two, putting him out of the running for green and into survival mode. When his best finish in the bunch kick proved to be a third place on stage five in Autun, the Italian switched his tactic to targeting a win from a small escape. He made the break on stage 11 and stage 15, but both days his escape was brought back before the finish.
On Wednesday morning, he told Cyclingnews he was determined to try again. "Tomorrow and the next day will be hard to have the race arrive in a sprint, but maybe I can arrive with a bella fuga [a good escape group]. Especially in a proper escape, many times the escapes come to nothing," he explained. By Thursday evening, he had achieved his dream after he made the winning along with his Lampre team-mate Daniele Righi just 12 kilometres outside of Pyrenean foothill town of Pau.
"We know that in the third week it is difficult to arrive in a sprint; it is very difficult," stated Bennati after his win on stage 17 of the early stage battles that go on for the bella fuga of the day. "I knew that to get in an escape would be very hard but I got in one today. I entered one with riders who are very strong. Up to the 91st kilometres, there were only two minutes. We rode 90 kilometres all out, without letting up."
"The first person I thought of was my wife."
-Daniele Bennati's first throughts after winning his first Tour stage
The eight-man move covered five categorized climbs that dotted the area east of Pau before the gap started to increase. "There were lots of mountains and some very technical roads. It was not easy at all but we hoped that the group behind would let us have some freedom."
The elastic finally snapped after the group had been clear for two hours, and all that was left was for the four remaining men to play poker on the road leading to Castelsarrasin. "At 15 kilometres [to go] the group was practically blown up and, finally, with the four of us [Jens Voigt, Martin Elmiger and Markus Fothen] we had some calmness. I was finally able to recover."
He had been happy that no one rider was able to break free of the final four. "My fear [in those final 15 kilometres] was that we would not arrive in a sprint. I know they tried hard so I would not arrive with them, and in a sprint, but I think I did my job well.
A hard day's work
Photo ©: Sirotti

"The sprint was not like a bunch sprint but clearly the speed was there," continued the rider from Arezzo who had battled and conquered the likes of Alessandro Petacchi. "We arrived with our space, after an escape of nearly 180 kilometres. After that, it was a matter of having the most energy; luckily, I had good legs." Bennati nailed down the jump of Fothen to easily win the sprint on the German's left.
"The first person I thought of was my wife." His wife Chiara was watching her husband on television at home with their purebred cockerspaniel Pepe but, after a quick visit on the Tour's first rest day, she is expected to return for the final stage in Paris. "She has stayed beside me in the hard moments. She gives me the strength to battle. Then I thought of all the team-mates, they are valued and their work is appreciated. This was a great win for us. Also, to all the team staff, who look after us. These people have made it possible."
In the middle of the French fiasco surrounding Michael Rasmussen it was hard to keep the attention solely on the Italian's victory but Bennati, who usually does not get involved in the doping conversations, gave his thoughts.
"I enjoy people on the road so much and I want the best for this sport. There are those of use who don't do it for money but because of the passion. I have done this since I was 10 years-old.
"This was bad moment. Every time you hope that this stuff will be the last event but now we see that we still have to do a lot more. The majority of the riders try to do well and they try to show to the fans that this problem is passing. There are always new winners on a new road."