Tour de France Cycling News for July 21, 2005
Edited by Jeff Jones, Shane Stokes & John Stevenson, assisted by Sabine Sunderland
Stage 17 wrap up
Savoldelli revels in Tour stage win
By Shane Stokes
Paolo Savoldelli (Discovery Channel)
Photo ©: AFP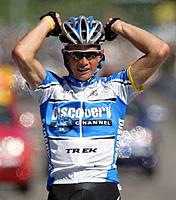 Three days after George Hincapie put the Discovery Channel jersey on top of the stage winner's podium, double Giro d'Italia winner Paolo Savoldelli repeated the feat on the 17th stage of this year's Tour. The Italian came out best in a two up finish against CSC's Kurt Asle Arvesen, reeling in a late attack by the Norwegian and clipping by with 50 metres to go.
Australian Simon Gerrans (Ag2R-Prévoyance) and Frenchman Sébastien Hinault (Credit Agricole) were also clear and took third and fourth at the finish in Revel. The quartet had all been part of a 17 man breakaway group which went clear inside the first 35 kilometres of the stage, opening up a 25 minutes-plus lead over the main field.
This gap came down slightly at the finish, thanks mostly to an unexpected acceleration by some of the biggest names in the race. Alexandre Vinokourov and Jan Ullrich attacked on the final third category climb in an attempt to distance Michael Rasmussen, third overall, but were latched onto by Armstrong, Basso, Rasmussen, Hincapie, Popovych, Leipheimer, Mancebo and Mazzoleni.
Motivated perhaps by the chance to distance Floyd Landis, who Armstrong considered had made unsavoury comments about him in L'Equipe, Discovery floored it all the way to the line, with Armstrong himself helping to drive the pace. The group came in 22'28 behind Savoldelli but 0'20 ahead of the next group, containing Evans, Landis, and Moreau. The top six placings in GC remain unchanged but Vinokourov overtook Evans and Landis in jumping to seventh overall. The large time gap at the finish enabled the American team to take over from T-Mobile as best squad.
Also see:
Stage 17 full results, report & photos
Live report
Complete stage maps & profiles
Start list
Stages
News
Photos
Klöden suffers, pulls out of Tour
Andreas Kloden (T-Mobile)
Photo ©: AFP

As expected, T-Mobile's 2004 Tour runner-up Andreas Klöden was forced to pull out of the race during today's 17th stage. He and team-mate Matthias Kessler were involved in a crash yesterday, both sustaining injuries. The latter suffered spinal pain and light concussion, but managed to get through today's stage, finishing 151st. However Klöden was not so fortunate, packing the race after 18 kilometres of racing.
X-rays taken yesterday showed that he had broken the navicular (scaphoid) bone in his wrist. Klöden, 11th overall, started today's stage with a large cast on his arm and the team hoped that this would be sufficient. "The navicular bone has now been set in a special plaster. We have to see, how Andreas fares today," said team doctor Stefan Vogt, before the race. However, severe pain and difficulty in holding the handlebars made it impossible to get to the finish in Revel.
Klöden will return to Germany and undergo further X-rays there. The team are hoping that it will be possible to pin the bone, thus expediting the healing process. If not, the slow healing rate of the scaphoid may bring about an early end to his season.
Davis to keep trying
Allan Davis (Liberty Seguros)
Photo ©: Luc Claessen

Liberty Seguros rider Allan Davis says that he will continue trying to win a stage all the way to Paris. The Australian sprinter was part of a large breakaway group which was clear for much of today's leg of the race, but missed out when the move split inside the final 50 kilometres. He ended the stage 3'14 down in tenth place.
"I was unlucky today but I feel very strong, and don't want to finish this Tour without achieving my goal of a stage win," he said.
Davis' teammate Alberto Contador had a tougher day in the saddle. He's had a cold since the rest day and so has been unable to achieve his goal of slipping into breaks. He was also involved in a crash today, but was able to reach the finish as part of the main peloton.
Tomorrow is a special day for the team as the race returns to Mende, ten years after their previous incarnation, ONCE, threw down the gauntlet to Miguel Indurain and won the stage with Laurent Jalabert.
Gilbert not happy with Evans
Cadel Evans (Davitamon-Lotto)
Photo ©: Luc Claessen

Francaise des Jeux rider Philippe Gilbert finished fifth on yesterday's final Pyrenean stage of the Tour. He told Belgian media that he was pleased with his ride, but added that he was ticked off with Cadel Evans.
"We took off after 25km, in good company, it was a nice finale," he said in an interview with Sporza TV. "I looked at doing something on this stage; it's nice to finish 5th again in my first Tour. It's good for the team and myself. I've put in two solid efforts, it's surely beneficial to my self-confidence."
"Evans is one of the best climbers; I knew I wouldn't be able to follow him. I tried everything to get back on in the descent, but it was too fast, I wasn't able to catch on. On the last small climb I could attack again. Tomorrow I'll take it a bit easier, it's a long ride and I'll sit back a bit; I don't want to get too tired and get sick," he said.
Gilbert said that he was unhappy with Cadel Evans, as he considered that the Australian broke an agreement to keep the group together on the Aubisque. Evans attacked on the climb, cresting the summit clear of the other riders in the breakaway.
For his part, Cadel didn't deny making that promise. "I don't care about what that Gilbert has to say. I'm here to race. It's true I told them we'd climb the Aubisque in group so we could keep as much lead as possible on the flat. After the top of the climb we still had 40km to go. But we were losing time on the climb, so I decided to attack anyway. Something wrong with that? If I wouldn't have, my efforts to gain time would have been for nothing; I didn't care about winning this stage," he told Het Nieuwsblad.
All for Levi
Levi Leipheimer was able to get himself into the 'fight for seconds' on the last climb of today's stage, the longest of the Tour. Gerolsteiner's team captain extended his lead over seventh place, after Cadel Evans' attack with the lead group on stage 16 and subsequent move up the general classification. Leipheimer remains in sixth overall, with a 2.03 minute advantage over Alexandre Vinokourov, who leap-frogged Evans into seventh and 7.35 behind race leader Lance Armstrong.
Leipheimer finished the stage 22.28 minutes behind winner Paolo Savoldelli, with the group including Armstrong, Vinokourov, Basso and Ullrich. "That one was a damn hard stage. I had said to Levi before the stage that he had to pay attention", said Gerolsteiner DS Hans-Michael Holczer post-stage, and the American captain of the German squad did so, holding firm in his position on gc.
After 40km the first break had formed, which broke down due to constant attacks, and although the Gerolsteiner DS would've liked to see one of his men get into that group, he remained philosophical, saying, "I'm a bit disappointed about the fact that we were not in the move at the right time, but only a little. But the boys will certainly be all the stronger for it. With this heated finale, I was very glad to see the finish come. Perhaps it was was instinct, perhaps it a stroke of fate. But we were able to save, in any case, some energy for the coming days. It's now all for Levi."
Tour first-timer Gerrans makes the break
By John Trevorrow in Revel
A rather tired Simon Gerrans (Ag2r)
Photo ©: Sirotti

Young Australian AG2R-Prevoyance rider Simon Gerrans made his mark in his first Tour de France yesterday when he was part of the day's great escape, eventually finishing third behind Paolo Savoldelli (Discovery Channel) and Kurt-Asle Arvesen (CSC)>
The 25-year-old from Jamieson, Victoria, a protégé of Phil Anderson, was exhausted but ecstatic after the finish.
"Oh my god that is the hardest thing I've ever done," he dsaid. "At the top of that last hill I was absolutely knackered. Then I just ran out of legs in that last kilometer."
Nevertheless, Gerrans looked good coming into the last 10km. "That was just good acting I think," he aid. "I gave it everything to hold on to Arvesen but anyway I gave it all I had."
At this point we passed Michael Wilson who said 'good on you Simon.' "Merci," said Gerrans. I had to tell him that Wilson was in fact a fellow Aussie and had finished top 10 in the Giro. "How about that," grinned Gerrans.
The 17 man breakaway got to a maximum of 26 minutes before the leading group split after a severe attack from Erik Dekker with 50 km still to go. Australian sprinter Alan Davis (Liberty Seguros) looked the favourite as he as easily the fastest man in the group but he missed the split and finished 10th, 3:14 behind Savoldelli.
After the race a disappointed Davis would not speak. "Not today mate, not today," was all that he said.
The race for green was very interesting with the sprinters lining up to haggle over the last available points but Jan Ullrich put an end to all that with a severe attack on the final climb, putting 20 seconds into the peloton. Armstrong was quick to react and close the gap to his German rival as did Basso.
"I rode well up the last climb and was only 100 metres behind Lance's group over the final climb," Stuart O'Grady said.
Cadel Evans (Davitamon) missed the move and lost 20 seconds to drop him one spot to eighth behind Vinokourov.
Gerrans camp celebrates
It felt like old home week with Phil Anderson there with his Tour group (Anderson's fifth place in the 1982 Tour is still the best result by an Australian) along with Greg Griffiths and Simon's good friend Steve Ward. They were going ballistic.
Gerrans now lives in Mansfield when not racing the roads of Europe, but originally comes from neighboring Jamieson where he met Phil Anderson. "I knew him as just plain Phil the neighbor long before I found out that he was a world class cyclist," said Gerrans.
During this Tour, Gerrans said he had been in touch with Anderson. "I've had contact a couple of times, last week when I was seriously suffering. He gave me support."
What advice did Anderson have for the youngster? "Just to keep plugging away. You speak to Phil about struggling through the mountains and he said: `I remember the mountain I had the yellow jersey through there.' He is a classic guy to have around.
Gerrans thought his day was going well till the final climb. "I was getting up there all right," said Gerrans. "It was just up the top I didn't really nail it. I thought Arveson was the best wheel to follow. He might not be the quickest up the hill but I thought he might be strong enough to get back on."
Erik Dekker's move had been no surprise, though the timing was unexpected. "Everyone knew Dekker was going to go. He went a lot earlier than I thought. I thought the attacks might start 30km to go but he went 50km out."
As they cam into the last few hundred metres, "I thought I was going to get fourth place but then saw Hinault stopping so I kept going."
They say no battle plan survives engagement with the enemy, but this stage was on Gerrans' plan for his debut Tour de France. "I looked at all the stages and there was maybe five days I thought, 'maybe this one', and today was one of the ones I penciled out. It was rolling up and down all day. I thought should get over them and I did and it nearly came off.
And next, "I have to struggle to Paris," said Gerrans. "I'm rapt. Its beyond all expectations. I said at the start of the race I would like to win a stage. I said that and it nearly happened."
Gerrans started on two wheels with an engine, but an injury caused him to switch to non-motorised bikes. "I took up cycling at 17 for rehabilitation after injuring my knee in a moto cross race. Phil Anderson lent it to me. After a bit of rehab he said if you are interested in racing I'm happy to coach you. That's how I got into racing."
Gerrans didn't realize at first just how good a rider his neighbour had been. "With Phil I just knew him as Phil, the guy who had the farm up the road," said Gerrans. "I knew him as Phil the bloke before I knew him as Phil Anderson the cyclist. I am still realising how good he was. These races I am doing now, he ripped them apart 20 years ago."
As for all the Australian contingent at the Tour, reeling from the news of the death of Amy Gillett and the injuries to their AIS women's team colleagues, this has been a tough few days for Gerrans. "This week has been very hard," he said. "I was inspired by Cadel's ride. I thought if I do cross the line first today, I would dedicate it to the girls and their families and all the trauma they have been through this week. I will dedicate my third place to them still. My heart goes out to them."
Phil Anderson was delighted at gerran's ride today. "It would have been nice [for Gerrans] to win," said Anderson, "but geez it was great to be in the break and to come up with a place is just awesome. I have to go and give him a kiss!
"I never thought he would make it over here let alone make it onto a Tour team. And to make into a Tour like this is great. Everybody will take notice of him now.
"It's a good placing for AG2R and they will take him seriously. He is a serious type of rider but it is results that speak for themselves.
Steve Ward, Gerrans' friend and confidant from home in Mansfield was also in Revel for Gerrans' finish. "We watched the sprint and the feed and saw him in the break - it is awesome!" Ward said. "I've known him since he was just a little tacker and he was always a determined young kid. He was a good swimmer, a top level snow-boarder and a brilliant moto cross rider. He was racing at state level when he smashed his knee and just got on the bike for rehab. Who would have guessed that this would happen?"
McEwen cruises
By John Trevorrow in Revel
After the finish, Robbie McEwen said it have been, "a rough day - hot and up and down all day. Luckily once the break went it was pretty cruisy all day. I tried to follow Stuey and Thor on the last climb but I just couldn't hold 'em. The bunch went full gas up the last climb and the race just split all over the joint. The classification guys were going just flat stick up that last climb and it was too much for us sprinters."
McEwen was also pleased for his compatriot. "I hear young Simon got third. What a great ride. It was a tough day to be out there in the third week of the Tour de France."
O'Grady can't shake Hushovd
By John Trevorrow in Revel
Stuart O'Grady (Cofidis)
Photo ©: Luc Claessen

For Stuart O'Grady (Cofidis), currently lying second in the green jersey contest, it was a "long, long day. 240 km over hard tiring terrain on a hot day means a long day in the saddle.
"Once the break went then things settled down but towards the finish it really hotted up again. My ambitions were to get the best of the points that were left and put a gap into Thor. But he wasn't leaving my back wheel. I rode well up the last climb and was only 100 metres behind Lance's group over the final climb, but they were really motoring and we just couldn't close the gap.
"It's looking more and more difficult to close the gap to Thor. We're running out of stages and he is glued to my wheel so It is going to be hard to gain a bag full of points.
"Tomorrow is a real rough stage and with the tough uphill finish, I can't see any of us getting points. I am sure there will be another break tomorrow but I know they won't let me go.
O'Grady was also impressed by Simon Gerrans' achievement today. "To finish third in the third week of your first Tour is great, but to do it in this Tour when it has been the fastest I've seen is just brilliant," said O'Grady.
Pre-race chat in the village depart
By John Trevorrow in Pau
Before the start of today's stage, Cadel Evans was still slightly amazed at the events of the previous day. "I can't believe that they let me go," he said. "It worked out just perfect."
He wasn't expecting to get away with a repeat performance, though. "They won't let me break away today and there certainly will be a breakaway. I think there will be a lot of attacking, it will be hard for our team to keep it together for Robbie. Hopefully the Discovery team will ride on the front long enough to keep the break within reach."
Baden Cooke was also expecting a break away. "I reckon 90 percent chance of a breakaway today," he said. "I don't think that Robbie will be able to put his team on the front again today, so there is a fair chance that the break will stay away. The boss has said that one of us has to be in it and I would like to be the one, but you can never tell. If a break goes up the road and if it is not exactly the right mix, then it doesn't stay away."
Stuart O'Grady and Mick Rogers were drinking coffee and discussing the previous stage, and riding together over the Col D'Aubisque. O'Grady and Rogers finished the stage at the head of a 20-rider chasing bunch that lost over six minutes on the main peloton despite a long, hard pursuit.
O'Grady: "Thanks mate for giving me a hand there. Thought that we were going to get back on, especially when we got back to one and a half minutes."
Rogers: "Yes, but one of the Lampre guys told me that there were four teams on the front chopping off. Gee It felt that we were on a breakaway going over the climb not off the back, we were going that hard, I can't believe that we lost 4 minutes, I was full gas."
O'Grady: "I heard that the Credit [Agricole] boys that were in that chasing group and went on the front when they heard we were coming. That's fair enough, we would have done the same."
"I was trying to get back to the main peloton but they were going too hard," Rogers told Cyclingnews. "We got close enough to see the helicopters , and we didn't go below 50kmh but couldn't get there."
It has been a hard Tour so far, do you know why you haven't been able to ride up to your expectations?
Rogers wasn't entirely sure why his condition had deteriorated so quickly after his excellent ride in the Tour of Switzerland in June. "It's a bit like I left the good condition in Switzerland," he said. "Sometimes after you get into peak condition, you go into a hole and I rode into it halfway into the Tour. I just haven't been able to come back out."
Hah he learnt anything from this? "Well you're always learning and I suppose I had the form in Switzerland that I should have started the Tour with."
The Tour de France of give-aways and competitions
Don't miss out at Tour time!
Resident freebies expert, Rufus Staffordshire, sniffs out some competitions where up to $1 million in prizes are on offer as manufacturers clamber for your eyeballs. Woof!
Lucky 7 Sweepstakes'
Photo ©: Trek

The Tour de France is not only a reasonably popular bike race, ahem, it's also a great opportunity to win an incredible range of prizes and competitions on offer from manufacturers, publishers and distributors.
Many of our sponsors are offering Cyclingnews readers a schwag-fest of give-aways during the lap-around-France. The prizes on offer range from Volkswagens and vaccuum cleaners through to trips to Paris for the 2006 TdF, as well as actual kit being ridden by top pros in the Tour - including top bikes from Trek, Cervelo, and Avanti.
So that you don't have to go hunting around the Internet for all these goodies, we've assembled the Cyclingnews complete guide to Tour freebies and competitions.
Previous News Next News
(All rights reserved/Copyright Knapp Communications Pty Limited 2005)