Tour de France Cycling News for July 27, 2007
Edited by Laura Weislo
Bennati blasts onto the big stage
Daniele Bennati (Lampre-Fondital)
Photo ©: Cyclingnews.com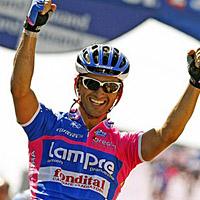 The soft-spoken Daniele Bennati blasted his way on the big stage with a stage victory in southern France. He had been building to this day for years by leading-out Cipollini, winning in stages in smaller races and this year battling against super-sprinters Petacchi and Boonen. Gregor Brown of Cyclingnews was in Castelsarrasin to witness 'Benna' secure his first Tour de France win.
Bennati headed into this Tour de France with an eye on the maillot vert of best sprinter and a stage win, however, his chances for the points competition tumbled to the ground when he was the victim of an unfortunate crash on stage two, putting him out of the running for green and into survival mode. When his best finish in the bunch kick proved to be a third place on stage five in Autun, the Italian switched his tactic to targeting a win from a small escape. He made the break on stage 11 and stage 15, but both days his escape was brought back before the finish.
On Wednesday morning, he told Cyclingnews he was determined to try again. "Tomorrow and the next day will be hard to have the race arrive in a sprint, but maybe I can arrive with a bella fuga [a good escape group]. Especially in a proper escape, many times the escapes come to nothing," he explained. By Thursday evening, he had achieved his dream after he made the winning along with his Lampre team-mate Daniele Righi just 12 kilometres outside of Pyrenean foothill town of Pau.
"We know that in the third week it is difficult to arrive in a sprint; it is very difficult," stated Bennati after his win on stage 17 of the early stage battles that go on for the bella fuga of the day. "I knew that to get in an escape would be very hard but I got in one today. I entered one with riders who are very strong. Up to the 91st kilometres, there were only two minutes. We rode 90 kilometres all out, without letting up."
Spanish hope takes first yellow jersey of his tour career
By Shane Stokes, with additional reporting by Gregor Brown
Alberto Contador (Discovery Channel)
Photo ©: Cyclingnews.com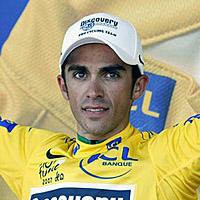 Following the seventeenth stage of the Tour de France, Alberto Contador was presented with the first Tour de France maillot jaune of his career in Castelsarrasin. The Spaniard had started the day first in the general classification but due to the circumstances around that race lead, the organisers decided that a yellow jersey should not be worn during the stage.
Contador was happy to have a yellow jersey on his shoulders on the podium, adding the maillot jaune to the maillot blanc that he already holds. He was pleased about this, and also to have a break from racing hard during the stage. "I wanted to relax because it [stage 16] was a difficult day. I was happy because I had performed well in recent days with my attacks."
However, perhaps unsurprisingly given the nature of the race thus far, he faced a tough grilling at the post race press conference.
First off, Contador was asked a three-pronged question, namely if he was clean, if he had missed any pre-Tour out of competition tests and what his role was as regards the Operación Puerto investigation. "Yes, or else I would not be here," he replied to the first. "As regards the second question, I have done absolutely all the controls. I have done the doping tests, those during the races and also outside the races. There is not any sort of problem."
As regards the Puerto question, he said that the appearance of his name in initial reports was a mistake and said that he was fully cleared. "My team has studied this issue, from every angle," he stated. "There is no connection with Puerto. I was simply in the wrong team at the wrong moment [when the story broke]."
With his current lead in the overall standings, Contador could be poised to win the Tour de France on just his second time in the race, but any win would be achieved under less than ideal circumstances. Contador wouldn't say if it was fair that Rabobank pulled his main competition, Michael Rasmussen, from the race, but skirted the issue rather than expressing an opinion. "I can't say if this is correct or not because I don't know the exact circumstances about it," he answered. "It was as a decision the team took... I can't say anything about it."
Contador steps up
Photo ©: Sirotti

The troubled recent history of the Tour plus the scandals of this year's edition have meant that there is a climate of suspicion. Perhaps trying to diffuse the situation, a Spanish journalist asked Contador how he felt to have to face questions from journalists as to whether he is clean.
"I think in truth it is very sad because I like cycling, there are lots of supporters who love it and it is a wonderful sport," he answered. "There are thousands of spectators along the roadsides. It is it is a big pity to have these questions all of the time."
However, those questions were not going away. "Who is your doctor – is it Ferrari?" he was then asked. "I have never met Doctor Ferrari," he answered, smiling. "I haven't spoken a single word to him before, and I don't work with him. My doctors are the [Discovery Channel] team doctors, and I only work with them."
Contador will start stage 18 with a lead of 1'53" over his closest rival Cadel Evans (Predictor Lotto), and he lost just 1'04" to Evans in the Albi time trial. This was just 1.5 kilometres shorter than that what will come on stage 19, but the Australian may have an additional advantage in that it is flat.
Contador will himself have the psychological boost of wearing the yellow jersey, but he is taking nothing for granted. "55 kilometres is a lot," he said of his chances. "It depends on the day. I think it will be fairly hard to keep the yellow jersey but I believe my condition in this third week is good. "I saw from the results of the last time trial that I have a chance. I will do everything I can to keep my jersey."
Evans not worrying about could-haves
By John Trevorrow
Cadel Evans (Predictor-Lotto) is hoping to make
Photo ©: David Reinhardt

After two horrible days for the sport of cycling, Predictor-Lotto's Cadel Evans could only sit back and watch as his closest competition was kicked out of the Tour. Gone is Alexandre Vinokourov and the more dangerous Astana rider, Andreas Klöden. Gone is Rabobank's Michael Rasmussen. Gone is the entire Cofidis squad after its Italian rider Cristian Moreni tested positive for testosterone.
Is there any hope left for the sport? In a heartfelt and brutally honest statement, Tom Boonen said yesterday that, of the remaining favourites actually left in this year's race, he picked Evans as one of the riders he still trusts. "I have given up my belief in most of the rest," he confessed. "It is possible to ride the Tour without doping, and to ride and win too. Cadel Evans proves in my eyes that you could win it without doping."
For his part, Evans was noncommittal, saying, "Unfortunately there's no prize for the first clean rider." Evans might have been closer to the overall lead had Rasmussen not collaborated with Contador on the mountaintop finishes, but he's not focusing on what could have been, but on what still needs to be done.
With 1'53" separating him from first place, what would it take now to win the Tour? "From my point of view, a good time trial," Evans told Cyclingnews. "Discovery with Contador and Leipheimer have become strong in the third week of the tour so we will see how it goes. But you know we saw in the first time trial that I wasn't too bad, this time trial suits me less, but it's more so for Contador. It's nearly completely flat so we will see what that brings, but also it's the third week - normally it's the way everyone recovers and comes out of it."
Evans rode strongly on stage 16, limiting his losses while Contador appeared to be losing some of his punch and was unable to get any distance on the now absent yellow jersey. "Contador has come down because, as you saw the accelerations he did over the Peyresourde were ridiculous. Leipheimer seems to have come better, but at the same time Leipheimer has really been able to sit comfortably and not have to have done much work."
Leipheimer will be a big threat if Contador should crack in the time trial. Just 56" behind Evans, he's been stealthily moving his way up the GC ladder. "[Leipheimer] hasn't been in the position to be under pressure because it's Contador or me that's been covering the moves. So it's Leipheimer that's coming into the time trial fresher than anyone."
Evans preferred to spend the day not thinking about the doping controversies that have shattered the Tour, and Thursday's stage provided just the excuse he needed to avoid the topic. "To be honest, we all rode too fast to even discuss anything. I don't know if you noticed at the start with the breakaway and all. I think everyone was expecting a little more rest.
"The first 100 km were really quick. But it wasn't too bad. The team looked after me, just like they have all Tour. Compliments to them and we just have to get through one more big day and then a big time trial."
Evans still has his heart in the race and in the sport, showing his resilient Aussie character. "I still believe in the race and I hope there's still a lot of people that believe in us, because there's still a lot of us who've been working very hard for a very long time," Evans said. "For me, half my life. The race continues and it's just a few that spoil it. The UCI are really doing a good job to fight against doping. Far more than any other sporting organisation and I think people forget that.
"I believe that cycling is in a transition period. I have no doubt that the sport is cleaner right at this moment than it has ever been. But you can't change a damaged culture in five minutes. Amazingly, through all this controversy, the Tour de France is probably cleaner now than at any time in its history."
Bruyneel confronts Tour finale with Kid Contador
Discovery's Bruyneel speaks at the start of stage 17
Photo ©: Gregor Brown

Team Manager Johan Bruyneel of Discovery Channel moved one more step closer to taking his eighth maillot jaune with Alberto Contador when it was announced late Wednesday night in Pau that then race leader Michael Rasmussen would not start the following day in the 2007 Tour de France. Cyclingnews' Gregor Brown was in Pau before the start of stage 17 to hear the Belgian's reaction.
Team Rabobank announced that 33 year-old Dane Michael Rasmussen, who took the maillot jaune with the finish in Tignes, would not carry on as race leader of the world largest bike race. He had lied to the cycling fans, lied to the public, lied to the UCI and lied to his Dutch team. The realisation, after days of denial, had come as a shock to the Tour and to his team-mates that had worked so hard to help him hold the yellow jersey, including Dutchman Michael Boogerd who is riding in his final year and Tour de France.
Bruyneel heard the news and knew that his young charge would take over the race lead as he was in second, 3'10" back at the end of the day's stage up the Col d'Aubisque. 24 year-old Alberto 'Kid' Contador, the current leader and likely winner of the maillot blanc of best young rider, immediately entered into the race lead in only his second Tour de France.
"It is definitely a situation, one that we do not like to be in," Bruyneel stated outside the Discovery Channel bus as the riders were lining up on a hot French day in the foothills of the Pyrénées. "I was shocked yesterday when I got the news; it was very late. Moreover, it is not why we came here; we came here to try to win the Tour de France."
Horner: the Tour is 'real life'
By Brecht Decaluwé in Castelsarrasin
Chris Horner (Predictor-Lotto)
Photo ©: Cyclingnews.com

American Chris Horner is one of the men who have been supporting Cadel Evans during this Tour de France. In the mountains he was supposed to be the last rider to stay with the Australian team leader from the Belgian Predictor team. At the finish line of stage 17 Cyclingnews caught up with the likeable American and asked him how he had enjoyed his day on French roads. "In the beginning - the first 80km - it was unbelievable," Horner reacted amazed. "It was up and down all day long but mainly during the first 80km it was really hard with the teams chasing the breakaway.
When the Caisse d'Epargne team finally came off the front everybody in the peloton was just cheering," Horner laughed. Horner is known to be a rider who loves the sport more than anybody else. In the winter when other riders are enjoying their time off the bike Horner competes in cyclo-cross races. We asked him if he was still happy to be in the Tour de France after the doping stories that have bothered the French stage race. "Absolutely, I love it. I wouldn't want to do anything else or be anywhere else in the world," Horner reacted convincingly. "It's real life. It's got it's ups and downs like everything. You just have to make sure that you enjoy the parts that are up," Horner explained.
The American wasn't surprised by the doping revelations that hit the peloton and explained it was nothing but a normal thing. "It's been around since the beginning of times and I mean not only since cycling times. It's people," Horner said, "not just in sport but everywhere. You just have to deal with it and get through the bad moments. The fans still appreciate what we do out there, the numbers are there - look at London - the crowds are huge, it's a beautiful sport."
After the departure of yellow jersey Michael Rasmussen - who seemed to be cruising to the overall win - the time trial in Cognac will decide on the eventual winner. Currently Alberto Contador is leading the GC with an advantage of 1'53" on Evans while Contador's team-mate Levi Leipheimer is 2'49" down. Chris Horner believed that Evans could become the first Australian winner of the Tour de France. "The podium shouldn't be a problem although there are still so many thing that can go wrong.
"Anything can happen out there: the right break goes up the road with the wrong guy in it and there's too many numbers so you can't pull it back, worse is if he crashes or has a flat tyre at a bad moment," Horner warned that the race was only over in Paris. "But the podium looks incredibly realistic and the jersey looks... I give even odds on it. I you have to give odds then you might give Contador a little bonus but not enough to bet your house on it."
Prudhomme critical of UCI
By Brecht Decaluwé in Castelsarrasin with additional reporting from John Trevorrow
Prudhomme and Clerc
Photo ©: Gregor Brown

While awaiting the peloton's arrival, Tour director Christian Prudhomme stepped out of car number one and talked with the press about yesterday's events at Thursday's stage finish in Castelsarrasin. The Frenchman was just as surprised as everyone when he heard of Rasmussen's withdrawal in Pau. "The yellow jersey left the Tour at midnight with only three days separating us from Paris; it was a big surprise that we didn't expect - although he shouldn't have been at the start anyway. There is a rule in the UCI's antidoping book that a rider can't start in the Tour de France if he missed a doping test in the 45 days before the start, it would have been good if the rule had been applied" Prudhomme said to Cyclingnews.
"Today we also talked about what happened with team Cofidis, we would like them to stay them in cycling," Prudhomme said about the French team that left the Tour de France after the positive doping test from their Italian rider Cristian Moreni. "I'd like to express my confidence in team manager Eric Boyer. We saw some of their riders like Stéphane Augé at the start this morning and we need them and the others in the Tour next year. We need big sponsors who want to fight doping together with us. They [Cofidis] are gone now. They paid for a cheater in their team, but there are still lots of people along the course who believe in the sport and they applauded us today," Prudhomme remained optimistic.
The people along the course love the Tour. There were so many people here in Castelsarrasin but also in London - with a two million crowd - and everywhere we went. The Tour is a social happening, it is something so beautiful that we need to keep and protect it together with the public and the antidoping agencies."
Prudhomme continued, "The cyclists aren't the enemy, doping is the enemy. It's unfortunate that now every cyclist in the peloton is under suspicion, but with this situation with Rasmussen yesterday, it has made it clear that it is not just ASO but also the sponsors are serious about cleaning up the sport."
"We will be contacting all sponsors and informing them of the risks to their brand if riders are involved in doping." Prudhomme also said that new race leader Alberto Contador had been cleared of any involvement with Dr Fuentes but there is evidence of phone calls regarding his race results.
Cyclingnews' recent coverage of the ProTour-Grand Tours split
October 4, 2008 - New ASO chief to maintain values
September 26, 2008 - UCI declares peace, appoints new VP
August 30, 2008 - UCI re-signs five ProTour races
August 22, 2008 - ProTour: Bouncing back or lame duck?
August 19, 2008 - Stapleton analyses 'world calendar'
August 18, 2008 - Feedback on 'world calendar'
August 18, 2008 - UCI announces 'world calendar'
Cyclingnews' complete coverage of the ProTour-Grand Tours split
Leaderless, Rabobank copes with anger
By Brecht Decaluwé in Pau
After ten days of service to leaders Michael Rasmussen and Denis Menchov, domestique Bram De Groot was in a bad mood at the start of Thursday's stage, and expressed that he hoped to leave France as soon as possible. The morning after the departure of Rasmussen, Menchov started the stage, but then he too packed and went home, but De Groot wasn't quite ready to leave all the hard work.
"We were a very close team," De Groot said, "we still are a very close team and we've been working for two weeks and it looked like we would make it to Paris with the yellow jersey. We should have been partying there," De Groot reflected on the plans the Rabobank team had in mind, "but that isn't the case anymore." The Dutchman talked slowly and seemed deeply affected by the departure of Rasmussen. "These are difficult days... there will be more difficult day coming up and that will continue for a while," De Groot continued but then tried to put things in perspective.
"There are worse things than this. There are people who are told that they have only a month more to live. What is this in contrast to that? Anyway, it will take a while before I start enjoying cycling again." His team-mate Boogerd was clearly annoyed with the way Rasmussen left the Tour after all the work the team had done for him. "We didn't talk with each other. He didn't dare to come, I guess he proved to be a chicken," Boogerd said sarcastically just before the peloton rolled away from Pau.
(All rights reserved/Copyright Knapp Communications Pty Limited 2007)