Tour de France Cycling News for July 21, 2007
Edited by Laura Weislo
Green tornado churns through Castres
Tom Boonen on the podium
Photo ©: Sirotti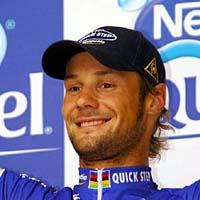 The bright green clad figure of Quick.Step's star sprinter Tom Boonen raged through the peloton in Castres as 'tornado Tom' took another stage win, all but shattering the hopes of South-African Robert Hunter and veteran Erik Zabel for the points classification. Cyclingnews' Brecht Decaluwè was in the eye of the storm.
After grabbing his second stage win in this Tour de France on stage 12 - the sixth in his career - the Belgian seems to be cruising towards the overall win of the points classification. Just before the first time trial Boonen now has a lead of 20 points on Hunter and one point more on Zabel, but the Belgian insisted that the gap isn't secure just yet. "If Zabel would've been in the first group yesterday [stage 11] then the green jersey could've been gone," Boonen admitted.
The Belgian warned those who felt the battle for the green jersey was already over to keep watching. "The battle for green isn't a fair one, you have to work so hard for it but without a little luck you can't keep it. That's why you have to work for every point you can get," Boonen explained
Boonen's bad luck could have put paid to his hopes of keeping the jersey after he was involuntary held up by the crash in the final corner of stage eleven while riding in perfect position, and he was lucky his competitors missed the split and came in behind him. "I hope a situation like yesterday will not happen anymore because that's not acceptable for me," the 26 year-old said. "If that works out and I'm a little lucky then I have a good chance, but for sure I'll have to battle until Paris."
Coming up on
Cyclingnews will cover the 60th edition of the Dauphiné Libéré live as of stage 4 on Wednesday, June 10, at approximately 15:00 local Europe time (CEST)/ 23:00 Australian time (CDT)/ 9:00 (USA East).

WAP-enabled mobile devices: http://live.cyclingnews.com/wap/

Boonen didn't hide his ambitions and felt he deserved the green jersey. "I know that I'm faster than Zabel and Hunter but without luck it's not possible to keep the green jersey, although with today's victory the motivation is perfect."
Read the full feature here.
Fédrigo's long day up front
By Brecht Decaluwé in Castres
Pierrick Fédrigo and Amets Txurruka
Photo ©: Cyclingnews.com

The French hero of the day was Pierrick Fédrigo. The Bouygues Telecom rider managed to set up a breakaway with Spanish youngster Amets Txurruka from the Euskaltel team. The small Spanish rider worked hard on second category climb in the finale while Fédrigo pulled hard in the final kilometres, but it wasn't enough to keep away the peloton that was led by the blue Quick.Step train.
With two kilometres to go the two were reeled in after riding in the lead for about 125 kilometres. After the finish line Fédrigo needed some time to recover before he was able to tell his story. "I had fun today," Fédrigo looked back on a stage where he was in the picture for a long time. "The peloton didn't let go of the big groups so that's why we ended up with two up front," the French rider explained how the break was formed.
He continued by explaining why they didn't make it. "The wind wasn't blowing in our advantage so in the end, the headwind did it for us." The two kept believing in the escape until the last moment. "When the peloton entered a roundabout that we just exited I realized it was no longer possible for us."
The Bouygues riders didn't enjoy much success in this Tour for now and today they suffered a blow as young talent Stef Clement didn't make the time cut in Castres. "We will certainly try again to win a stage in this Tour de France, there will be more chances," Fédrigo expressed that he wasn't ready to give up yet.
Kid Contador contests maillot blanc
By Gregor Brown in Castres
Alberto Contador (Discovery Channel)
Photo ©: Sirotti

As the press and police encircled Michael Rasmussen on his way to the start line, and thundered past for the start of stage 12 from Montpellier, a young Alberto Contador stood in white and went largely unnoticed. The yellow jersey of Rasmussen brought much more attention and Contador dressed in the Maillot Blanc seemed to prefer it that way as he is making his way in cycling step by step.
A win in the Paris-Nice signalled his stage racing arrival, but many believe he still has a ways to go before he can challenge for a Grand Tour. The 24 year-old Spaniard currently leads the young rider's competition by 3'37" over Linus Gerdemann and, thus, will start the time trial test out of Albi in the Maillot Blanc, a jersey he hopes to hold to Paris.
The Spaniard explained to Cyclingnews that he will need to limit his losses in the chrono and then put his focus towards taking more time in the mountains if he is to save his classification standing.
"Tomorrow, it is one day that will be very hard, 54 kilometres," Contador stated. He will aim to ride hard but also aim for a quick recuperation. "It will be very important for me in the next days, in the mountains, to recuperate the time that I may lose in the time trial to the specialists in the time trial."
Just like the team's overall leader, Levi Leipheimer, Kid Contador has not yet previewed the parcours that form the 54-kilometre run east and then back west to Albi. "I will preview the time trial tomorrow in the morning with Levi. You know, 54 kilometres is a lot of kilometres and it will be better for me that there won't be that much heat, a cooler day. Yesterday was very hard and it was important to stay hydrated."
Sunday's hors catégorie climbs of Port de Pailhères and Plateau de Beille will be a pleasure for Contador's time trial tested legs. Before trailing behind the Rasmussen shuffle, he calmly noted the 197-kilometre day on Sunday as his preferred stage. "I like the stage to Plateau de Belle."
Bruyneel's Disco Strategy
Leipheimer and Contador on overall agenda
By Gregor Brown in Castres
Johan Bruyneel
Photo ©: Sirotti

The Discovery Channel team strategy remains open as Team Manager Johan Bruyneel points toward reaching three objectives by July 29, when the Tour de France ends in Paris. The time trial in Albi and Pyrénées loom where the Belgian believes his "quiet" approach will pay dividends.
"We did not start with one of the favourites and we want to remain like that," commented Bruyneel Friday morning in Montpellier to Cyclingnews. The team used to be 'Team Armstrong' but its days of controlling the race are over as now Bruyneel's charges have freedom for individual glory. Levi Leipheimer is aiming for the overall victory while Alberto Contador is hoping to maintain the Maillot Blanc of best young rider.
"Bit by bit," continued Bruyneel in regards to how the top-contenders are fading away, referring to the bad luck of Alexander Vinokourov (Astana) and Christophe Moreau (Ag2r Prévoyance). "The favourites are Klöden, Evans and, probably, Valverde. We have two guys up there right now that are doing good but we did not come here with the intention or obsession to dominate the race or to win the race. I think our best chances are to stay quiet and see what happens with the other guys.
While the classifications battles are waged Yaroslav Popovych will have his freedom in escapes. "We don't have to control the race and we can send someone in breakaways. If it is 'Popo' or George [Hincapie] or [Egoi] Martínez or [Vladimir] Gusev... we have different guys who can try. It is not like in the Armstrong days where we needed eight guys around the leader.
"Winning a stage in the Tour is not easy. Everyone wants to try to win a stage, and we will definitely try to win a stage, but as I said we have three objectives."
Bruyneel underlined his team's goals for the 94th Tour. "Our main objective is to get Levi on the podium, the second objective is the white jersey with Alberto Contador and the third objective is a stage win. At the moment, things are still in place to obtain these three objectives." The Spanish/Ukrainian duo of Contador and 'Popo' turned the screws on their competition last Tuesday to Briançon and helped force Vinokourov further out of contention.
Levi Leipheimer (Discovery Channel)
Photo ©: Sirotti

He is also reckoned that Contador and Leipheimer can work together to achieve their own individual successes. "I think so. I think so. They both have different styles and different strategies. Levi is the guy who is always there, always being very consistent. Contador is more of an explosive rider who tries an attack. They both deserve the protection in different areas.
"Right now things are going good. [Leipheimer] is not one of the favourites and he will try to do as good as he can, and for that, you need to be just consistent. It is good for him." Bruyneel is optimistic that luck will be on his team leader's side. "I hope, and I may be wrong, that if he would have a bad day it would have happened already."
The time trials were fundamental to Armstrong's seven successful Tour de France wins. The Texan would preview the parcours in advance, however, Bruyneel explained that Leipheimer has not yet seen the Albi's 54-kilometre test. "We will go to see it tomorrow morning. I think it will be good for him. There are stronger time trialers than him but I hope that he can be up there. Both courses are good for him, so I expect him to stay in contention, especially after the first time trial."
Cadel Evans, at 2'41" back, is the overall contender closest to taking the maillot jaune from Rasmussen, but Bruyneel also pointed towards the winner of this year's Tirreno-Adriatico, Andreas Klöden. "I think the time trial will suit Levi. I think it is a good course for him. I think Evans and Klöden are, maybe, going to be better than him. But I expect him to be right there with everyone else."
Saturday's parcours takes the riders out of Albi, where the Tour has visited ten times before, and east to Ambialet. The return along the Tarn River is marked by the fourth category climb of La Baulzié.
Wegelius awaits Pyrénées
By Gregor Brown in Montpellier
British rider Charles Wegelius (Liquigas)
Photo ©: Cyclingnews.com

When the Tour de France hits the Pyrénées this Sunday with stages 14, 15 and 16, Britain's Charly Wegelius will be on the hunt for stage glory. After battling in the Alps aiding Liquigas team captain Manuel Beltrán, the hard-working domestique will be ready to try for his first ever win.
"I think the idea of a transition stage where you rest your legs is a figment of journalists' imagination," joked Wegelius to Cyclingnews. He commented on the hot and difficult conditions of the stage to Marseille the day before. "230 kilometres in that distances and that heat, with the start that we did before the breakaway went ... If there is someone who can rest their legs they're a better rider than me, that is for sure. We did not ride slowly. I think the average was about 40.5 kilometres per hour at the finish [42.978 km/h - ed.]."
The days start to wear on the riders and Wegelius' explanation proved that he was no different. "You know the roads in the south of France, these asphalt is quite shoddy. We've been racing for ten days... even getting out of bed in the morning is not easy."
Sunday morning should bring a smile to the face of Wegelius. The mountain man, who was brought into Team Liquigas in 2005 to help Stefano Garzelli, enjoys climbing and he will find comfort in the Port de Pailhères and Plateau de Beille.
"With the team that we have everyone has freedom [to enter an escape group] and you have your chance to ride your own race. Like the case was yesterday with [Michael] Albasini and [Aleksandr] Kuschynski... and if I am going to try to do something for myself then, logically, the place where I have the best chance is in the hillier stages."
The stages that are for him are Sunday's run to Plateau de Beille, Monday's to Loudenvielle and Wednesday's to Col d'Aubisque. "You just have to take your chance when it comes and try to make the most of it. It could be any of those days."
Wegelius worked hard to see to Danilo Di Luca's win the Giro d'Italia and knows how to read GC riders' abilities. He pointed towards Alejandro Valverde and Cadel Evans as race favourites. "The race is still quite open. Valverde and, I think, Cadel Evans. He [Evans] has a good chance because he is quite a good time trialist. You know there are still two time trials to go, that is a 110 kilometres of time trialling... Maybe that could have more of an effect on the race than the mountains."
He is happy the race is still open and he reckoned it is good for the fans too. "It is good. You know, maybe in the past there was already a clear dominator of the race after the time trial, so... I think it is a good thing right now."
(All rights reserved/Copyright Knapp Communications Pty Limited 2007)