News feature, July 16, 2007
Vinokourov: heroism breeds popularity in Tour
By Jean-François Quénet in Tignes with assistance from Steve Medcroft
Victor in the 2006 Vuelta a Espana
Photo ©: Unipublic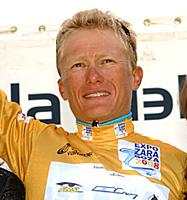 When the 2007 Tour de France started, race favorite Alexandre Vinokourov (Astana) was riding under a slightly tarnished image when it was revealed that he worked with controversial Italian doctor Michele Ferrari. But there's nothing better than a spectacular crash and the grace of a rider gritting his teeth and performing while injured to bring about a sympathetic response from the fans.
Not to say that Vino's crash on stage 5 (Chablis - Autun) wasn't serious; Anyone who saw him exiting the hospital of Beaune at 11.45pm on Thursday with bandages on both knees couldn't have thought he'd be able to go far in the Tour de France. Vino himself was just happy that nothing was broken. The next morning, he could hardly walk from his hotel room to the Astana team bus.
Vinokourov received between 15 to 30 stitches (according to different sources inside the Astana team) applied loose enough so the Kasakh can still pedal correctly.
Stage 6 to Bourg-en-Bresse was a crucial test for Vinokourov. He spent most of the race at the back of the bunch with three of his team-mates and managed to stay with the peloton to the end of the day. He also kept pace with the contenders in stage 7, the first mountain stage of the 2007 Tour. When he arrived in Le Grand-Bornand, he said: "Maybe I gave the impression of climbing well, but don't get it wrong, I was suffering a lot. Finishing with the best guys is like a victory for me."
Despite his protestations, were the bandages and the pained faces part of a bluff; a tactic out of the Armstrong book of Tour de France moves (remember stage 10 up Alpe D'Huez of the 2001 Tour de France - Ed.)?
Alexander Vinokourov (Astana) grits
Photo ©: AFP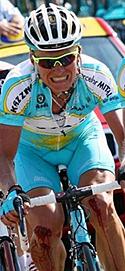 It's still questionable how much of a true successor to Armstrong Vinokourov is since he has yet to claim a Tour victory, but the Kazakh seems to be taking an Armstrong approach to his craft; he not only picked the same adviser (Ferrari) but also the same bodyguard (Belgian policeman Serge Borlée) and the same chef (Swiss cook Willy Balmat).
He is not duplicating Armstrong's efforts in all areas though; Vinokourov's Astana is operating under different rules than Armstrong-era Postal and Discovery Channel. Unlike US Postal, Astana is a creature with two heads, if not three. Vino was their designated leader but Andreas Klöden was named co-leader and Andreï Kashechkin a lieutenant; confusing the team's overall goals on any given day. "Had he crashed, Armstrong would have had all of his teammates helping him," Californian Chris Horner from Predictor-Lotto said. "But actually Armstrong would have never crashed like Vino did because he was always protected by his teammates"
Although it was impossible for the other stars of the Tour de France to wait for Vino when he crashed because they were racing flat out with 24 kilometers to the finish in Autun and there was still Philippe Gilbert and Sylvain Chavanel to catch and vino lost 1.20 in the stage, the next day the whole bunch adopted a flair play attitude towards him and Klöden (also injured in a crash). The group rode slowly to Bourg-en-Bresse while Bradley Wiggins stayed away alone until a bunch sprint ended in Tom Boonen's first stage win.
To help with his recovery, Vinokourov brought personal physiotherapist Serge Paoletti on Tour and is taking hour-long treatments every morning and every evening. "Any normal person with Vino's injuries would be prevented from going to work," Paoletti explained. "But he is able to overcome the pain. He's quite impressive. For me, he remains a potential winner of the Tour de France."
The therapy must be working; Vinokourov looked comfortable in the mountains and has been lucky with the level of aggression that demanded his response in order to stay in contention. "I have prepared for the Tour de France for so long that I'm not gonna give up unless I have no other choice," Vino explained. Since December, this race is my obsession. For me, winning the Tour; it's this year or never."
A visibly pained Vinokourov
Photo ©: Sirotti

We shouldn't be surprised by Vinokourov's tenacity though; he has proven himself to be a courageous rider who knows how to overcome challenges and rise to an occasion. When he won the stage of the Galibier finishing in Briançon two years ago, it was in reaction to a defeat he suffered in Courchevel. Twice he missed the Tour de France because of injuries (in 2002 and 2004) but has always returned to his best form. Even when he was denied the start of the Tour last year because of the implication of too many of his teammates in the Operación Puerto, he quickly found the motivation again and won the Vuelta a Espana.
So even if Vinokourov ultimately misses his chance at Tour de France victory due to the stage 5 crash, the fact that he has not given up trying, that he is determined to hang on every day knowing that in the Grand Boucle, anything can happen, he is endeared to even more fans than he would have imagined before he started the Tour de France.