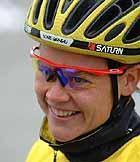 Photo: © Rob Karman
The Anna Millward Diary
Latest entry:
Australian Open Championships (January 10, 2002)
Previous entries:
Australian Anna Millward is better known by her maiden name, Anna Wilson, but she is determined to convince the cycling world to use Millward from 2001 onwards. "An uphill battle," she comments at times.
Whether Millward or Wilson, Anna is one of the best women's cyclists in the world, and was ranked number 1 for the first part of 2000. She has won races everywhere, from time trials in France, World Cup races in Switzerland to stage races in the USA, and was the first cyclist ever to break the Hour Record under the "new" UCI rules.
She possesses an incredible sprint which has enabled her to win many races, and this combined with her power and determination makes her a formidable cyclist on any terrain. She is also one of the friendliest and most optimistic people you could ever meet, and her writing style conveys this.
Vital statistics
Born: November 26, 1971
Home: Victoria, Australia
Originally From: Melbourne, Australia
Height: 163 cm/5'4" Weight: 56 kg/123 lb
Started racing: 1993
Full time since: 1996
Teams: Saturn (2000-2001)