The Anna Millward Diary 2001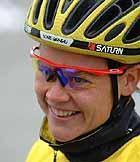 Photo: © Rob Karman
Currently ranked world number one in the World Cup and on UCI points, Anna Millward and her Saturn team defended her lead in Canada this weekend in what is one of the toughest rounds of the World Cup.
Montreal World Cup - round 9
Montreal, Canada, June 2, 2001
Yesterday we raced the Montreal World Cup - the 5th race of the 9-race World Cup series. It's the toughest World Cup on the calendar - only 100kms long but it includes 12 ascents of Mont Royal - a steep 2 km climb. I was scared before the race even began. Going into the race, I was leading the World Cup series by about 30 points from Miriam Melchers. I knew I would struggle to defend that lead on the Montreal course - Miriam generally climbs better than I do.
Since I knew that I would struggle on the course, the best outcome for me would be to have someone far down on the World Cup standings take the win and the major points in Montreal. The ideal outcome would be to have my team mate Lyne Bessette win - she is a very strong climber and she is also from Quebec so she was very motivated to try and win on home soil. Genevieve Jeanson (team Rona) is also from Quebec and she is also a very talented climber. She had no points before the Montreal World Cup and so for me, it would be a good outcome if she was to win but obviously a better one if Lyne could win!
My other teammates in Montreal were Kim Bruckner, fresh from winning both the American National Time Trial championships and the American National Road Race, Anke Erlank, and Suzanne Sonye. It didn't take long for the race to start splitting apart on the climb. We climbed as a big pack the first two times up Mont Royal but the third time up, Genevieve Jeanson (Rona) launched an attack and all hell broke loose.
Lyne (Saturn) did her best to go with Genevieve but couldn't quite close the gap to her by the top of the climb. Her efforts totally split everyone behind her though. Miriam Melchers (Acca Due) was riding strongly and wasn't far behind Lyne while I was struggling a little further back in the pack, helped by Kim Bruckner (Saturn). Over the top of the climb, Genevieve maintained her solo lead, and a group of around 20 riders containing Lyne, Kim and I were able to group together behind her.
The Acca Due team led a strong chase around the base of the mountain before we began our 4th ascent but Genevieve held onto a lead of nearly one minute. Up the climb Lyne was aggressive again and once again I was on the back foot. Kim Bruckner stayed with me and paced me up the climb and I survived once again in a slightly smaller group over the top. Genevieve was still clearly in the lead. At this point I had to ask Lyne to stop her efforts to close the gap to Genevieve because Miriam was able to go with her while I was struggling. If we were to hold on to the overall World Cup lead, Lyne was going to have to sacrifice her chances of catching Genevieve.
Vera Hohlfield was the only Acca Due rider to make it back to the front group to help with a little more chasing before the 5th ascent began, but Genevieve's lead just continued to grow. The 5th time up the climb, Miriam took matters into her own hands and attacked hard. Lyne was able to go with her, along with Jeannie Longo (France), Ceris Gilfillan (Great Britain), Cindy Pieters (Vlaanderen) and Suzanne Longjskog (Vlaanderen). Kim Bruckner again stayed with me on the climb and paced me to the top and we crested about 15 seconds behind. We were well in front of the next group of riders - it was make or break time - we had to reach the group in front of us.
Kim did an amazing job for me on the descent and the flats before we started the climb again and we rejoined the group about halfway around. At this point, I started doing some calculations in my head. Genevieve was now about 4 minutes in front and it was pretty clear that it would take a miracle to stop her winning. So the major points were gone. The best Miriam could do from here was 2nd place which would give her 50 points but I was counting on Lyne to beat her so that meant she would get 3rd and only 35 points. If this group of eight riders stayed away from the riders behind us, then the worst that I could do was 8th place (since I knew that Kim would let me beat her for the sake of the World Cup points) which would give me about 20 points - enough to hold on to my jersey!
I wasn't trying to be negative with these thought patterns - I was just trying to make the best of a situation where I was clearly on the back foot! For the next five climbs, our group of eight stayed intact, despite about 20 attacks from a frustrated Jeannie Longo and several attacks from the Vlaanderen teammates Cindy and Suzanne. Genevieve's lead continued to grow to over six minutes. Finally, as we approached climb number 11 - the second last one - an attack from Suzanne Lungjskog stuck. She powered towards the bottom of the climb with about a 15 or 20 second advantage over us.
There's a sharp right-hander at the bottom of the climb and Lyne went around that first with Kim and I behind her. Lyne saw that we were right there, blocking the path of the riders behind us, and she took off from the base of the climb, in pursuit of Suzanne. By the time Miriam was able to react, Lyne already had a 30 metre gap. Somehow I managed to hang onto the back of Miriam and Ceris Gilfillan as they tried to close the gap to Lyne on that climb and I think that deterred them a little from fully wasting themselves to get to her - they still wanted to beat me across the line the final time up the hill.
Kim Bruckner had had enough for the day and her job helping me was about done. She lost contact with our group on that climb and completed the race alone in 9th place. Lyne managed to get across to Suzanne shortly after the top of the hill and the two of them worked together as they completed their final lap and approached their final ascent of Mont Royal. They fought out a close sprint for 2nd place and Suzanne just had a little bit extra left to beat Lyne across the line.
Meanwhile I was still hanging onto Miriam Melchers, Jeannie Longo, Cindy Pieters and Ceris Gilfillan as we approached our final climb. I knew that I was going to retain my jersey since Miriam could now do no better than 4th place and I still could do no worse than 8th. But I was trying to talk my legs into fighting for a better place than that. We hit the climb for the last time and Miriam immediately put the pressure on and I found that I had nothing left in me to respond with. I shot off the back of the group and watched them climb together. Jeannie Longo yo-yoed on and off the back of the group and I tried to inspire myself to catch her but it was no good. I was dead and all I could do now was drag my self to the top to claim 8th place. Miriam took the sprint for 4th place from Ceris Gilfillan and Cindy Pieters took 6th. So I was extremely tired but happy at the end of the race, and very thankful for the awesome work of my teammates that helped me hold on to the World Cup jersey one more time!
Next challenge is the Philadelphia World Cup next Sunday on a course which is fast and furious and almost always ends in a mass field sprint.
Cheers
Anna