The Anna Millward Diary 2001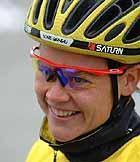 Photo: © Rob Karman
Currently ranked world number one in the World Cup and on UCI points, Anna Millward is in France with the Australian national team.
Tour de l'Aude
France, May 18-27, 2001
Stage 4a - May 22: Lézignan Corbières - Barbaira, 40 km
Stage 4b - May 22: Barbaira - Castelnaudary, 69 km
Today we had two short, flat stages of the tour. In the morning we raced 40km and the Dutch team went out of the blocks, firing off several attacks in an attempt to get a rider clear. However, with too many teams trying to get in on the action, the whole bunch stayed together. There was one sprint in the middle of the stage and Olga Slioussareva (Carpe Diem) won that from Alison Wright (Aussie). Olga now has a fairly commanding lead of the sprint competition.
From the sprint, it was only 18km to the finish and gradually downhill. It was too easy to keep things together and too hard to break things up. The Dutch tried again to launch riders but we were destined for a bunch sprint. Petra once again demonstrated her amazing speed to take her second stage for the tour and I was pretty happy to grab her wheel for the sprint and finish second.
In the afternoon stage, Sara Carrigan and Alison Wright took off from the gun, in search of more sprint points, hoping to make a move on the sprint jersey. They got a nice group of around 5 riders off the front and things were looking good until Edita Pucinskaite (Alfa Lum), in the yellow jersey, decided to bridge across to the move. Of course, that created major panic back in the bunch and a frantic chase ensued. The move was shut down pretty quickly.
There were a few more attacks after that and Debby Mansveld (Vlaanderen) managed to get clear on her own. She quickly built a lead of around 2 minutes and stayed away to take the first sprint. We weren't too happy about that and with some chasing from Sara Carrigan and Kym Shirley and then some more attacks we brought back Debby before the second sprint. So Alison is still holding second place in the sprint competition behind Olga Slioussareva.
Straight after the second sprint a group of around 10 moved clear, containing Alison Wright. The only team without a rider in the group was Vlaanderen and they chased hard, bringing it all back together with about 7kms left to race.
Once again we were in for a bunch sprint but this time Petra left her dash a little too late and Mirella van Mellis (Holland) was the victor, with Petra finishing second. I was also a little late to move and came in 5th.
So nothing changed overall today. But tomorrow will be a totally different story - tomorrow we face a 26km time trial over one small climb and Edita will have a big job on her hands, defending her 5 second lead from Lyne Bessette.
Cheers
Anna