The Anna Millward Diary 2001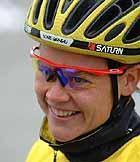 Photo: © Rob Karman
Trophee Iride
Italy, September 30, 2001
Yesterday I raced in Italy with the Australian National team. It was our final race before the World Championships so we wanted to test our legs out and hoped for a good result. We started with eight riders - seven seniors Sara Carrigan, Katie Mactier, Kristy Scrymgeour, Naomi Williams, Kym Shirley, Hayley Rutherford and me and one junior Vanessa Crawford who was going to do two thirds of the race - the same as her world championship distance. The race was on a 12.5 km circuit and we completed 9 laps.
I came to Italy from Holland and was hoping for a big weather improvement when I got here. But on the day of the race, it was pouring rain before the start. At least it was 10 degrees warmer than Holland! The circuit was a technical one and over very bumpy roads. There were quite a few undulations and a steep pinch about halfway around the circuit was the toughest part. On the very first lap, we had just crested that steep pinch when Rasa Polikevicuite (Lithuania) attacked. Simona Parietti (Italy) followed her and I got across to them with Boubnekova (Edil Savino). Alessandra Capellotto (Italy) came across a couple of kms later and we got out to a 15 second lead.
We survived for about 6 km before being reeled in by the bunch. Meanwhile, Kristy was having problems with her seat height and went back to our team car to get it adjusted. She had only just rejoined the bunch when Naomi Williams punctured and had to go back for a wheel change. Our mechanic was getting wetter by the second!
Lap 2 and a breakaway went in exactly the same place, this time instigated by Katia Longhin (Italy). Rasa Polikevicuite (Lithuania) was there again and the third rider was Chuzhynova (Edil Savino). We had missed it this time and needed to chase. Katie Mactier started the chase and Kym Shirley, Hayley Rutherford, Sara Carrigan and I all pitched in. We chased for another lap before losing all Aussies except Hayley and myself through the hills.
Hayley and I continued to chase for one more lap - to the halfway point of the race and held the gap at 25 seconds but couldn't close it. When it was clear that no other teams were going to help us, we resigned ourselves to racing for 4th place. When we stopped chasing, the gap ballooned to nearly 4 minutes.
The strongest rider out in front was Rasa Polikevicuite and, despite suffering a puncture and having to chase back on to the breakaway, she rode away from her two companions on the last lap and won the race easily. Katia Longhin outsprinted Chuzhynova for 3rd place.
The bunch was pretty complacent for a couple of laps but in the final two laps the Italian squad and Diana Ziluite swung into action to try and stitch up 4th place. They made life very tough through the hills on the second last lap and our bunch was whittled down some more. I survived to contest the sprint finish but didn't have much left in the tank by then. Diana Ziluite won the uphill sprint by a long way from Priska Doppman and me, so I collected 6th place for the day. Rounding out the top 10 were Zinaida Stahurskaia (GAS), Samoklakova (Carpe Diem), Boubnenkova (Edil Savino) and Modesta Uskaite.
Hayley's ride saw her claim second place in the under 23 division.
10 days now til the time trial at World Championships - I'm starting to get butterflies already!
Cheers,
Anna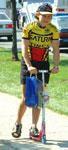 Photo: © Rob Karman