December 7, 1997
Arguably Australia's best women's cyclist and certainly the choice of readers to www.cyclingnews.com in our recent Australian rider of the year survey, Anna Wilson attempted to ride 47km in an hour. She had come off a brilliant National Road Championships in Perth having easily won the ITT and taking silver medals in the Road Race and Criterium.

Melbourne born Anna set an inaugural Australian Women's hour record at the Adelaide Superdrome. The distance ridden was a very good 45.399km. She rode a 52 x 15 gear. Wilson from Victoria, riding with VIS is the current Australian road time trial champion. Wilson took 30 minutes after the race before she could stand up she was so exhausted.

During an interview with commentator Jimmy Jacques she said that with the adrenaline at the star she went out too fast and consequently hurt from the start. The last 20 minutes was the hardest, with blurred vision she said is was difficult to concentrate and hold a steady line. She said that without the support from the crowd she would have retired with 10 minutes to go.

Although riding less than the goal of 47km Anna said that the data recorded from the heart rate monitor will indicate what can be done to achieve her goal in the future.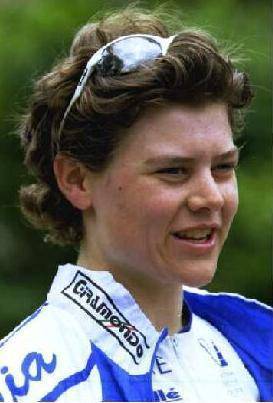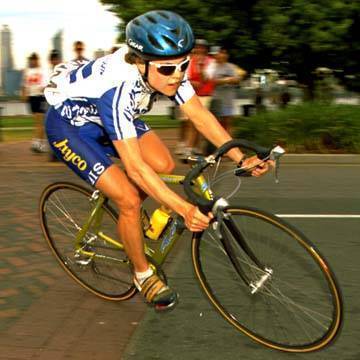 Photos taken and kindly supplied by
Stewart Stockdale
December 8, 1997
Bill - How are you feeling today?
Anna - a much depleted and sore Anna but still me!
Bill - What sort of preparation did you do for this record attempt?
Anna - Preparation really began in June - I spent a block of 9 weeks in the gym. That involved 3 gym sessions a week with the only cycling being the ride in to work and out each day (20 k's each way) and about an hour extra on Wednesdays and then Thursday night a motorpace after work down Beach Road or if weather didn't permit then an hour on the ergo at cadence of 110 and HR between 150 and 160. Weekends I would race one day and either motorpace for 120 - 150 the other or just go for a similar distance myself.
Bill - And the period after this 9 weeks?
Anna - After that block of training I stopped going to the gym and entered another 8 week block this time concentrating on more miles on the bike and strength and power efforts.
A typical week would be:
Monday and Friday recovery days - ride either in or out to work and get the train the other way.
Tuesday - About 40 k's of hills on the way in to work and including some 2 to 5 minute efforts up 2 or 3 hills and 2 or 3 big gear sprints over the top of other hills.
Wednesday - 2 by 15 minute efforts on the ergo in a big gear with HR at threshold (about 174bpm) and ride to work and back.
Thursday - ride in and motorpace down Beach Road after work.
Saturday - usually a big handicap on or if not a club race
Sunday - either easy ride to recover from big handicap or 120 k's easy.
I built this up to include some 5 minute high cadence efforts on Tuesday evenings and a third 15 minute effort on the ergo on Wednesdays.
Bill - By now you were ready for you final macro?
Anna - Yes, then I entered the final 8 week block of preparation.
For the first couple of weeks this was the same as above except my ergo efforts on Wednesday would be at race cadence (about 100rpm) - not in big gears. I gradually over the weeks took out the longer hill efforts on Tuesday mornings and just did the sprints over the tops of hills and increased the number of 5 minute high cadence efforts to 6 on Tuesday evenings. I also gradually built up the number of efforts I did on Wednesdays on the ergo until I could complete 4 by 15 minute efforts at HR of 174-175 - the equivalent of an hour at race pace. Then I started doing 3 by 20 minute efforts. Racing on the weekends conveniently changed from the long handicaps to shorter events.
Bill - At the National Championships in Perth, you easily won the ITT and came second in the Road Race and Criterium. What happened then?
Anna - After the Nationals in Perth I spent my Saturdays on the Northcote track (in Melbourne) on the Superbike I used for the Hour Record and built up to 2 by 30 minute efforts at race pace 2 weeks before the Record. Tuesdays changed to riding in to work in the mornings and riding out to AFL Park for a criterium after work - a total of about 100 k's with some good hard race k's in there. Then I really started to taper and stopped worryng about k's - just kept up the 5 minute efforts and the criterium racing.
So - that was the basic training schedule.
Bill - And what about Saturday night - the Hour Attempt?
Anna - Well, I originally set a schedule of 47 km/hr as that was what seemed a possible if tough goal. However, the race night was a little cooler than the testing conditions making it a little slower and I realised after 5 minutes on schedule that 47 km was not going to happen. So I settled in to what felt maintainable and that turned out to be approximately 45.339 km/hr!!! (Sorry a bit of tongue in cheek) I expected that the first 15 minutes would pass quickly and it would only be the second half when time would really drag but that was not the case at all and I really found getting through the first half hour the toughest mentally. The first 5 minutes even felt long! Shayne Bannan held up signs for every 5 minute milestone I passed and I began to long for those signs like a parched wanderer in the desert longs for water!
After the half hour sign I felt at least I was on the better side of half and I felt the best of all with 20 minutes to go. I thought at that point I could lift a bit for the home stretch but after lifting a fraction for about 5 or 6 minutes things got a bit much and with 10 minutes to go I really had nothing left - my legs were unresponsive blocks of wood and every effort to sprint for home did not succeed! All I managed was not to slow down.
Bill - The reports said you were pretty shattered at the end?
Anna - I knew I was hurting in the last little bit but it wasn't until I actually stopped that it struck me that I would not be capable of getting myself off the bike. I rolled into the middle and called for someone to catch me. And then unclipping caused some nasty muscle spasms with the sudden twisting motion. My left hamstring had completely seized and I felt like I was not far off fainting - I lay on the track floor for a long time before the muscles quietened down enough to let me sit up. I guess coming from road time trials where you can at least stop pedalling for a half second or change gear to get some relief, the consistency of the track took its toll. Anyway Brad McGee was there and he said that he had been in a very similar situation after his effort so I guess its just the nature of the beast.
Bill - And who supported you in this attempt?
Anna - a big thankyou to all the contributors - and not least the supporters who showed up to cheer me on. I had some very vocal supporters of my own from Victoria but they were aided in their cheering by a good number of South Australians. Despite the concentration and the pain I could hear the cheering and I think everyone who was there could see me lift (or at least try to lift) when they would cheer me past another 5 minute milestone. It was all very much appreciated and it does help you get that last little drop of energy out of yourself.
I also must thank Jayco Caravans for funding the whole Hour Record Event, Donna Rae-Szalinski and the VIS for the coaching and the organisation of the event, John and Vicky Beasley for all their encouragement, assistance with training, equipment supplied - including the loan of the Superbike, Neil Craig for his physiological expertise, Brian Hayes for his mechanical assistance to a roadie who had no idea about track gears and chain tensions etc, the Sansonetti clan for building a great bike and loaning the helmet, the Adelaide Superdrome for the venue and the very friendly and helpful attitude, Dr Peter Barnes for making sure I was going to live afterwards and of course my partner David Millward for sticking with me through a challenging year.
Bill - Thanks a lot.
Anna - Thanks again and congratulations on the best bike page in the world!!
Bill - Time for me to go Training