The Anna Millward Diary 2001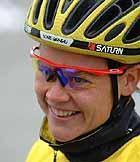 Photo: © Rob Karman
Anna helps the team to victory in the States, and gets some good news from back home.
Racing and test results
August 18-24, 2001
After two weeks of training in Kutztown I had one 40 minute race in Chicago last Saturday. The race was held the day before the American Criterium National Championships - it was sort of a warm-up event on the same course. Being an "alien" I'm not allowed to compete in the American Nationals - in fact, only two of our team were eligible to compete. But in the warm-up event we had 8 riders and we wanted to dominate!
We were aggressive from the beginning and in her usual style, Ina Teutenberg (Saturn) was soon off the front solo, driving the pace. Katrina Berger (Autotrader) went to bridge across and Kristy Scrymgeour (Saturn) jumped on her wheel. The two of them soon joined Ina out in front and they were never seen again, winning in the end with a margin of about a minute. Kristy attacked with one lap to go, but Katrina was able to close the gap to her. That set the race up perfectly for Ina to take out the sprint, with Katrina second and Kristy third.
Back in the bunch, Petra Rossner went for a $300 prime with 2 laps to go and found herself with quite a gap. She turned on the power and the bunch couldn't catch her so she soloed in for 4th place while Lyne Bessette helped me win the bunch sprint for 5th place. A good day!!
A few days later, I went through a teleconference hearing, regarding my positive test for Lidocaine. The hearing was with an independent panel, who then report to the Australian Cycling Federation with a recommended course of action. I felt like the hearing went well and today I received the news that the Australian Cycling Federation endorsed the recommendation of the panel that I receive no penalty at all - not even a warning. After considering all the circumstances they concluded that I wasn't at fault at all.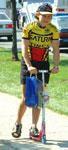 Photo: © Rob Karman
I am so relieved - the news hasn't fully sunk in yet but I feel wonderful!!
I have one more race in America this Sunday before I travel to Europe for the last 6 weeks of the season.
Cheers,
Anna