The Anna Millward Diary 2001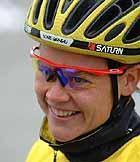 Photo: © Rob Karman
2001 Road World Championships
Lisbon, Portugal, October 13, 2001
Hi everyone,
Today we raced 10 laps of a 12km loop for the World Title.
It was a pretty tough course with a short but sharp hill just 1 km into the loop and, after a nice descent, a longer, shallower climb to the halfway point of the loop. From there it was all downhill to the finish. I was hoping to do well but I knew I would have a tough time getting over 20 climbs on the way to the finish!
Things were tough from the start with a high pace set. I just had to focus on conserving energy and following wheels - no one was going to break away at this speed. The bunch was slowly whittled down from 104 starters to around 40 riders over the first 7 laps. The 8th time up the second hill, Jeannie Longo forced the pace and an elite group of 14 riders crested with her. I was in the second group of around 15 riders, about 30 seconds behind. The Norwegian riders Monica Valen and Ragnhild did a great job of chasing down the descent. I helped out for a couple of kms and we rejoined the front group as we went through the finish line with 2 laps to go. That was about the end of my race!
As we hit the first short, sharp hill for the 9th time, my legs gave way and I couldn't stay in contact with the leaders. I was by myself for a while, before joining Canadian Anne Samplonius at the bottom of the descent, after she had crashed. We swapped turns til the end of the 9th lap, before catching Chantal Beltman (Holland) and Hanka Kupfernagel (Germany). Hanka soon rode away from us on the climbs and Anne, Chantal and I rode the last lap together, finishing somewhere between 30th and 40th. Not exactly the placing I had been hoping for but I had done all I could. It just didn't happen on the day!
The race was won by Rasa Polikevicuite (Lithuania). She won the sprint from a group of three riders who arrived at the finish together - Rasa, Edita Pucinskaite (also Lithuania) and Jeannie Longo (France). They finished only 6 seconds ahead of a chasing group containing Judith Arndt (4th place Germany), Miriam Melchers (Holland) and Suzanne Lungskog (Sweden).
So now it's holiday time for me - time to watch the men race tomorrow and then jump on a plane back to Australia. Yippee!!
Cheers
Anna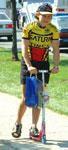 Photo: © Rob Karman