The Anna Millward Diary 2001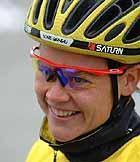 Photo: © Rob Karman
Currently ranked world number one in the World Cup and on UCI points, Anna Millward is in France with the Australian national team.
Tour de l'Aude
France, May 18-27, 2001
Stage 5 - May 23: Castelnaudary - Castelnaudary ITT, 26.5 km
Time trial day today -- 26km with a couple of small climbs in the middle and some great descents. I surprised myself with a win today -- nice for the confidence. In the battle for the overall, Edita Pucinskaite (Alfa Lum) came up trumps, finishing second in the time trial and gaining another 52 seconds over Lyne Bessette. She now leads Lyne by 57 seconds overall.
We also had a little bit of drama in the Australian camp. Hayley Rutherford is our best rider in the overall stakes and she took off for her time trial at full speed. She got one kilometre down the road and hit some bumps on the first right hand bend, tried to get out of the aero bars and onto the drops, her right hand missed the handlebars and she flew over the handlebars and did a full superman onto the road. The whole thing was caught on video by Rochelle Gilmore in the following car so we were all riveted to the video screen after the time trial was over. Anyway, Hayley wasn't hurt and she picked herself up and finished the time trial in good time.
Cheers
Anna