The Anna Millward Diary 2001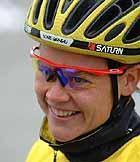 Photo: © Rob Karman
Currently ranked world number one in the World Cup and on UCI points, Anna Millward is in France with the Australian national team.
Tour de l'Aude
France, May 18-27, 2001
Stage 8 - May 26: Limoux - Espéraza, 122 km

Today we raced 122km over 3 category 1 climbs, and two category 3 climbs. It looked a very tough day on paper but in reality I think most cyclists found it better than expected. The first climb came only 10 kms into the stage and after a couple of kms of "piano", the attacks began.
A group of 7 rode off the front, containing Sarah Ulmer (Autotrader), Katrina Berger (Autotrader), Fany Lecourtois (Alfa Lum), Tatiana Staijkina (Alfa Lum), Olga Zabelinskaia (Carpe Diem), Cybil DiGuistini (CA Mantes la Ville 78), Heidi van de Viejver (Vlaanderen). None of the riders were a big threat to the yellow jersey of Lyne Bessette and so the group was allowed to dangle a few minutes off the front of the pack.
I quickly found a "laughing bunch" off the back and we did have the last laugh in the end. The stage finished with two laps of an 8 km circuit around the town of Esperanza but because we were about half an hour behind, we came onto the circuit after the main bunch had completed the race and so we were told that we didn't need to do the laps - we just had to make it to the finish line. The best news we'd had all day!!
The breakaway survived intact to the finish, although Olga Zabelinskaia was away solo for a while after the final climb. In the finish, the two Autotrader riders dominated, with Katrina Berger leading Sarah Ulmer out for the sprint finish and Sarah taking the win from Staijkina. Not much changed in the overall standings. A couple of the breakaway riders moved into the top 10 overall but the top 5 remained the same.
Only one day to go!!
Cheers
Anna