The Anna Millward Diary 2001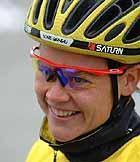 Photo: © Rob Karman
Currently ranked world number one in the World Cup and on UCI points, Anna Millward is in France with the Australian national team.
Tour de l'Aude
France, May 18-27, 2001
Stage 6 - May 24: Castelnaudary - Castelnaudary, 118km
Today was a classic Tour de l'Aude day -- 118km over small French roads, up and down all day. The race started fast with a sprint after only 4km, then a short but steep mountain sprint at 13km and then another sprint at 16km. Shortly after that second sprint, Sarah Ulmer (Autotrader) attacked along with Karpenko (Ukraine). The two of them quickly got a 30 second gap before Alison Wright and I tried to do something about bringing them back. Somewhere in the chaos, a small group slipped clear containing Lyne Bessette (Canada), who is currently in second place overall, but not the yellow jersey, Edita Pucinskaite (Alfa Lum). Once Lyne realised this she shot off the front of the group, in hot pursuit of Sarah and Karpenko. That of course started a big chase from the Alfa Lum team.

Alfa Lum caught Lyne halfway up another short, steep climb, and Karpenko came back to the group at about the same time. However, there was no stopping Sarah Ulmer -- she perservered on her own over some very difficult terrain. She certainly had some power today -- the bunch was reduced to only 30 riders because of the difficulty of the course but Sarah remained in front. Her lead went out to a maximum of two minutes at around the 70km mark but the Ukraine team, Alfa Lum and Carpe Diem continued to set a good tempo at the front of the group and didn't allow her to get any further away. By this time, Kym Shirley and I were the only Aussies left in the group.

During the last 30km of the race, we went over another couple of tough climbs -- short but steep and Sarah's lead was reduced to less than a minute after those climbs. The Carpe Diem team then all went to the front and had Sarah back in the peloton within a few kilometres. They were hoping to set the race up for their main rider, Olga Slioussareva.

The Autotrader team didn't give up once Sarah was caught. With about 5km to go, Katrina Berger attacked. When she was caught Julie Young attacked and took two other riders with her. A counter attack followed containing Sommarribba (Alfa Lum) and Kim Smith (Autotrader) and one other rider. The bunch seemed to be hesitating so I went across to those three riders at around the two kilometres to go mark, just as they were catching the three out in front. Kim Smith went to the front to try and lead out Julie Young for the final sprint. However, with only about 250 metres left in the race, the rest of the peloton caught up with us and Lyne Bessette (Canada) started the sprint with a fierce move down the left of the bunch. It took me another hundred metres to get a clear line to sprint and then I had to close the gap to Lyne. With one hundred metres to go I didn't think I was going to be able to overtake her before the finish but finally she started to tire and I just got over her before the line to take the stage victory. Julie Young finished in third place.

So a tough day for me. Tomorrow we race two short stages -- could be another good day for Petra Rossner!
Cheers
Anna