The Anna Millward Diary 2001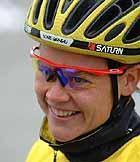 Photo: © Rob Karman
Holland Ladies Tour
September 2-7, 2001
The Stages
Stage 1 - September 2: Dronten - Dronten, 140 km
Six days of racing in Holland started today with a 140 km stage. The weather was beautiful Dutch weather - drizzling and blowing a steady gale. We are here mainly as a warm-up for the Swiss World Cup which is on this Sunday. But a race is a race and we are all too competitive not to do our best while we are here!
We have six riders here - Petra Rossner, Judith Arndt, Kristy Scrymgeour, Kim Bruckner, Lyne Bessette and me.
Today, the race was hard out of the blocks with local hero and reigning Olympic champion Leontien Zijlaard putting the pressure on immediately. It took only 5 km of hard riding in the crosswinds for the bunch to shatter and a breakaway of 11 riders formed off the front. We had three riders in the breakaway - Petra Rossner, Kristy Scrymgeour and me so we were very happy with ourselves and worked hard to keep the break clear of the rest of the field. Also in the break were Heidi van de Vijver and Debbie Mansveld of the Vlaanderen team, Diana Ziliute and Urbonaite from the Acca Due O team, Ghita Beltman and Chantal Beltman for the Dutch National team, Leontien Zijlaard for Farm Frites, and one other rider who I didn't know.
We worked well together for the best part of 120 km. Petra Rossner managed to win both time bonus sprints at 33 km and 95 km to pick up 6 bonus seconds. Attacks from Leontien succeeded in shelling two riders from the breakaway - Kristy Scrymgeour and the rider I didn't know. Nine of us approached the finish together.
The Beltmans and I all tried our hands at attacking but we couldn't escape the clutches of the bunch. My last attack only succeeded in leaving Petra Rossner and Chantal Beltman off the back, struggling to regain contact. Not really what I wanted to achieve! They finally caught us with only 1 km to go. I tried to lead Petra out for the final sprint but as the sprint began her legs cramped and she couldn't sprint at all. That left Leontien to take the stage win from Diana Ziluite and Petra and I lost a few seconds as we limped across the finish line in about 6th and 7th place.
Behind us, another bunch of around 10 riders had split from the main field after attacks from Mirjam Melchers (Acca Due O). This group contained Lyne Bessette (Saturn), Pia Sundstedt (Norwegian National team), 3 Acca Due O riders including Mirjam Melchers, Madeleine Lindberg (Farm Frites) and also picked up Kristy Scrymgeour after she lost contact with our group. I'm not sure exactly how far behind us they finished - somewhere between 2 and 3 minutes I think. The rest of the field finished another 2 or 3 minutes behind them.
So Leontien should carry the first leader's jersey of the tour with the 10 second time bonus for winning the stage. However, it is common knowledge that she is pulling out of the tour in a few day's time to prepare for her attempt on the hour record on September 12th.
Tomorrow we race 120km - probably with the same delightful weather we had today!
Cheers,
Anna
Stage 2 - September 3: Leiden - Leiden, 116 km
Yesterday we raced 116 km, starting at 4:30pm. It was a good thing we started late - it poured rain all morning and cleared up in the afternoon to a nice windy day!
Once again, Leontien Zijlaard put the pressure on early, riding on the front for almost all of the first 15 kms through many twists and turns. Around the 25 km mark we turned left into a strong crosswind and all hell broke loose. A break formed off the front containing Leontien Zijlaard (Farm Frites), Sissy van Alebeek (Farm Frites) Mirjam Melchers (Acca Due) and Arenda Grimberg (Acca Due). The bunch was strung in one long line in the gutter behind them with gaps starting to appear as people starting cracking under the pressure.
Diana Ziliute (Acca Due) rode across to the break with Debby Mansveld (Vlaanderen) and me behind her. I was not willing to work the break without Petra Rossner (Saturn) there and so I sat on the back for a couple of kilometres while the others worked. Meanwhile Petra was jumping from group to group behind us, trying to make it up to the front. She got about 50 metres from the back of us and was starting to die when Judith Arndt (Saturn) caught her and helped her make the connection. We had three Saturn riders in the break again - things were looking good!
The nine of us worked hard together and our gap grew to almost 2 minutes at one point. However, with both the Beltman sisters missing from our break, the Dutch National team put in a big chase behind, helped by the Norwegian team. With 24 km to go, our gap was down to 50 seconds. At this point, Judith Arndt swung into action. She picked up the speed and relentlessly drove the pace in the bunch and attacked whenever there was an opportunity. She forced Leontien Zijlaard to do a lot of chasing, tiring her out for the final sprint.
With about 2 km to go, Mirjam Melchers (Acca Due) attacked. I jumped across to her to neutralise the move. Judith Arndt then took over the pace making til around 600 metres to go, when Arenda Grimberg (Acca Due) attacked into the last two corners of the race. She got a good gap and was looking dangerous. I got Petra Rossner (Saturn) on my wheel and gave everything I had left to close the gap to Arenda with only 150 metres left in the race. Petra took over from there and sprinted to victory, ahead of Debby Mansveld and Leontien Zijlaard. With the time bonuses from the win she also moved into the leader's jersey of the race.
The bunch finished 1 minute 27 seconds behind us. So there are now 5 riders left within striking range of each other - Petra Rossner, Debby Mansveld, Leontien Zijlaard, Diana Ziliute and me.
So a great day for us. Today is stage 3 - 105km around a 10 km circuit.
Stage 3 - September 4: Oss - Oss, 106 km
We are now staying in a boarding school with limited internet access so I don't know how many race reports I'll get to send from here! Anyway, yesterday we raced 103 km - 10 laps of a circuit just over 10km in length. The weather was pretty horrible - raining and very windy. I felt pretty bad and didn't enjoy the race at all - the hard riding of the last two days caught up with me!!
At the start of the day, Petra Rossner (Saturn) was in the yellow jersey by just one second from Debby Mansveld (Vlaanderen) and 4 seconds from Diana Ziliute (Acca Due). Things stayed together until just before the first time bonus sprint at 39 km. Coming into that sprint, a group containing both Diana Ziliute (Acca Due) and Debby Mansveld (Vlaanderen) went clear of the group containing Petra Rossner and I (Saturn). Not a good thing to have the two major threats on overall classification up the road. We closed the gap just before the sprint but then we were too tired to sprint and Debby Mansveld (Vlaanderen) won from Diana Ziliute (Acca Due). With that three second time bonus, Debby became the leader of the tour on the road.
The Norwegian team then began repeated attacks with Pia Sundstedt being particularly aggressive. Eventually they were successful in getting a rider up the road. Wenche Stensvold (Norwegian National) was joined by Bettina Schoeke (German National) and they quickly built a good lead. In the finish, Bettina won the sprint from Wench, about 2 minutes 45 seconds in front of the bunch. They did not impact the general classification as they were over 5 minutes behind at the start of the day.
In the bunch, the Vlaanderen team tried to get a rider off the front to take the last remaining time bonus for 3rd place in the stage from Petra Rossner. However, we managed to keep things together and with an amazing lead-out from Judith Arndt (Saturn) into the cross winds, the bunch was split at the finish and Petra easily placed 3rd and I scraped in for 4th place. So Petra retained the yellow jersey, still only 1 second ahead of Debby Mansveld but 8 seconds ahead of Diana Ziliute.
Stage 4 - September 5: Haaften - Haaften, 125 km
Today we raced 124 km over many dykes. Once again it was windy but it was sunny and dry - so much more motivating than rain! We wanted to try and keep the bunch together today and rely on Petra to take the time bonus sprints to move her just a little bit further ahead of the opposition.
Things could not have gone better. We all worked very hard to keep the bunch intact and Petra was unbeatable in the sprints. She won both intermediate sprints for 3 seconds bonus from Diana Ziliute (Acca Due). At around the 60 km mark there was a big crash in the bunch. Petra and I had to stop for a moment to get around the crash but Diana Ziliute (Acca Due) and Debby Mansveld (Vlaanderen) were stuck for longer and so we had a gap. We began a team time trial, hoping to keep our gap to the finish and put Petra further in front. Kristy Scrymgeour, Judith Arndt, Petra Rossner and I (all Saturn) all worked along with a few other inspired riders in our group. We did our best for around 10 km but the Acca Due team and the Vlaanderen team combined forces to mount a big chase behind us and they closed us down in the end.
From there, Kim Bruckner (Saturn) put in some great riding on the front to keep the speed high and deter attacks. In the last 5 km the Acca Due team was aggressive with both Arenda Grimberg and Mirjam Melchers spending some time off the front. We brought everything together with 1.5 km to go and then Judith and I did our best to lead Petra out. We got her first into the last little chicane with about 400 metres to go. A long way to be in front by yourself but Petra was true to form and pulled off a huge victory for another 10 second time bonus. Debby Mansveld (Vlaanderen) was 2nd and Yvonne Brunen (Farm Frites) was 3rd.
So Petra now leads the tour by 9 seconds from Debby Mansveld and 20 seconds from Diana Ziliute. Tomorrow will be a very important day with 85 km in the morning and then a 26km time trial in the afternoon. That could upset the general classification a lot!
Stage 5a - September 6: Bergeijk - Bergeijk, 80 km
Sorry these last installments are a bit late - emailing conditions have been very poor lately!
Anyway, last Thursday in the Tour of Holland we raced two stages. The first was 80kms and once again our plan was to keep things together so that Petra Rossner (Saturn) could sprint for the time bonuses. Things went perfectly with Petra gaining 13 seconds in time bonuses and Diana Ziluite (Acca Due) gaining none. That extended Petra's lead to 29 seconds over Ziluite going into the time trial in the afternoon.
Stage 5b - September 6: Bergeijk ITT, 27 km
The time trial was 26km in length - flat of course, being Holland. Petra was terribly nervous before the start since Diana Ziluite has a better reputation as a time triallist than Petra. However, we had kept Petra fairly fresh over the past three stages while Diana Ziluite had had a bit of work to do. As it turned out, the winner of the time trial was a surprise - Kirsty Robb from New Zealand won, but we were overjoyed because Petra was in second place and she had beaten Ziluite by more than one minute. We couldn't believe it! That put Petra firmly in the overall lead of the tour by a minute and a half with only one stage left to race.
Stage 6 - September 7: Heerlen - Heerlen, 83 km
The final stage of the tour was 80km in the south of Holland and so it contained many short, sharp hills. I decided to pull out of the tour at this stage since it was only two days before the Switzerland World Cup and I didn't want to get any more tired than I already was. The Saturn team was down to three riders with both Kim Bruckner and Judith Arndt remaining in the race to help Petra. From what they told me, the stage was fairly sedate until the end when Arenda Grimberg (Acca Due) attacked the last climb. Petra Rossner jumped across to her and the two of them built a 30 second lead by the end of the stage. Since that cemented Petra's overall win, she was content to let Arenda win the final stage.
So a very successful Tour of Holland for us with Petra winning overall as well as three stages. Now on to the defence of the World Cup in Switzerland!
Cheers,
Anna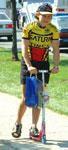 Photo: © Rob Karman