Anna Wilson
By John Alsedek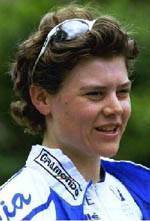 Anna Wilson: early incarnation
Photo: Stewart Stockdale
Australian cyclist, Anna Wilson was on top of the world in 1999, winning two World Cup races and the overall, as well as two silver medals in the World Road Championships in Italy. Her success is the result of an abundance of talent, and hard work over several years of racing. She's also a qualified lawyer as well.
Before reading any further, just stop for a moment and imagine, if you can, what it must be like to be a world-class cyclist. The countless hours of training - intervals, motor-pacing, seemingly-endless road rides. All the time spent travelling by car to local events, and by plane all over the world, often spanning entire continents in just a week or so. Trying to squeeze an entire year's worth of time with friends and family into the off-season. Have a picture in your head? Now try to imagine yourself as an aspiring lawyer. Five years of full-time university schooling, examinations, hours and hours of study and preparation. Then a year's worth of "articles", an apprenticeship of sorts, where one learns the practical points of the profession by working under the supervision of a seasoned lawyer in an established firm. Have you pictured that as well? Now try to envision doing both....at the same time. Welcome to the world of Anna Wilson.
Twenty-eight year old Anna Wilson has handled the dual roles of athlete and scholar deftly during her career, which is all the more surprising given the relatively small role that sports played in her early life. Born in Melbourne, Australia, Wilson was the youngest of five children (three girls and two boys) none of whom had any great interest in competition beyond the schoolyard. Instead, academics were stressed by her parents, in particular by her father, a teacher, who passed away when Wilson was eleven. That influence led her to commit a great deal of time to her studies, concentrating on the sciences which were Wilson's passion. She expected to pursue that interest in university, but was convinced by a year 10 (form 4) teacher to give law a try. So she reached a compromise and decided to undertake a combined science/law degree: "For the first couple of years I didn't particularly like law, but it grew on me and by the end I enjoyed it more than science." It wasn't long after she began her studies at Monash University that she discovered her other passion: the bicycle.
Other than riding her bike to school, Wilson had given it little thought until she and three friends decided to ride in the Great Victorian Bike Ride, a nine-day tour. By the end of the tour, she was hooked: "I loved the effort and reward gained from cycling and the sheer adrenalin of it all!" In 1993, she decided to enter her first race, an E grade event with her local club. She won.
By the next year, she was attracting the attention of the national selectors - she placed third in the National Road Race, and then won the Victorian State Criterium Championship. It was a harbinger of bigger things to come. Still juggling cycling with a full-time class load, she had a breakthrough season in 1995: two stage wins and third overall in the International Women's Tour of New Zealand, as well as victories in the National Criterium Championship and the Canberra-Goulburn Road Race earned her a trip with the Australian National Team to the United States and Switzerland. Unfortunately, her trip was cut short when she crashed and broke her pelvis in a Swiss event, so she returned home to complete her legal degree and rehabilitate. But the seed was planted: Wilson realized that she had a shot at making the 1996 Olympic Team, so she made arrangements to defer her year of "articles" until December of '96 and moved to Canberra to train full-time with the Australian Institute of Sport.
It wasn't long before her new committment to cycling paid off: going into April's combined National Championships/Olympic Trials, Wilson had already won the Bay Series Criteriums, the A.I.S. Classic Criterium, and stages in the Women's Tour of New Zealand and the White Pages Tour. The Olympic Trials were full of controversy over selections, but there was no controversy surrounding the selection of Wilson to the six-woman Olympic Long Team, as she medaled in all the events of the Trials.
She continued to show good form during the team's trip to Europe and the United States: she wore the leader's jersey in the Tour de l'Aude, won a stage in the Tour of Mallorca, and placed sixth to '92 Olympic pursuit champion Petra Rossner in Philadelphia's Liberty Classic, winning one of the four Olympic berths in the process. Still, it was a surprise to many when she quietly rode off the front during Stage 5 of the Powerbar International Women's Challenge, one of the world's top women's stage races, and won the stage by 4:12 over her nearest pursuer. It was even more of a surprise when she was able to maintain her lead to the finish, where she capped off her performance with a second in the closing time trial. Following a respectable showing in the Atlanta Games (17th in the road race and 10th in the time trial) she vaulted all the way up to 18th in the women's world rankings, the highest of any Australian woman. As a result of her '96 season, Wilson earned the Australian Female Road Cyclist of the Year Award, beating '92 Olympic gold medalist Kathy Watt and reigning National Road Champion Lyn Nixon. And with that, she "hung up her wheels" to complete her legal training with Deacons, Graham, and James.
As it turned out, though, "hung up her wheels" was more than a bit of a misnomer. Though her full-time job obligations kept Wilson from competing outside of Oceania, she was still a terror down under. Riding for Jayco/V.I.S., she notched up a number of fine victories: two stages, the sprint and points jerseys, and the overall title at the Street Skills Cycle Classic (formerly the Women's Tour of New Zealand); the Victorian State Road, Time Trial, and Criterium Championships; and a number of other major Australian events. After winning a gold and two silver medals at the Nationals in Perth, she finished her "year off" with an attempt on the Australian Women's Hour Record at the Adelaide Superdrome in December. Despite going out too fast, she hung tough throughout, crediting the raucous crowd on hand with keeping her on her bike.
The attempt took its toll: "I knew I was hurting in that last little bit but it wasn't until I actually stopped that it struck me that I would not be capable of getting myself off the bike," but it proved to be worth it, as Wilson set a new record of 45.399 kilometers. It was a fine way to both end her year of full-time legal work, and to signal her return to the international arena.
Riding once again for the Australian National Team, Wilson had good fitness and a new goal to aim for: the inaugural Women's World Cup, which was kicking off right in her own backyard (more or less!) with an event in Sydney at the end of March. With nine victories already for the season by late March, she was considered a favorite. However, she finished a disappointing 14th behind American Dede Demet. Just one week later in the mountainous Tour de Snowy stage race, she again finished behind Demet, but not without a fight. Using her knowledge of the region, she threw down the gauntlet on the second stage, a grueling trip between the Thredbo and Jindabyne ski resorts that included seven major climbs. Wilson was the day's aggressor, topping four of the seven climbs in first place. Unfortunately, her luck ran out at the finish when she pulled her foot out of the pedal, costing her the stage win and nearly causing her to crash. She was to have some measure of revenge the next day though. Wilson attacked with Demet after just 10 kilometers and stayed out front until the finish. There, despite suffering from nausea and leg cramps, she outsprinted Demet into Cabramurra, Australia's highest settlement. She cemented her second place overall by winning the final time trial over Canadian Clara Hughes and the legendary Jeannie Longo.
After that, Wilson and her National Team mates took a brief break from racing - and they'd need it, as the team was slated to ride the top three women's stage races during a two-month span. In early June, the team headed to North America to contest the Liberty Classic and the Women's World Cup event in Montreal (Wilson placed eleventh and fifth, respectively) before travelling to Idaho for the Hewlett-Packard Women's Challenge (formerly the PowerBar Women's Challenge), which had been the scene of her greatest international win just two years previously. While she was, self-admittedly, not the best climber in the race, she didn't let that deter her from making her mark. After winning the stage into Idaho City with a gutsy move in the sprint, Wilson went into attack mode on the following stages, forcing the Saeco team of eventual winner Linda Jackson to constantly chase. Her efforts didn't gain her a second victory, but they did net her both the Sprint Jersey and the Most Aggressive Rider award.
She continued her aggressive riding in July's Giro d'Italia Femminile, where she outsprinted soon-to-be World Champion Diana Ziliute to win Stage 4, took Stage 7a by beating the other five members of a breakaway that she had spearheaded, and topped the entire field in Stage 10. Not surprisingly, she won the Points Jersey, but she also finished a very respectable 14th overall. However, by the time the Australian National Team competed in the third of the races, the Tour Cycliste Feminin, Wilson's courageous rides had taken their toll, and she rode a fairly quiet (for her!) race, though she did burst forth to win Stage 6 in a mass sprint.
She spent the rest of August gearing up for the World Championships in Valkenburg, the Netherlands, winning gold and bronze in the Commonwealth Games along the way. Unfortunately, the Worlds went a lot like the Olympics had, as Wilson rode to 10th in the road race and 14th in the time trial. Still, she finished the season on a high note by duplicating her triple-medal Nationals performance of 1997, as well as winning her second Australian Female Road Cyclist of the Year Award.
That wasn't the only notice that she was receiving: she also garnered the attention of several top women's trade teams, who made her offers for the 1999 season. She ultimately decided on the American-based Saturn team: "The USA is always easy for someone from Australia to come to. The language is English, the culture similar, and you can buy basically anything you require!" It also gave Wilson the chance to do hard, competitive races during the summer (in the Northern Hemisphere), while not risking burnout, a key consideration given one of her goals for the 1999 season was the Women's World Cup.
It didn't take Wilson long to make her mark as a key contender in the nine-race series, as she made up for her '98 disappointment and won the World Cup opener in Canberra. On that day, she was an aggressor from the opening gun, forcing the pace and eventually helping to form the winning twelve-rider break. With one and a half laps to go, Wilson attacked, but was brought back by German Hanka Kupfernagel, a foreshadowing of what would become a season-long duel for the World Cup. Wilson and Kupfernagel finished one-two, and were again neck-and-neck a week later, during the second World Cup race, held in Hamilton, New Zealand.
After that event, she travelled to the U.S. to join her Saturn teammates, and went on a bit of a tear during late March and early April, winning two stages and the overall in the Sea Otter Classic, as well as the Wine Country Road Race and two stages of Oregon's Tour of Willamette. However, while Wilson was in the States, Kupfernagel took advantage of her absence from the next two World Cup events, the Primavera Rosa and La Fleche Wallonne, to take over the World Cup lead.
The two resumed their duel in late May, as they did battle on the slopes of Montreal's Mont Royal in Round 5. Wilson gained back some ground there, finishing third, but then lost a few points to Kupfernagel by finishing one spot behind the German in the Liberty Classic. Still holding the World Cup lead, Kupfernagel headed back to the Continent, while Wilson stayed in the U.S. to race, winning stages in the Hewlett-Packard Women's Challenge and the Red Zinger, and prepare for what was likely to be an exciting conclusion to the Women's World Cup.
Wilson returned to Europe in late August for the final three World Cup events. Little was decided in the first of these, the Trophee International - Wilson's Australian teammate Tracey Gaudry made the decisive break of ten and, even though Gaudry was also a potential World Cup threat, Kupfernagel chose not to chase. In the end, Wilson finished 13th and cut a bit into Kupfernagel's lead. Next came the Ladies Tour Benedon-Maas, where Wilson continued to whittle away at Kupfernagel. On a flat, fast course that was not conducive to solo moves, it ended up as a group sprint, in which Wilson managed to finish third, one spot ahead of her German 'shadow'.
After a there was a seventeen-day break during which Wilson won the prestigious Grand Prix des Nations time trial by 29 seconds over Jeannie Longo. The final showdown came on a hilly course around Embrach, Switzerland. With Wilson either needing to win, or to finish second and hope that Kupfernagel placed lower than fourth, the pressure was entirely on the Australian's shoulders, and she came through brilliantly.
Riding in extremely wet conditions, both Wilson and Kupfernagel made the decisive six-rider group. It came down to a sprint - and it was won by an exultant Anna Wilson ("I was screaming and didn't know whether to cry or not"). With that, Wilson took the second Women's World Cup, despite not even riding two of the events. After all that drama, the World Championships could have almost been a letdown. Instead, they became a confirmation of Wilson's place among the world's elite. In the time trial, she had the fastest time until defending world champion Leontien Van Moorsel pushed her into second, while she won road race silver in a twelve-up sprint after Lithuanian Edita Pucinskaite had powered away from the group on the final climb and was covered by three teammates. It was a tremendous finish to what had been a tremendous season for the lawyer from Victoria, and one that will be hard to top.
So what does Anna Wilson do for an encore, anyway? Well, how does two medals in the 2000 Olympic Games sound? That's her primary goal for the upcoming season, due in no small part to their location: Sydney, Australia. And, given her success at the '99 Worlds, it's a very attainable goal, particularly for a young woman who has shown such a penchant for achieving what she sets out to do.