The Anna Millward Diary 2001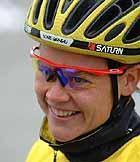 Photo: © Rob Karman
Currently ranked world number one in the World Cup and on UCI points, Anna Millward is in France with the Australian national team.
Tour de l'Aude
France, May 18-27, 2001
Stage 9 - May 27: Limoux - Limoux, 120 km

Well, it seems such a long time since the Tour de l'Aude finished and I am already back in the States, but I thought I better finish off the story that I began!
The final stage was another tough one - 120km with 4 category 1 climbs and a cat 2 climb thrown in for a bit of variety. Lyne Bessette started the day with a 1 min 24 second advantage over Judith Arndt (Germany). Things started pretty sedately with the bunch riding together over the first cat 1 climb.
Sara Carrigan (Aussie) established a 10 second gap on the following descent and she maintained her lead for another 5 kms but was then swallowed by an aggressive peloton. There were several more attempts to start a breakaway on the fast roads before the next climb but none stuck until a German rider eluded everyone and rode away solo. She gained a 2 min advantage before we hit the category 2 climb and the pace started to pick up.
She was still away at the top and about 30 riders crested together behind her. My perspective on the race then took a huge downturn as the pace became a bit much on the next cat 1 climb and I joined a small group of riders to just ride in to the finish. From what I heard, the German rider came back to the pack and Suzanne Lungjskog (Vlaanderen) attacked hard on that climb and Lyne Bessette and Judith Arndt (Germany) joined her off the front.
That put Olga Slioussareva (Carpe Diem) and Edita Pucinskaite (Alfa Lum) on the defensive as Suzanne was in 5th place overall, not far behind Olga in 3rd and Edita in 4th. Olga chased hard with her team-mate for the remainder of the race but they weren't strong enough for the trio in front.
In the end, Judith Arndt won the stage from Suzanne but Suzanne moved up to 3rd overall. Lyne finished 3rd in the stage but more importantly, she sealed her overall victory with another strong ride. That is the second time that Lyne has won the Tour de l'Aude.
The Aussie team was happy to finish the Tour de l'Aude, gaining some good results and great training for the races to come. My next goal is the Montreal and Philadelphia World Cups over the next two weekends while the rest of the Aussie team is gearing up for the start of the Giro d'Italia in July.
Cheers
Anna