The Anna Millward Diary 2001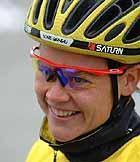 Photo: © Rob Karman
A stage race in Germany pits Anna against local strength, and "the worst thing imaginable for a professional athlete"
Int. Thüringen-Rundfahrt der Frauen
Germany, July 25-29, 2001
Bad news
Well here I am in what used to be East Germany, competing in a 6-day tour. We were staying in a boarding school for the first few days and there was no way I could get online so I'm a bit behind with the race reports. But here goes:
The day before this tour began I received the worst news of my entire sporting career — I had tested positive for Lidocaine 2 months ago while racing for the Australian team in the Tour de l'Aude in France. Lidocaine is an anti-inflammatory — at first I was a little baffled as to where the Lidocaine in my urine could have come from. The first thought was that it might have come from my chamois cream — a cream we put in our cycling shorts to stop chafing in the most delicate of places! But when I checked the label there was no Lidocaine in it. I remembered that I had suffered from mosquito bites in the tour and so I checked the label of the cream I had used to stop the itching and sure enough there was Lidocaine in the cream. I had got the cream from an AIS medical kit. Lidocaine is not a banned substance under Australian drug regulations and so that is why the stuff was in an AIS kit. However, it is banned by the International Cycling Union. I later found out that if I had simply written down on my drug test form that I was using the cream containing Lidocaine at the time of the test, then I would not have recorded a positive result — the Lidocaine would have been explained.
It is definitely the worst thing imaginable for a professional athlete to record a positive test, whatever the circumstances. The ramifications are too horrible to fathom. Since the medical opinion seems to be that it is a pretty freaky thing that the Lidocaine from the cream showed up in my urine, I have requested that the B sample be tested. If that is also positive then I will have to undergo a hearing to decide a penalty for me. In the meantime, all I can do is race my bike the best I can and try to put it behind me.
Prologue - July 24: Zeulenroda ITT, 6 km
The race here started Tuesday with a 6km prologue time trial. I love this prologue. It has many twists and turns and short, sharp little hills and a few small sections of cobbles just to make things interesting. I won the prologue last year and this year proved to be no different. I recorded exactly the same time as last year and took the first leader's jersey of the tour. Miriam Melchers (Acca Due) finished in second place, 6 seconds back, and my own teammate, Petra Rossner, finished 3rd, only .4 of a second behind Miriam.
Stage 1 - July 25: Zeulenroda - Greiz, 115 km
On Wednesday we raced 115km over typical terrain for this tour. There are no really long climbs but the road goes up and down all day and there are many steep pinches. It's impossible to feel good all day, and this year we have hit a heat wave — rare for Germany — so we have hot conditions to cope with as well. It's fun racing here when you're feeling good and absolute hell when you aren't. Anyway, the first day the main aggressor was Hanka Kupfernagel (Farm Frites). She is local to this area and has won the tour many times and she escaped into a couple of dangerous breakaways. We always had Ina Teutenberg representing our team in the breakaways so we were content to sit back and let other teams chase. Acca Due took responsibility for most of the chasing and did a good job keeping the bunch together. Then, we hit a climb 15km from the finish. It was a nasty climb: very steep and it went on for nearly 2km with a false flat at the top just to make things worse. Miriam Melchers (Acca Due) attacked from the bottom and she flew up the climb. Her team mates, the Polikevicuite twins, sat on the front of the bunch and set a tempo which had everyone else suffering but was slow enough to let Miriam gradually gain time. I was powerless to do anything about her attack and could only suffer to the top in a group of 13 riders. Once over the top I did my best to chase but we never caught Miriam. She won the stage by 22 seconds and gained a 10 second time bonus for her win and so moved into the yellow jersey, 26 seconds ahead of me.
Stage 2 - July 26: Greiz - Schleiz, 135 km
On Thursday we raced 135km over more difficult terrain. This time the last 30km was particularly tough. With 20kms to go Rasa Polikevicuite (Acca Due) attacked with Miriam Melchers (Acca Due) on her wheel up a climb. Three riders were able to bridge across to them on the climb: Trixi Worrack (Germany); Judith Arndt (Red Bull); and Jolanta Polikevicuite (Acca Due). I was again in the next group of around 15 riders, struggling to the top of the climb. I chased with all I had once over the top but when we hit another steep pinch I had leg cramps and could not stay in contact with my group. I watched them ride away until I was caught by the next group on the road. Miriam Melchers ended up winning the stage, to cement her overall lead, with Trixi Worrack moving into second place overall and Judith Arndt 3rd. I slipped to 19th overall and our hopes for a high overall finish were dashed. After that stage I was 3 and a half minutes behind the lead.
Stage 3 - July 27: Schleiz - Saalfeld, 124 km
So today, day 4 of the tour, we were out with the simple motivation of trying to win a stage, since an overall victory seemed out of reach. The terrain was tough for the first 30kms and everyone felt pretty tired. Ina Teutenberg (Saturn) found the legs from somewhere to launch an attack at this point and she rode strongly enough to prevent anyone else getting across to her. Over more hills she built up a commanding lead; at one point she was over 7 minutes in front. The bunch picked up the pace in the final 25kms and began to race for home and Ina's lead started dropping. But after 100km of solo riding she crossed the line, 2 minutes 45 seconds in front of the bunch. A great victory to lift all of our spirits.
Tomorrow is a double stage: 78km in the morning and 63km in the afternoon. It should be another tough day at the office!
Stage 4 - July 28: Saalfeld - Gera, 78 km
On Saturday we faced two short stages in the Thuringen tour. In the morning we raced 78km over relatively fast terrain, with one climb in the middle to make life tough. The bunch was pretty aggressive early in the race, with Monica Valen (Norway) and HAnka Kupfernagel (Farm Frites) fighting it out for the intermediate sprint points and other teams trying to establish a breakaway and get a stage win.
Around the 25km mark, two riders slipped away, including Australia's Liz Tadich and they built up a lead of around 40 seconds. Mirella van Mellis (Dutch) tried to bridge the gap by herself but never quite made it. Just before the climb, the breakaway was stopped by a train and we all got to have a good look at them before they were off again. The officials tried desperately to make us wait our 40 seconds before starting again but it was difficult to fully control the bunch and I'm not sure the breakaway riders really got their proper head start. On the climb, Liz Tadich came back to the bunch, leaving one German rider out by herself. She continued to ride strongly, gaining a lead of two minutes with about 30km to go. From there, the terrain was not too difficult, and we decided to try and bring the break back for Petra Rossner (Saturn), so she could try and win in front of many of her friends in the finishing town of Gera.
Kim Bruckner and I worked hard and Ceris Gilfillan (Great Britain) helped us out and we caught the breakaway with 15km still to race. From there we had help from the Norwegian team who were also trying to set up Monica Valen for the sprint victory. But with 2km left to go, one Norwegian slipped off the front solo. I managed to close the gap to her with about 700 metres to go and from there it was up to Petra to find her own way to the finish. She didn't disappoint us and took a convincing victory.
The overall standings were reshuffled a little bit because Judith Arndt (Red Bull) grabbed second place in the stage and therefore a 6 second time bonus. That moved her into second place overall, ahead of her German compatriot Trixi Worrack. Miriam Melchers (Acca Due) remained at the top of the overall standings.
Stage 5 - July 28: Schmölln circuit race, 63 km
In the afternoon we raced 63km: four laps of a very tough and technical circuit, including one nasty strip of cobbles up a hill. On the first lap, Judith Arndt (Red Bull) used her local knowledge to slip clear of the bunch on those cobbles, along with two other riders. Since she was a big threat to Miriam Melchers' overall lead of the tour, a big chase from the Acca Due team followed. They brought back Judith with a huge effort and then it was full pelt to the end of the first circuit, as there were sprint points up for grabs. With the continued high pace, the bunch was shattered. Up the next hill, a small leading group formed and Ina Teutenberg (Saturn) was able to slip into another little breakaway. When that was caught I put in an attack but didn't have enough power in the legs to stay away for long. I was caught and the bunch slowed down just as a bunch containing Petra Rossner (Saturn) was catching the front bunch. A perfect moment for Petra to attack and she attacked hard, gaining a big gap straight away. The bunch hesitated for long enough for Petra to establish her gap and then there was no bringing her back. The Norwegian team tried several times to send riders off to bridge the gap but Petra was on a mission and there was no stopping her. She continually increased her gap and ended up finishing around 2 minutes ahead of us. A third stage victory for our team!! The leader board overall remained unchanged, except that Petra had moved herself up to 14th overall.
Stage 6 - July 29: Gera -Zeulenroda, 112 km
The final day of the tour we raced 112km including two ascents of a nasty 16 per cent climb within the final 30km. There was plenty of aggression early in the stage but the Acca Due team were up to all the challenges and they kept things together for the first part of the race. The French team tried many times to send riders up the road but they were always brought back. Finally, on the last ascent of the 16 per cent hill, Rasa Polikevicuite attacked and only Miriam Melchers and Trixi Worrack could go with her. I settled into the chasing bunch of around 13 riders. I did what I could to help chase the leading three riders before being dropped on the next climb. I could see the two bunches get back together, because of the hard chasing by Judith Arndt (Red Bull) and Hanka Kupfernagel (Farm Frites). There were several more attacks before the finish of the stage, as riders tried desperately to snatch their last chance of a stage victory. In the end it was an attack by Jenny Algelid (Nurnberger) that stuck, with around 2km to go. She won the stage but could not upset the overall standings. So Miriam Melchers emerged the victor of the Thuringen tour with Judith Arndt second and Trixi Worrack third.
It was a very interesting tour for me, filled with many emotions and ups and downs. I didn't come away with a high placing in Thuringen. I finished 18th overall, but I still think I gained some great fitness and preparation for the World Cup race in France this Friday.
Cheers
Anna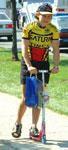 Photo: © Rob Karman