The Anna Millward Diary 2001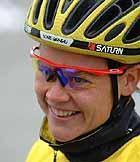 Photo: © Rob Karman
Anna helps the team to victory in the States, and gets some good news from back home.
Chris Thater Memorial Criterium
August 26, 2001
Today we raced a 55km criterium, part of the Pro tour here in the States. It was a good course for aggression with a small hill every lap and plenty of twists and turns.
We started with a team of four: Suzanne Sonye, Kim Bruckner, Kristy Scrymgeour and myself. We started aggressively, trying to break things up and improve our odds in the finish. After several attacks a leading group of seven formed: Laura van Gilder, Tina Mayolo, Roz Reekie, two Proctor and Gamble riders (one of them was Joanne Kiesanowski), Kelly McCombie and me. Kristy Scrymgeour bridged across to our group and attacked straight past, catching the group off guard. She quickly established a lead of around 30 seconds before my group got organised and began a solid chase. They chased for a couple of laps and got pretty close to Kristy. At this point I decided I should try to get across so that there would be two of us in the lead. I attacked up the hill and got a small gap but I was closed down on the following descent. My move had brought the group very close the Kristy which was a bit of a worry. But it turned out well as it stopped the group's organised chase for a couple of laps and Kristy's lead grew again to over 40 seconds.
We still had around 25km left to race, so 40 seconds was certainly not a safe margin but Kristy had found a rhythm and was riding strongly. She ended up lapping the rest of the field with five laps left to race. My group continued to work together until the finish but steadily fell further and further behind Kristy. So a big victory for Kristy in the finish.
In the sprint for second place, Tina Mayolo put in a gutsy performance, attacking into the final corner with about 250 metres to go and holding off Joanne Kiesanowski and myself to the line. I missed out on the podium but we won the race so it was smiles all round at the finish!
Tomorrow we're off to Europe, and we start the Tour of Holland next Sunday.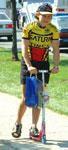 Photo: © Rob Karman
Cheers,
Anna