The Anna Millward Diary 2001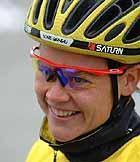 Photo: © Rob Karman
GP de Nations
September 22, 2001
I am feeling very happy today after winning the Grand Prix de Nations time trial in France. It was a long time trial - 37kms and a demanding course with constant undulations, some long drags and quite a few technical twists and turns. I was riding my Olympic Time Trial bike and it feels great to ride - so fast!
Solrun Flataas of the Norwegian team was second, one minute behind me, with Cathy Marsal of France placing third at one min 20 seconds.
For me it was a nice confidence boost before World Championships. I am off to Italy tomorrow to join the Australian National team and I will travel with them on Oct 5th to Portugal for World Championships. Only three weeks left in the season now!
Cheers Anna
GP de Nations Results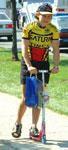 Photo: © Rob Karman