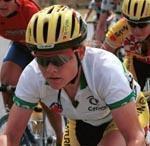 Photo: © Tom Balks
The Anna Millward Diary 2001
Cooma - Canberra: Let the action begin
NSW/ACT - February 23-25, 2001
The racing season has begun and now there is racing just about every week until the World Championships in October. On Friday night we started racing in the Canberra to Cooma Classic. This is a three day race. The race is part of the National series of races and it serves as a good lead-up to the International races coming up next week (Tour de Snowy and the Canberra World Cup). It started on Friday evening with a 20 minute criterium, it continued yesterday with a 110km road race and later on a 40 minute criterium, and today, just for something different, it concluded with a 45 minute criterium.
I am racing here for the Saturn team - although it is a very small team! It's just Kristy Scrymgeour and I here at the moment - two more reinforcements will arrive next week. Despite the size of our team, the tour went exceptionally well for us. On Friday night Kristy took it out hard in the criterium and the AIS team was also aggressive early with both Marg Hemsley and Sara Carrigan forcing the pace. About halfway through the race I counter-attacked Marg Hemsley and escaped solo. I ended up winning by about 23 seconds with Rochelle Gilmore (AIS) winning the bunch sprint for second, followed by Bridget Evans.
On Saturday morning we lined up for a 110 km road race from Canberra to Cooma. The AIS team were out for a hard race as they continued to attack throughout the stage. Kristy and I had to work pretty hard covering all the attacks. At about the 60 km mark, the bunch started to snap under the pressure and I escaped with Kym Shirley (AIS). We were soon joined by Liz Tadich (Jayco - VIS) and Erin Philp (Trek). The last person to make it across the gap was Marg Hemsley (AIS) and then we were gone.
The 5 of us worked smoothly together for a while, but over one climb Erin Philp felt the pressure and lost contact with us. So we were down to 4. We continued to work well together until we were only about 4 km from home. By this stage we had a lead of over 4 minutes on the bunch, and a lead of about 3 minutes over Erin Philp. The two AIS girls started attacking at this stage and I ended up escaping with Kym Shirley. We arrived at the finish together and I won the sprint. Marg Hemsley managed to shake Liz off to ride in alone for third place. Erin Philp rode well enough to hold the bunch off and claim 5th place.
So at the end of that stage I had a pretty comfortable lead in the overall standings of the bike race. I could only really be challenged by three riders - Marg Hemsley, Liz Tadich and Kym Shirley. It was time to start riding defensively.
In the afternoon criterium a break of 7 riders escaped about halfway through. The break consisted of Sara Carrigan (AIS), Kristy Scrymgeour (Saturn), Naomi Williams (TIS), Karen Sumpton (AIS), Jennifer Manefield (Parramatta), Katie Mactier (Jayco - VIS) and Olivia Gollan (Kooragang). I was happy to see this break go with my teammate (Kristy) in it. The break could take the time bonuses on offer at the finish line and no one in the break threatened my overall lead.
In the finish, Sara Carrigan put in some impressive cornering over the last 500 metres to win easily, followed by a very close finish between Olivia Gollan and Katie Mactier in second and third respectively. I finished in the bunch about 15 seconds behind the breakaway.
On Sunday morning we lined up for the final stage of the race. Once again, I really only had to watch Marg Hemsley, Kym Shirley and Liz Tadich to be sure of taking the overall tour win. Liz Tadich was very keen for a hard race as she only needed to make up 17 seconds on Marg Hemsley to move into third place overall. Everyone else in the race was just thinking about trying to win the stage.
The race was very aggressive and the bunch was pretty quickly whittled down. Liz Tadich had a great race, cornering impressively and attacking, forcing the AIS squad to chase her to help Kym Shirley and Marg Hemsley maintain 2nd and 3rd places overall.
Midway through the stage, three riders took advantage of the squabbling over the overall places to escape the bunch and try to take out the stage win. Katie Mactier (Jayco - VIS), Natalie Bates (NSWIS) and Rochelle Gilmore (AIS) slipped away and were looking good to stay away and fight out the stage win when Katie Mactier crashed on a corner and the other two went straight over the top of her. Because the race was a criterium they were allowed a lap out to jump back on their bikes and get on with the race. But Katie was a little too sore to continue and the other two decided to rejoin the bunch and wait for another opportunity later in the day.
Natalie Bates didn't wait long. With about 10 minutes left to race she went on the attack again and this time she was joined by Alison Wright (AIS). It looked like the two of them had the race sewn up with a lap to go - they had a lead of around 15 seconds. But the bunch picked up speed and they started playing cat and mouse with one another and as we rounded the final corner we had them in our sights. I wound up the sprint and went past Natalie Bates only about 20 metres from the line. Rochelle Gilmore also managed to beat her to the line and Natalie had to be content with third place.
I took out the overall win followed by Kym Shirley and Marg Hemsley. So I couldn't be happier with this race. Now we have 5 days to recover and prepare ourselves for Tour de Snowy.
Cheers,
Anna